This popular skewered chicken, versions of which are eaten in Thailand and Vietnam, is marinated and then grilled or broiled. Serve it with dipping sauce.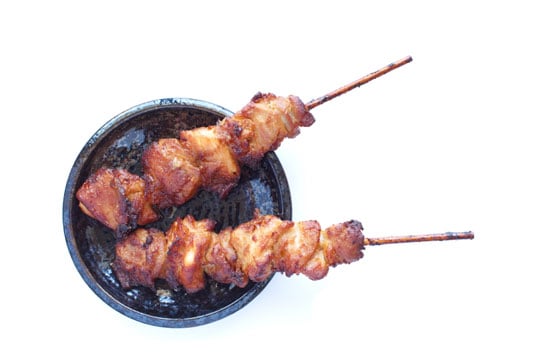 Credit: iStockphoto.com/Torsakarin

Yield: 4 servings as a main course, 8 servings as a first course

Preparation time: 20 minutes; 1 hour marinating time

Cooking time: 10 minutes

Spice meter: Moderately spiced to hot and spicy

1-1/2 pounds boneless chicken breasts, cut into thin strips or cubed

3 tablespoons unsweetened coconut milk or plain yogurt

1 tablespoon fresh lime or lemon juice

1 plump clove garlic, pressed or minced

2 stalks fresh lemon grass, thinly sliced, or 2 to 3 tablespoons dried

1 teaspoon ground coriander

3/4 teaspoon ground cumin

1/2 teaspoon cayenne or ground chile pepper powder
Cut the chicken into 1 to 1-1/2 inch strips.

In a shallow dish, combine all the ingredients except the chicken and stir to mix. Add the chicken to the marinade and toss to coat evenly. Cover and marinate in the refrigerator for 1 hour, turning the chicken once or twice.

Remove the chicken from the marinade. Reserve the marinade for basting. Thread the chicken onto 8 skewers.

Preheat the grill or broiler. Grill or broil, basting with some of the marinade and turning the skewers occasionally, until the chicken is cooked through, about 7 to 10 minutes.
Unsweetened coconut milk is available canned. Cover and refrigerate any leftovers.
Per serving
: Calories 721 (From Fat 468); Fat 52g (Saturated 22g); Cholesterol 103mg; Sodium 373mg; Carbohydrate 19g (Dietary Fiber 5g); Protein 50g.
About This Article
This article is from the book:
This article can be found in the category: