Yakitori is Japan's traditional chicken kebab. Yakitori is marinated in teriyaki sauce, and it can be grilled or broiled. Instead of cutting the chicken into strips, you also can marinate whole chicken cutlets in the refrigerator for 30 to 60 minutes. Grill or broil until the chicken is cooked through, about 3 to 5 minutes per side.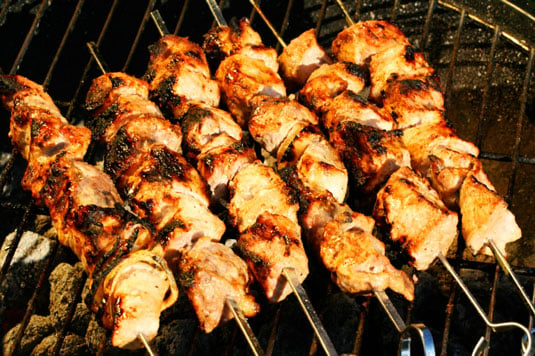 Credit: iStockphoto.com/nolexa

Yield: 4 servings as a main course, 8 servings as a first course

Preparation time: 30 minutes; 20 to 60 minutes marinating time

Cooking time: 10 minutes

Spice meter: Mildly spiced

1-1/2 pounds boneless chicken breasts

3/4 cup Teriyaki Sauce

2 scallions, white and green parts, sliced
Cut the chicken into 1 to 1-1/2 inch strips.

In a shallow dish, combine the chicken strips and teriyaki sauce and toss to coat evenly. Cover and marinate in the refrigerator for 20 to 60 minutes, turning the chicken once or twice.

Remove the chicken from the marinade but reserve the marinade for basting. Thread the chicken onto 8 skewers.

Preheat the grill or broiler. Grill or broil, basting with some of the marinade and turning the skewers occasionally, until the chicken is cooked through, about 7 to 10 minutes.
Per serving
: Calories 289 (From Fat 86); Fat 10g (Saturated 3g); Cholesterol 103mg; Sodium 1,810mg; Carbohydrate 10g (Dietary Fiber 0g); Protein 38g.
Teriyaki Sauce
This classic Japanese marinade can be used for steaks, pork chops, pork tenderloin, and chicken cutlets, as well as for tuna or salmon steaks. It will keep for 2 to 4 weeks in the refrigerator. The recipe can be halved or doubled.

Yield: About 1 cup

Preparation time: 10 minutes

Cooking time: 5 minutes

Spice meter: Mildly spiced

2/3 cup soy sauce

1/3 cup mirin or dry sherry

2 tablespoons sake or water

3 tablespoons sugar or honey

2 plump cloves garlic, pressed or minced

1-inch piece fresh ginger, minced

2 teaspoons Chinese sesame oil (optional)
Combine all the ingredients in a saucepan over medium-low heat. Simmer, stirring once or twice, until the sugar is dissolved, about 3 to 5 minutes. Do not boil.

Cool completely before using as a marinade. Store the sauce in a covered container in the refrigerator until you're ready to use it.

To use, pour the marinade over the meat, poultry, or seafood and turn the food to coat it. Marinate in the refrigerator for a minimum of 20 minutes or up to 1 hour, turning occasionally. Broil or grill the food until it's cooked as you prefer.
Per serving:
Calories 19 (From Fat 0); Fat 0g (Saturated 0g); Cholesterol 0mg; Sodium 689mg; Carbohydrate 4g (Dietary Fiber 0g); Protein 1g.
About This Article
This article is from the book:
This article can be found in the category: