The combination of peanuts, tomatoes, coconut, and spices is typical of West African and Brazilian cuisine. In this recipe, the shrimp is poached in a tangy sauce.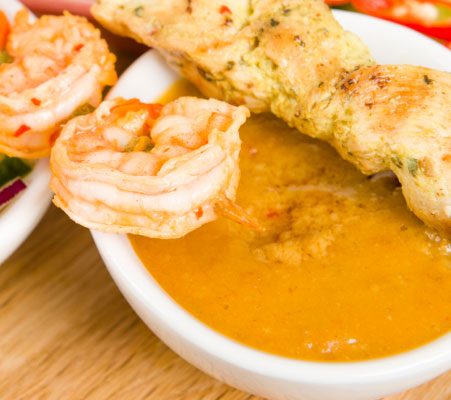 Credit: iStockphoto.com/Paul_Brighton
Yield: 4 servings
Preparation time: 20 minutes
Cooking time: 35 to 40 minutes
Spice meter: Hot and spicy
2 tablespoons peanut oil or vegetable oil
5 scallions, white part only, sliced
1 medium onion, chopped
1 small red bell pepper, chopped
1 plump clove garlic, minced
1/2-inch piece fresh ginger, minced
1-1/2 cups chopped tomatoes
1/2 teaspoon crushed red chile flakes
1/2 teaspoon ground cumin
1/2 teaspoon paprika
1/2 teaspoon freshly ground black pepper
1/2 teaspoon salt
3 tablespoons peanut butter
1 cup unsweetened canned coconut milk
1-1/2 pounds shelled and deveined medium shrimp
Chopped peanuts for garnish
Chopped fresh cilantro for garnish
Heat the peanut oil in a large skillet over medium heat. Add the scallions, onion, and bell pepper and cook, stirring occasionally, until the vegetables are tender, about 10 minutes.

Add the garlic and ginger and cook, stirring constantly, for 1 minute. Add the tomatoes, crushed red chile flakes, cumin, paprika, black pepper, and salt and cook for 5 minutes.

Add the peanut butter; stir until blended evenly. Add the coconut milk and cook until the sauce begins to thicken slightly, about 15 to 20 minutes.

Add the shrimp and cook, uncovered, until the shrimp is pink and curled, about 3 to 5 minutes. Do not overcook the shrimp.
You can make your own natural peanut butter by grinding unsalted roasted peanuts in a food processor fitted with a metal blade. If it's too thick, add a little peanut oil and pulse to combine.
Per serving: Calories 399 (From Fat 240); Fat 27g (Saturated 13g); Cholesterol 242mg; Sodium 642mg; Carbohydrate 11g (Dietary Fiber 3g); Protein 31g.
About This Article
This article is from the book:
This article can be found in the category: