Some dishes benefit from a blend of both spices and herbs. The pleasing combination in this recipe gives baked chicken a deliciously sweet and fragrant flavor. Leftovers are superb cold.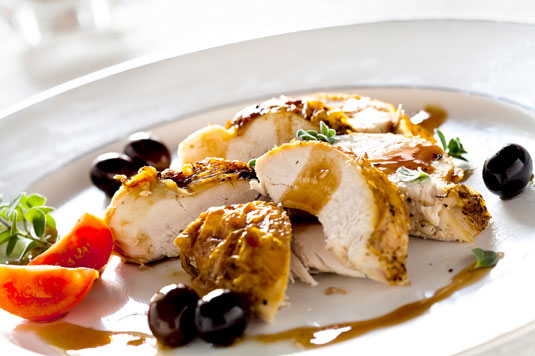 Credit: ©iStockphoto.com/mpessaris

Yield: 6 servings

Preparation time: 25 minutes; 2 to 24 hours marinating time

Cooking time: 45 to 50 minutes

Spice meter: Moderately spiced to mildly hot

6 chicken breasts

3 tablespoons brown sugar

1/2 teaspoon salt

2/3 cup dry white wine

1/4 cup honey

1-inch piece of orange or lemon zest, white pith removed

2 teaspoons minced fresh ginger, about 3/4-inch piece

2 plump cloves garlic, minced

1/4 teaspoon cayenne

1/4 teaspoon ground cinnamon

1/4 cup chopped flat-leaf parsley

1/2 teaspoon minced fresh thyme or 1/4 teaspoon dried thyme leaves

1 teaspoon fresh minced oregano or 1/2 teaspoon dried

1/2 bay leaf, crushed

24 black olives, preferably kalamata or Italian, pitted

Fresh chopped parsley for garnish
Rub the chicken breasts on both sides with 1-1/2 tablespoons of the brown sugar, then sprinkle with salt. Place the chicken, skin-side down, in a shallow baking dish.

In a bowl, combine the remaining 1-1/2 tablespoons of brown sugar with the white wine, honey, orange or lemon zest, ginger, garlic, cayenne, cinnamon, 2 tablespoons of the parsley, the thyme, oregano, and bay leaf.

Pour the mixture over the chicken. Add the olives. Marinate for 2 to 24 hours, as time permits. Preheat the oven to 350 degrees.

Turn the chicken skin-side up. Bake the chicken, basting occasionally with the sauce, until the juices run clear when the chicken is pricked with a fork and the skin is lightly browned, about 45 minutes.

Divide the chicken and olives among plates and spoon a tablespoon or two of the sauce over each. Garnish with the remaining fresh parsley. Serve with the extra sauce on the side.
Per serving
: Calories 309 (From Fat 105); Fat 12g (Saturated 3g); Cholesterol 82mg; Sodium 513mg; Carbohydrate 21g (Dietary Fiber 0g); Protein 30g.
About This Article
This article is from the book:
This article can be found in the category: