In the Mediterranean, olives are oven marinated with spices for extra flavor. In this recipe, they're steeped with garlic, cumin, fennel, chile, and lemon, all of which are traditional Mediterranean flavors. These olives are marvelous on their own or in salads. Keep them on hand to use in place of ordinary olives.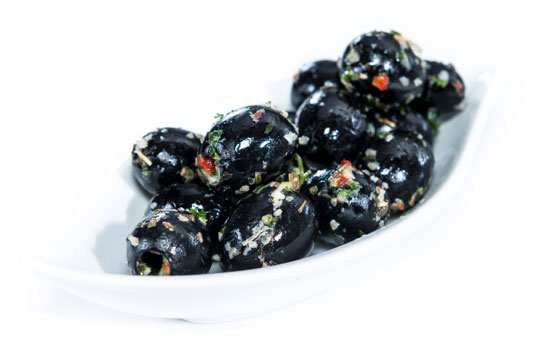 Credit: iStockphoto.com/HandmadePictures
Yield: 10 to 14 servings, about 1-1/2 quarts
Preparation time: 15 minutes, plus 1 week standing time
Spice meter: Moderately spiced
1 pound unpitted kalamata, niçoise, or Italian black olives, drained well
1 lemon, washed and thinly sliced
4 whole cloves garlic, peeled
1 teaspoon cumin seeds
1 teaspoon fennel seeds, mustard seeds, or black peppercorns
1 to 2 jalapenos or serranos, minced, or 1 teaspoon crushed red chile flakes
6 sprigs fresh thyme or lemon thyme
2 to 3 cups olive oil
In a 1-1/2-quart jar or container, put a layer of one-third of the olives, lemon, and garlic. Add one-third of the cumin seeds, fennel seeds, jalapeno, and thyme.

Repeat the layering twice more. Pour in the olive oil, making sure that it covers the olives and spices by approximately two inches.

Cover the jar and refrigerate. Let it stand for one week before opening. The olives last for up to 2 months in the refrigerator.
After opening the jar, make sure that there's always enough olive oil in it to completely cover the olives; otherwise, the olives can go bad.
Per serving: Calories 265 (From Fat 236); Fat 26g (Saturated 3g); Cholesterol 0mg; Sodium 146mg; Carbohydrate 9g (Dietary Fiber 3g); Protein 3g.
About This Article
This article is from the book:
This article can be found in the category: