This traditional rendition of curry can be made several hours to a day ahead and reheated. Indian curries are often served with a variety of condiments, which each diner can use to garnish his or her food. The condiments include chutney, chopped onions mixed with chopped coriander, raisins, shredded coconut, and sliced banana.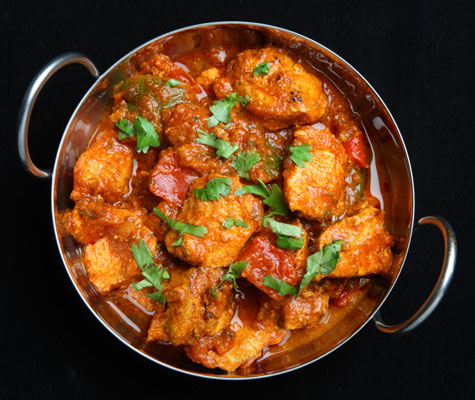 Credit: iStockphoto.com/JoeGough

Yield: 4 to 6 servings

Preparation time: 20 minutes

Cooking time: 40 to 45 minutes

Spice meter: Moderately hot to hot and spicy

2 tablespoons vegetable oil

1 medium onion, chopped

3 plump cloves garlic, minced

1-inch piece fresh ginger, minced

2 to 3 tablespoons homemade or good-quality curry powder

1-1/2 to 1-3/4 pounds boneless, skinless chicken breasts, cut into thin strips or cubed

1-1/2 cups peeled and seeded chopped fresh tomatoes or one 14-1/2-ounce can chopped tomatoes

1/2 to 2/3 cup chicken broth or water

Homemade or commercial chutney for garnish
In a stewpot or large deep skillet, heat the vegetable oil over medium heat. Add the onion and cook until it's translucent, about 5 to 7 minutes.

Add the garlic and ginger and cook, stirring constantly, for 1 minute. Add the curry powder and cook, stirring constantly, for 1 minute.

Add the chicken and tomatoes and cook, stirring often, until the chicken turns white.

Add 1/2 cup of the broth and simmer, uncovered, for 15 minutes.

Reduce the heat to medium-low and partially cover the pot. Simmer until the chicken is cooked through, the liquid is slightly reduced, and the flavors are blended, about 20 minutes more.

Check and see if the sauce is too thick and add the additional broth or water. Serve with rice and chutney on the side.
You'll need to add more broth or water if you are making the curry ahead, but do so before reheating.
Chutney is the traditional accompaniment to Indian curries. You can find it bottled in the condiment section of most supermarkets. Mango chutney is one popular type.
Per serving
: Calories 189 (From Fat 72); Fat 8g (Saturated 1g); Cholesterol 63mg; Sodium 144mg; Carbohydrate 5g (Dietary Fiber 1g); Protein 24g.
About This Article
This article is from the book:
This article can be found in the category: