The spice mixture can be rubbed on the skin of the chicken or slipped under loosened skin. After the spices are added, roast the chicken to perfection.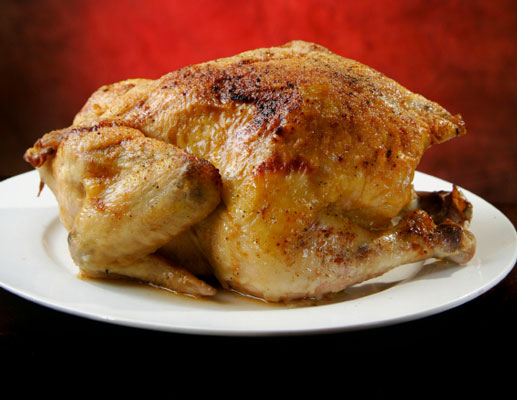 Credit: ©iStockphoto.com/NWphotoguy

Yield: 4 to 6 servings

Preparation time: 20 minutes; 2 to 24 hours marinating time

Cooking time: 1 to 1-1/4 hours

Spice meter: Mildly spiced

2 tablespoons fresh lime or lemon juice

2-1/2 tablespoons olive oil

1-1/2 tablespoons soy sauce

2 tablespoons prepared mustard

1 tablespoon chopped chives or minced flat-leaf parsley

1 teaspoon chopped fresh thyme or 1/2 teaspoon dried thyme leaves

1-inch piece fresh ginger, minced

2 plump cloves garlic, minced

1/4 teaspoon cayenne (optional)

1/4 teaspoon white pepper

3 to 3-1/2 pound whole chicken
In a bowl, combine all the ingredients except the chicken.

Put the chicken in a large roasting pan. Rub the marinade all over the chicken.

Alternatively, starting with the breast, carefully slip your fingers under the skin to loosen it, trying not to rip the skin. Put the marinade under the skin and rub gently to coat the meat evenly, a process that makes the chicken more moist. Smear any remaining marinade on the outside of the chicken. Marinate in the refrigerator for at least 2 hours or up to 24 hours.

Preheat the oven to 450 degrees. Place the chicken, breast side up, on a rack in a roasting pan and bake.

After 15 minutes, reduce the temperature to 350 degrees. Bake until a meat thermometer inserted into the thigh registers 160 degrees or until the juices run clear when the thigh is pierced with a small knife, about an additional 40 to 45 minutes.

Remove the chicken from the roasting pan.

Tip the chicken so the cavity points downward to let the juices from the cavity run into the pan. Place the chicken on a carving board and let it rest for 10 minutes before carving.
This recipe can also be made with chicken parts. Bake in a preheated oven at 350 degrees. The cooking time will be slightly less than when roasting a whole chicken. Depending on what parts you use, you should cook the parts about 40 to 45 minutes. Test to be sure that the juices run clear.
Per serving
: Calories 320 (From Fat 185); Fat 21g (Saturated 5g); Cholesterol 119mg; Sodium 404mg; Carbohydrate 2g (Dietary Fiber 0g); Protein 30g.
About This Article
This article is from the book:
This article can be found in the category: