If you're looking for an alternative to plain baked chicken, look no further. Scented with orange, this delightful recipe features soy, fresh ginger, and five-spice powder.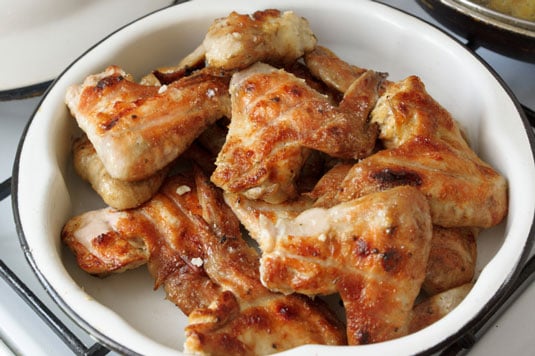 Credit: ©iStockphoto.com/Krezofen

Yield: 4 servings

Preparation time: 15 minutes; 1 to 4 hours marinating time

Cooking time: 45 to 50 minutes

Spice meter: Mildly to moderately spiced

1/3 cup soy sauce

1 teaspoon dark sesame oil

Juice and finely grated zest of one medium orange

2 tablespoons dry sherry

1 plump garlic clove, minced

1-inch piece fresh ginger, minced

1 teaspoon Chinese five-spice powder (optional)

2 scallions, white and green parts, sliced

3 to 3-1/2 pound chicken, cut up, or chicken parts
In a shallow baking dish, combine all the ingredients except the chicken.

Add the chicken to the marinade and toss to coat evenly. Marinate in the refrigerator for 1 to 4 hours, turning occasionally.

Preheat the oven to 350 degrees. Remove the chicken from the marinade and put the chicken, skin-side up, on a foil-lined baking sheet or broiler rack.

Bake the chicken, basting occasionally, until the juices run clear when the chicken is pricked with a fork, about 40 to 45 minutes.

If the chicken isn't crispy on top, preheat the broiler. Baste the chicken once more and broil the chicken, skin-side up, until the skin is lightly crispy and browned, about 5 minutes.
Chinese five-spice powder is available in most supermarkets, Asian groceries, and specialty stores. You can easily make your own.
Per serving
: Calories 427 (From Fat 210); Fat 23g (Saturated 6g); Cholesterol 178mg; Sodium 1,491mg; Carbohydrate 5g (Dietary Fiber 1g); Protein 46g.
About This Article
This article is from the book:
This article can be found in the category: