Living the Paleo lifestyle means you feed your cells with nutrient-dense whole foods while still satisfying your sweet tooth. This recipe for lemon brownies with coconut lemon glaze will taste as good as — if not better than — traditional desserts, which are made with heavily processed ingredients and are full of empty calories.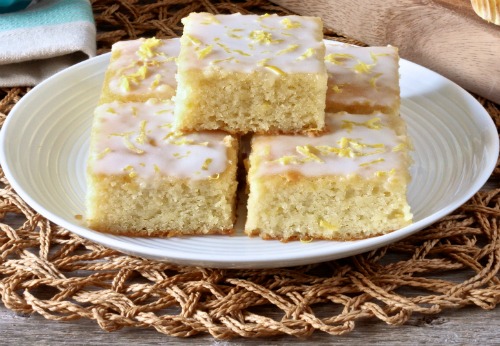 Credit: Courtesy of Adriana Harlan
Preparation time: 15 minutes
Cooking time: 20–25 minutes
Yield: 10–12 servings
Coconut Lemon Glaze (see recipe below)
2 cups blanched almond flour
1 tablespoon arrowroot powder
1/2 teaspoon baking soda
1/4 teaspoon salt
2 room temperature eggs
2-1/2 tablespoons lemon juice
1 tablespoon lemon zest
4 tablespoons raw honey
1/4 cup coconut oil, melted
1/3 cup full-fat coconut milk
2 tablespoons coconut butter
1 teaspoon vanilla extract
Preheat the oven to 350 degrees F. In a large bowl, mix the almond flour, arrowroot powder, baking soda, and salt.

In a separate bowl, whisk the eggs, lemon juice, lemon zest, honey, coconut oil, coconut milk, coconut butter, and vanilla.

Add the dry ingredients into the wet and gently mix with a spoon or spatula to form a batter. Don't overmix.

Spread the batter across the bottom of an 8-x-8-inch baking pan lined with parchment paper. Make sure the paper covers all four sides of the pan.

Bake until a toothpick inserted into the center comes out clean, about 20 to 25 minutes.

Set the pan on a wire rack to cool and then top with the Coconut Lemon Glaze.
Coconut Lemon Glaze
2 tablespoons full-fat coconut milk
2-1/2 teaspoons coconut butter
1/2 tablespoon lemon juice
2 teaspoons lemon zest
2 teaspoons arrowroot powder
1 teaspoon raw honey
In a bowl, whisk together all the ingredients.
Per serving: Calories 271 (From Fat 199); Fat 22g (Saturated 10g); Cholesterol 37mg; Sodium 147mg; Carbohydrate 15g (Dietary Fiber 3g); Protein 7g.
About This Article
This article is from the book:
This article can be found in the category: