Remember Whoopie Pies from your childhood? Well you don't have to give them up when you shift to a Paleo lifestyle. These treats are perfect for Halloween and Thanksgiving. They're also perfect for every other day of the year, too!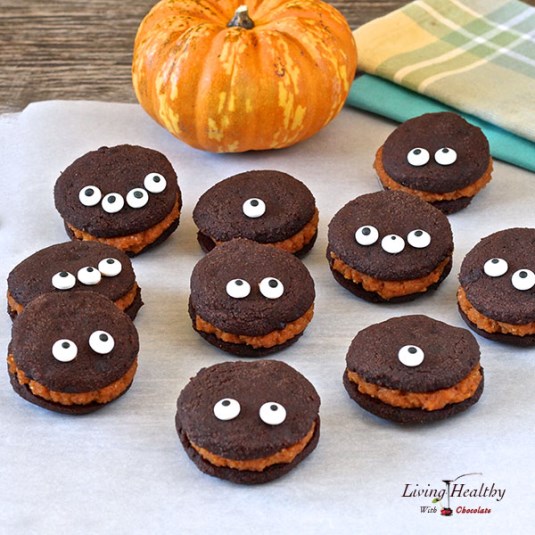 Credit: ©Photo courtesy of Adriana Harlan
Preparation time: 25 minutes
Cook time: 10 minutes
Yield: 11 cookies
Cookies
1 cup blanched almond flour
1/4 cup raw cacao powder
4 teaspoons coconut flour
3 tablespoons coconut palm sugar
1/2 teaspoon baking soda
2 tablespoons + 1-1/2 teaspoons coconut oil, melted
1/3 cup coconut milk, full fat
1 egg
1/2 teaspoon vanilla extract
1 tablespoon raw honey
1/4 cup chocolate chips
Preheat oven to 350°F, and line cookie sheet with parchment paper.

Mix together the almond flour, cacao powder, coconut flour, coconut palm sugar, and baking soda.

In a separate bowl, whisk together the coconut oil, coconut milk, egg, vanilla extract, and honey.

Using a rubber spatula, mix wet and dry ingredients together; then fold in chocolate chips. Do not over mix.

Cover dough and freeze for 40 minutes or until easy to handle.

Scoop about 2 teaspoons of dough into the prepared baking sheet (I use this cookie scoop). Use the palm of your hand to flatten each cookies, and space them on the baking sheet about 2-inches apart. If the cookies stick to your hand, use a piece of parchment paper to flatten them.

Bake cookies for 10 minutes and then set baking sheet on a wire rack to cool.
Pumpkin Filling
1/3 cup pumpkin puree
1/3 cup coconut butter, melted
2 tablespoons raw honey
2 teaspoons vanilla extract
1/2 teaspoon ground cinnamon
1 teaspoon water
Whisk all ingredients for the pumpkin filling together until combined.

To assemble Whoopie pies, drop 2 teaspoons of the filling on the flat side of the cookie. Top with another cookie. Store in the refrigerated in an airtight container.
You can make your own coconut butter instead of store bought; it's much cheaper to do it this way. Simply add 2 cups of unsweetened dry shredded coconut to your food processor, and process until creamy and smooth like peanut butter, scrapping the sides of the bowl as needed. If you use store-bought coconut butter, you can melt it by placing the jar in a bowl of hot water.
About This Article
This article is from the book:
This article can be found in the category: