The biggest concept behind a Mediterranean style diet is adding more plant-based foods, such as fruits, vegetables, herbs, legumes, and even whole grains, to every meal. Fruits and vegetables are the main components of this push; you want to have five to nine servings of fruits and vegetables each day. Hitting that number may be a simple change for some people, but it may be a bigger challenge for others.
Similarly, you may be at a loss as to how legumes, herbs, and whole grains can fit into your lifestyle. When you aren't used to eating many fruits, vegetables, and the like, knowing how to add them to your diet may be quite difficult. Fortunately, adding plant-based foods to your diet isn't rocket science.
Keep sliced vegetables on hand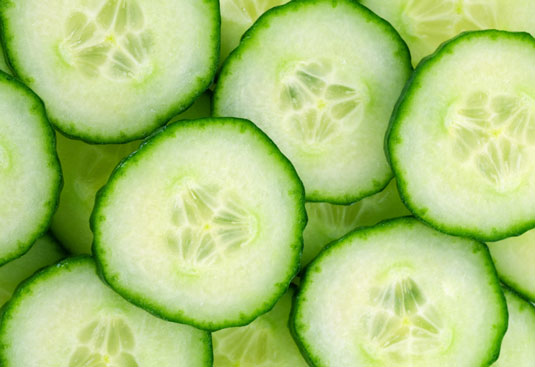 One of the easiest ways to consume more veggies is to eat them raw as snacks. The key to making it simple is to pre-slice a bunch of different vegetables, such as bell peppers, broccoli, carrots, and any other favorites, for the week at one time.
Then you can grab some of the veggies and your favorite dip — such as hummus — while sitting at your desk or watching a movie for an instant healthy snack. In addition, you can throw whatever cut veggies you don't use as snacks into a soup, pasta dish, or salad or some scrambled eggs.
Include a fruit or vegetable with every meal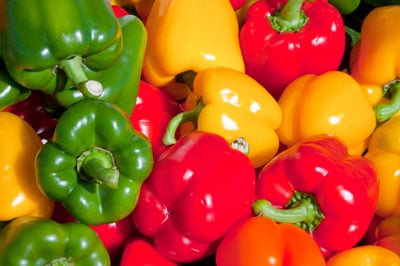 Always planning to have a fruit or vegetable with every meal is a good mindset to get you into the Mediterranean spirit. After you have this little mental guideline in your head, you can find all sorts of creative ways to make it happen.
For example, you can spruce up your sandwich with dark leafy greens and tomatoes, add some fruit to your yogurt, or slice up some raw veggies to have on hand as a snack. You can make this habit work for you in all kinds of ways. By focusing on this guideline, you'll naturally start incorporating five to nine servings of fruits and vegetables during the day.
Keep a fruit bowl on your counter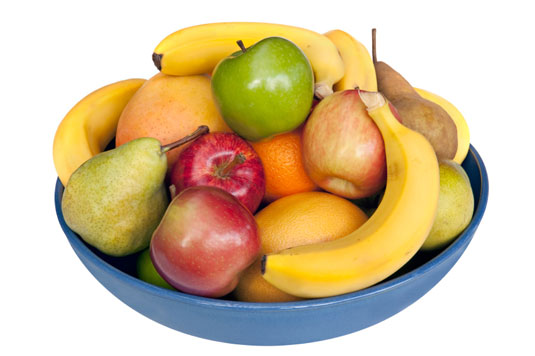 Rather than the old mantra "out of sight, out of mind," you want to go for "in sight, in mind." Keep a fruit bowl on your counter to remind you to eat some fruit during the day with your meal or snacks. If you have kids, you may be surprised how much more fruit they eat when it's in plain sight.
Having a bowl of fresh fruit also looks beautiful and sets the stage for your kitchen to be a healthy, nutritious spot.
Don't just settle for a few bananas; fill the bowl up with all kinds of fresh, seasonal fruit so that you have choices and aren't left with the same type of fruit all day.
Add fruit to your cereals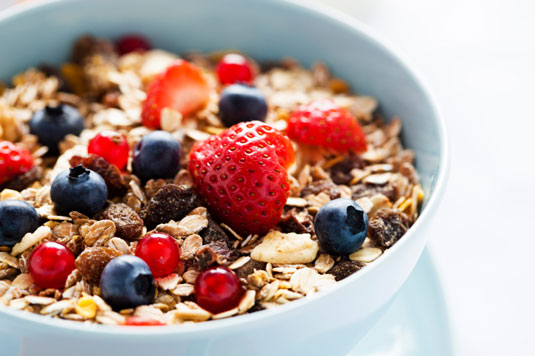 Adding fruit to your cereals is a great strategy that gives your meal more flavor and makes it more satisfying. Slice up any sort of fresh fruit, such as bananas, nectarines, or peaches, or sprinkle some fresh berries on your cereal or oatmeal. Dried fruit is also a wonderful choice and is easy to store in your pantry. Just choose dried fruits with no added sugars.
You can add fresh fruit to your cereal year-round. Just keep frozen fruits and berries in your freezer so you can thaw them in the microwave in a few seconds. Their warm, juicy texture is perfect on top of oatmeal or low-fat granola.
Dress up your salad with fresh fruits and vegetables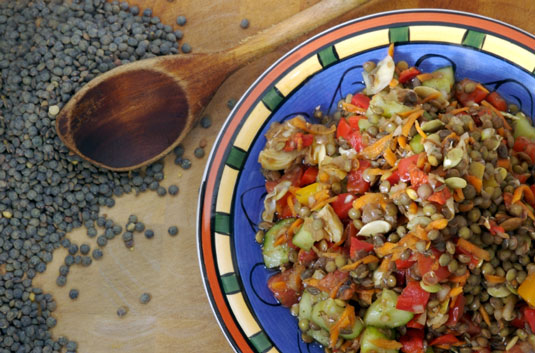 Don't settle for a boring old leafy green salad. You can create a savory or sweet masterpiece by incorporating some fruits and veggies. For example, add sliced bell peppers, tomatoes, and fresh herbs, such as dill, for a savory experience. Sweeten up another salad by adding mandarin orange slices along with some walnuts.
Sneak veggies and herbs into your egg dishes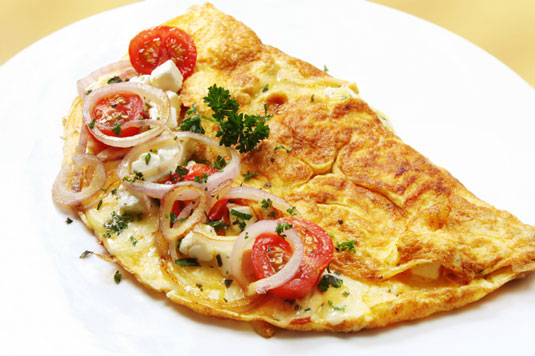 You can use vegetables to add tons of flavor and texture to the most basic egg dishes, such as scrambled eggs. Chop up fresh tomatoes (okay, those are technically a fruit), fresh spinach, onions, or even zucchini. If you have leftover steamed veggies, they're perfect to throw into an egg dish the next morning.
Punch up your pasta with fresh produce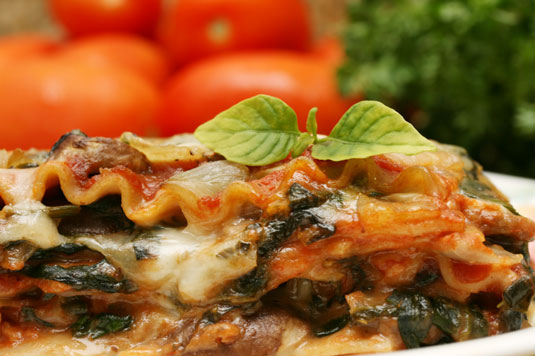 Pasta dishes are the perfect food to add fresh vegetables and herbs to. Even if you already use a vegetable-based sauce such as marinara, you can up the vegetable quotient by adding blanched broccoli, carrots, and bell peppers. Doing so adds more variety and helps you eat less pasta than you may otherwise.
Start off with a little vegetable soup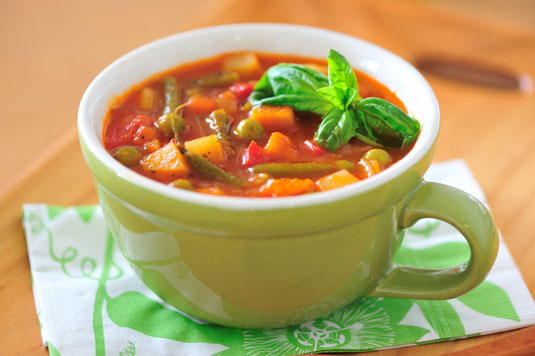 Beginning a meal with a cup of vegetable soup is an easy strategy for adding more vegetables and helping with weight management. Use low-calorie vegetable or tomato soup as a starter for your meals. The soup can help you feel full and satisfied so that you eat less of the main meal.
Supercharge soups and stews with whole grains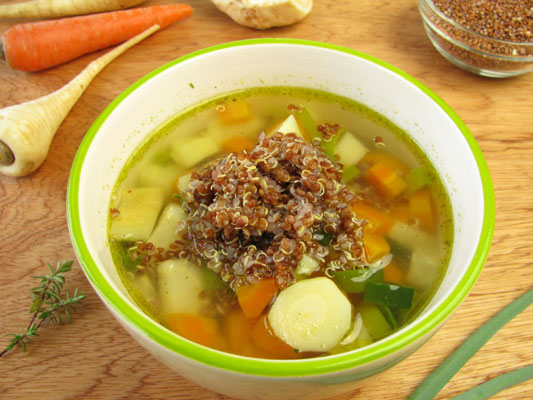 You can add some flavor and texture to soups and stews by incorporating whole grains such as whole-wheat pasta or pearl barley into them. Adding whole grains to plain vegetable soup can recreate a side dish as a complete meal. Whole grains provide fiber and other healthful nutrients and add to the variety of plant-based foods you take in during your day.
Add beans to, well, everything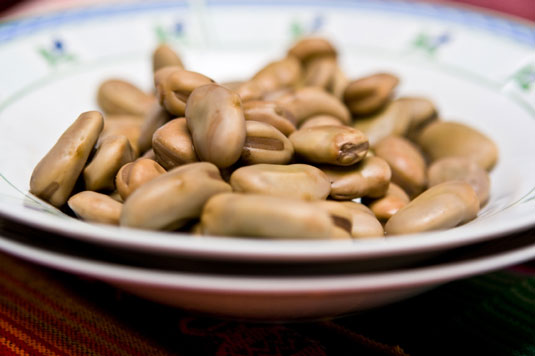 Beans are versatile, flavorful, and easy to use with many different dishes. Look for ways to include them every day.
Always keep some dried and canned beans on hand in your pantry. You can rinse canned beans and add them to soups, stews, salads, pasta dishes, or grain dishes.
About This Article
This article can be found in the category: