People of the Mediterranean are masters at creating amazing desserts, many of which take painstaking hours to prepare. But your busy life may not allow you to spend that much time toiling in the kitchen. Rice Pudding is great for conquering your sweet tooth on a more weekly basis.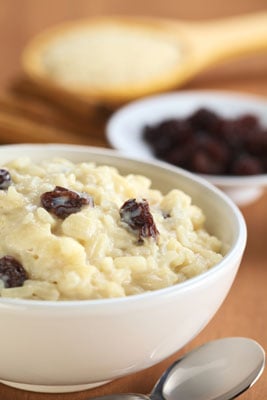 Credit: ©iStockphoto.com/Ildiko Papp, 2011
Rice Pudding
Prep time: 15 minutes
Cook time: 45 minutes
Yield: 6 servings
1/2 cup basmati rice
4 cups milk
3 tablespoons sugar
1/4 cup raisins
1/2 teaspoon cardamom
1/4 teaspoon cinnamon
1/2 teaspoon rose water (optional)
1/4 almonds, chopped
1 tablespoon orange zest
Soak the rice in water for 10 minutes and drain.

In a heavy saucepan, bring the milk and sugar to a low boil over medium-high heat.

Add the rice, raisins, cardamom, and cinnamon and simmer over low heat until thickened (about 45 minutes), stirring frequently.

Remove from the heat and add the rose water (if desired).

Combine the almonds and orange zest. Ladle the pudding into serving bowls and garnish with the almond mixture. Serve hot or cold.
Per serving: Calories 207 (From Fat 43); Fat 5g (Saturated 1g); Cholesterol 8mg; Sodium 75mg; Carbohydrate 34g (Dietary Fiber 1g); Protein 8g.
About This Article
This article can be found in the category: