Coastal living brings a rich variety of delicious, fresh seafood. The people who live on the Mediterranean coast utilize all the food bounties that nature has provided them, so you see no shortage of fish and shellfish entrees and sides in the Mediterranean diet.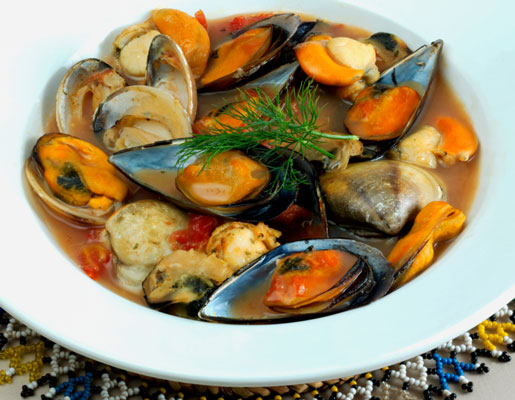 Credit: ©iStockphoto.com/John Peacock, 2010
Mussels with Tomatoes and Basil
Prep time: 5 minutes
Cook time: 15 minutes
Yield: 6 servings
1 tablespoon olive oil
1 onion, chopped
2 celery stalks, chopped
6 cloves garlic, chopped
1/2 teaspoon dried oregano
One 14.8-ounce can tomatoes, chopped
1 teaspoon red pepper flakes
1 teaspoon honey
2 cups white wine
2 pounds mussels, cleaned
Salt and pepper to taste
1/4 cup basil, thinly sliced
6 slices crusty French bread
In a medium saucepan, heat the olive oil over medium heat.

Add the onions, celery, and garlic and cook for 5 minutes. Add the oregano, tomatoes, crushed red peppers, and honey. Simmer for 10 minutes.

Meanwhile, bring the mussels and wine to a boil in a large skillet; cover and simmer for 10 minutes or until the mussels open.

Pour the wine and mussels into the tomato sauce and stir. Season with salt and pepper to taste.

Top with the basil and serve with the crusty French bread.
Per serving: Calories 343 (From Fat 58); Fat 6g (Saturated 1g); Cholesterol 42mg; Sodium 767mg; Carbohydrate 34g (Dietary Fiber 2g); Protein 23g.
About This Article
This article can be found in the category: