Lentils are small, round legumes that make a healthy choice for any meal. An excellent way to add plant-based protein to your Mediterranean Diet meals, they're also a great source of fiber, vitamins, and minerals such as folate and iron. Lentils are great to cook with because they take on flavors well from other ingredients such as herbs, spices, or broths.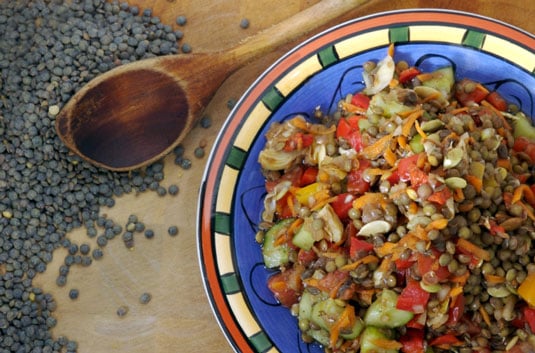 Credit: ©iStockphoto.com/Marianne McEwen, 2007
Mediterranean Lentil Salad
Prep time: 8 minutes
Cook time: 30 minutes
Yield: 6 servings
2 cups water
1/2 cup dry brown or red lentils
One 14.5-ounce can chickpeas, drained and rinsed
3 Roma or plum tomatoes, chopped, or one 14.5-ounce can chopped tomatoes, drained
1/2 yellow bell pepper, chopped
1 red bell pepper, chopped
1 carrot, grated
Juice of 1 lemon
2 tablespoons olive oil
1/2 cup chopped fresh cilantro
Salt to taste
In a 2-quart stockpot, bring the water and lentils to a boil on high heat; reduce the heat to low and simmer for 30 minutes or until tender.

Drain any excess liquid.

In a serving bowl, mix the cooked lentils, chickpeas, tomatoes, bell peppers, and carrot.

Whisk together the lemon juice and olive oil.

Stir the lemon vinaigrette into the salad, top with the cilantro, season with salt to taste, and serve.
Per serving: Calories 194 (From Fat 50); Fat 6g (Saturated 1g); Cholesterol 0mg; Sodium 101mg; Carbohydrate 30g (Dietary Fiber 9g); Protein 8g.
About This Article
This article can be found in the category: