Breakfast in the Mediterranean is usually simple fare, like Greek yogurt. You may be used to seeing pancakes and scones as breakfast options, but note that this recipe makes 12 servings at only 175 calories each, keeping to the Mediterranean habit of starting off with light, simple breakfasts.
Note the image shows lemon scones with cranberries. You can use parchment paper to line your cookie sheet prior to serving if you want less browning on the bottom of your scone.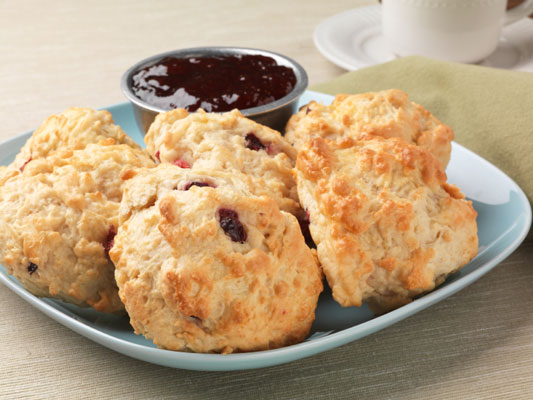 Credit: ©iStockphoto.com/Joel Albrizio. 2011
Lemon Scones
Prep time: 15 minutes
Cook time: 15 minutes
Yield: 12 servings
2 cups plus 1/4 cup flour
2 tablespoons sugar
1/2 teaspoon baking soda
1/2 teaspoon salt
1/4 cup butter
Zest of one lemon
3/4 cup reduced fat buttermilk
1 cup powdered sugar
1 to 2 teaspoons lemon juice
Heat the oven to 400 degrees. In a medium bowl, combine 2 cups of the flour, the sugar, baking soda, and salt.

Using a pastry blender or a food processor, cut in the butter until the mixture resembles fine crumbs.

Add the lemon zest and buttermilk, stirring just until mixed.

Flour a surface with the remaining flour and turn out the dough; knead gently six times. Shape the dough into a ball and then flatten into a 1/2-inch-thick circle with a rolling pin.

Cut the circle into 4 wedges and then cut each wedge into 3 smaller wedges, yielding 12 scones.

Place the scones on baking sheet and cook for 12 to 15 minutes or until golden brown.

In a small bowl, mix the powder sugar and just enough lemon juice to make a thin frosting. Drizzle the frosting over the hot scones and serve.
Per serving: Calories 175 (From Fat 39); Fat 4g (Saturated 3g); Cholesterol 11mg; Sodium 190mg; Carbohydrate 31g (Dietary Fiber 1g); Protein 3g.
About This Article
This article can be found in the category: