Different styles of sandwiches are popular in many countries, especially on the Mediterranean coast, as a quick, casual food. Pairing bread with a variety of meats, cheeses, and vegetables makes using foods you have on hand (and cleaning up those leftovers) easy.
If you have a panini press or a tabletop grill, simply cook each sandwich in the press with the top closed for about 5 minutes. To save time, you can cook your chicken on the same press or grill as well.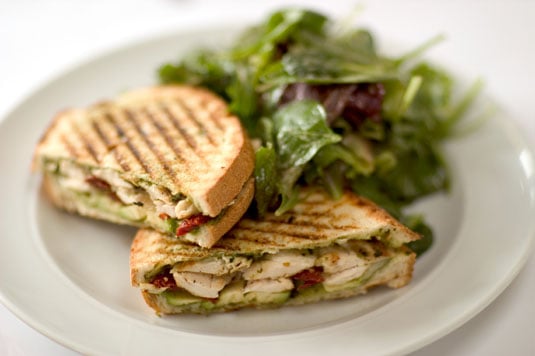 Credit: ©iStockphoto.com/PrototypeSphere, 2007
Grilled Chicken and Roasted Pepper Panini
Prep time: 30 minutes, plus marinating time
Cook time: 40 minutes
Yield: 4 servings
1 pound chicken breast
1/4 cup balsamic vinegar
1/2 teaspoon rosemary, minced
1 clove plus 1 clove garlic, minced
1 teaspoon sugar
1/4 teaspoon red pepper flakes
1 tablespoon olive oil
Eight 1/2-inch slices French or sourdough bread
2 tablespoons mayonnaise
Eight 1/2-ounce slices fresh mozzarella or fontina cheese
1/2 cup roasted red bell peppers, jarred or fresh
8 leaves basil
In a bowl, top the chicken with the balsamic vinegar, rosemary, half of the garlic, the sugar, red pepper flakes, and 1 tablespoon of the olive oil.

Toss to coat. Marinate in the refrigerator for 30 minutes to 2 hours.

Preheat the oven to 350 degrees.

Bake the chicken for 20 minutes or until no longer pink on the inside.

Allow the chicken to rest for 5 minutes and then slice into 1/2-inch slices.

Combine the mayonnaise and remaining garlic in a bowl and spread 1/2 tablespoon of the mixture on the unoiled side of 4 slices of bread.

On top of the mayonnaise, layer 1 slice of the cheese, 2 tablespoons of the roasted peppers, 2 basil leaves, a quarter of the chicken breast slices, and another slice of cheese.

Top each sandwich with another piece of bread (oiled side showing).

Heat a grill pan over medium-high heat.

Place one or two sandwiches in the pan and top with something heavy (such as a tea kettle filled with water) for 5 minutes on each side. Repeat with remaining sandwiches and serve.
Per serving: Calories 438 (From Fat 122); Fat 14g (Saturated 5g); Cholesterol 67mg; Sodium 970mg; Carbohydrate 45g (Dietary Fiber 2g); Protein 32g.
About This Article
This article can be found in the category: