Following a keto diet means that a lot of chocolate you find in the grocery store is off-limits. You may be surprised to find that even the most basic, simple chocolate bars have added sugars, especially milk chocolate and white chocolate that not only tend to have sugar blended in but also various forms of milk that add carbohydrates.

Fortunately, you still have a lot of options when it comes to chocolate and keto baking. The first ingredient that is perfect for both the diet and to bake with is unsweetened cocoa powder. It's easy to find, has no sugar added, and will give your baked goods the deep, chocolatey taste that you may be craving.

You can also look for chocolate that has been specially made for keto baking. Many brands have created chocolate chips and chocolate baking ingredients using stevia and erythritol, so they don't have any added carbs and the chocolate is sweet. This section gives you some fantastic chocolate cake recipes that are completely keto-approved and also taste amazing. You're sure to find your new favorite chocolate dessert here.
Important tricks to baking a perfect keto cake
Here are a few tips that can help you bake the perfect keto cake. Keep them in mind with every recipe you try, and you'll find that baking a beautiful cake is quite simple:
Make sure all your ingredients are room temperature when you begin. Butter, eggs, milk, and every other component come together easily when they're the same temperature.
Scrape the mixing bowl well after each ingredient addition. Sometimes ingredients tend to stick to the edges, which can prevent your batter and cake from turning out perfectly. Use a rubber spatula to scrape the bowl frequently.
Measure everything carefully. Not measuring ingredients correctly is one of the biggest mistakes you can make in cake baking. Be sure to level every cup, teaspoon, and tablespoon accurately to ensure you add the correct quantity of ingredients.
Be careful when you begin considering ingredient substitutes because each recipe is written to use the specified item. When you start replacing certain fats, flours, or liquids, the result will be a different cake. Try to stick to the ingredients in the recipe the first few times you make it. After you've mastered the core recipe, you can begin experimenting with replacements.
Place a piece of parchment paper in the bottom of the cake pan to make removing the cake from the pan easier. Doing so makes the cake pop right out. Always grease baking pans well with butter or baking spray, use a parchment circle, and you'll never have a cake stuck in the pan again.
Chocolate Cake with Chocolate Whipped Cream
Prep time: 10 minutes

Cook time: 20 minutes

Yield: 8 servings
Ingredients
1-1/2 cups almond flour

1/2 cup coconut flour

1 cup monk fruit erythritol blend

1/2 teaspoon sea salt

1 teaspoon baking powder

1/2 cup cocoa powder, unsweetened

1/4 cup butter, melted

1/4 cup coconut oil, melted

2 whole eggs

1-1/2 teaspoon vanilla extract

1 cup coconut milk, unsweetened, canned

1 cup heavy cream

1 teaspoon vanilla extract

1 teaspoon monk fruit erythritol blend

2 tablespoons cocoa powder, unsweetened
Directions
Preheat your oven to 350 degrees F and grease two 8-inch cake pans with butter.
In a large mixing bowl, stir together the almond flour, coconut flour, 1 cup monk fruit erythritol, sea salt, baking powder, and cocoa powder. Add the melted butter, melted coconut oil, eggs, and vanilla extract to the dry ingredients and stir well until a smooth batter forms. Add the coconut milk to the batter and whisk to combine.
Divide the cake batter between the two prepared baking pans and then place the pans side by side in the preheated oven for 20 minutes or until a toothpick comes out of the center cleanly. Let the cakes cool completely and then remove from the cake pans. Place in the fridge until you're ready to frost and eat.
To make the chocolate whipped cream, add the heavy cream, vanilla extract, monk fruit erythritol, and cocoa powder to a bowl or mixer fitted with a whisk attachment. Whip until stiff peaks form. Spread the chocolate whipped cream on the cooled cake, putting a thin layer over the entire top of one cake and then placing the second cake on top to stack it. Decorate as desired, using the whipped cream. Enjoy.
Per serving:
Calories 419; Fat 42 g; Cholesterol 109 mg; Sodium 205 mg; Carbohydrates 32 g (Dietary Fiber 3 g, Sugar Alcohol 25 g); Net Carbohydrates 4.3 g; Protein 8 g.
Chocolate Pound Cake with Bacon Bourbon Frosting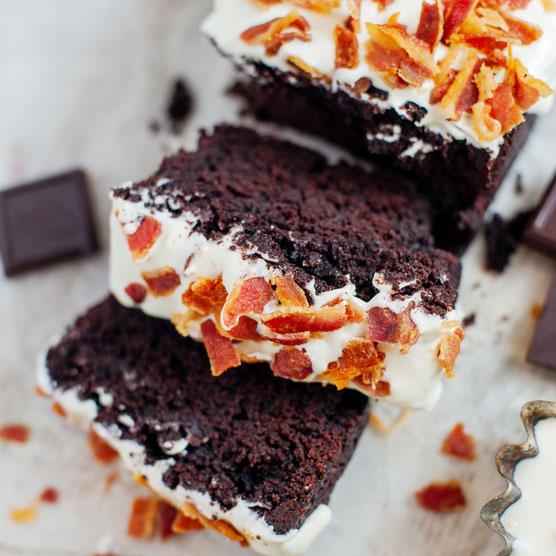 Who says bacon doesn't have a place in baking? Chocolate Pound Cake with Bacon Bourbon Frosting is sweet and savory, all in one gorgeous package.
Prep time: 15 minutes
Cook time: 60 minutes
Yield: 12 servings
Ingredients
1/2 cup butter, softened

2-1/4 cups granular erythritol

8 ounces cream cheese, softened

8 eggs, room temperature

1 teaspoon vanilla extract

1-1/2 cups almond flour

1/2 cup cocoa powder, unsweetened

1 tablespoon baking powder

1/2 teaspoon kosher salt

2 ounces dark chocolate, unsweetened, melted

4 tablespoons butter, softened

1/4 cup cream cheese, softened

2 tablespoons powdered erythritol

1 tablespoon bourbon

1/2 teaspoon bourbon vanilla extract

1/2 cup bacon, cooked and crumbled
Directions
Preheat your oven to 325 degrees F. Grease a loaf pan with butter and set aside.
Beat the butter and granular erythritol until light and fluffy in the bowl of a stand mixer or a medium bowl with an electric hand mixer. Add the softened cream cheese and beat to combine. Add the eggs one at a time, scraping down the sides of the bowl after each addition to ensure everything is mixed evenly. Add the vanilla extract and blend into the batter. Add the almond flour, cocoa powder, baking powder, and salt and mix until the batter is smooth. Add the melted dark chocolate and beat well to incorporate fully. Pour the batter into the prepared loaf pan.
Bake for 60 minutes or until a toothpick comes out cleanly from the cake's center. Cool the cake completely before removing from the pan.
To make the frosting, place the butter, cream cheese, and powdered erythritol in a medium bowl and beat until fluffy. Add the bourbon and vanilla extract and mix well. Spread the frosting over the cooled pound cake and then sprinkle with the bacon. Slice and serve.
Per serving:
Calories 359; Fat 33 g; Cholesterol 201 mg; Sodium 356 mg; Carbohydrates 15 g (Dietary Fiber 4 g, Sugar Alcohol 7 g); Net Carbohydrates 4.2 g; Protein 11 g.
About This Article
This article is from the book:
This article can be found in the category: