The keto diet is a sustainable lifestyle choice, incorporating all elements of a meal, including dessert. That concept may seem ironic because the one thing most people know about keto is that you have to avoid sugar. When you change your eating style, however, you also change how you cook.

Strawberries contain a lot of water and very few carbs. They also have high quantities of fiber, as well as lots of vitamins and minerals such as vitamin C, manganese, and potassium. Many holiday desserts revolve around this delicious, keto-approved fruit, and Chocolate-Covered Strawberries are very romantic.

Prep time: 10 minutes

Cook time: 1 minute

Yield: 14 strawberries

Per serving: Calories 42; Fat 4 g; Cholesterol 0 mg; Sodium 1 mg; Carbohydrates 5 g (Dietary Fiber 2 g, Sugar Alcohol 1 g); Net Carbohydrates 1.5 g; Protein .5 g.
Grab some strawberries.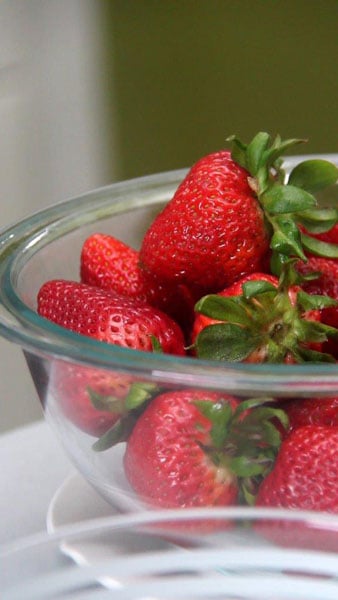 You need 14 whole strawberries, stems on.
Gather the remaining ingredients and set up a double boiler using a small pot with about 2 cups of water.
You need 1/2 cup unsweetened dark chocolate chips and 2 tablespoons coconut oil.
Bring the water to a boil and place a heatproof bowl on top of the pot, making sure the bowl doesn't touch the boiling water. Place the chocolate chips and coconut oil in the bowl and heat until melted completely (about 3 to 5 minutes). Stir occasionally to blend the ingredients together and make smooth. Prepare a sheet tray with a piece of parchment.
Dip the strawberries, one at a time, in the melted chocolate.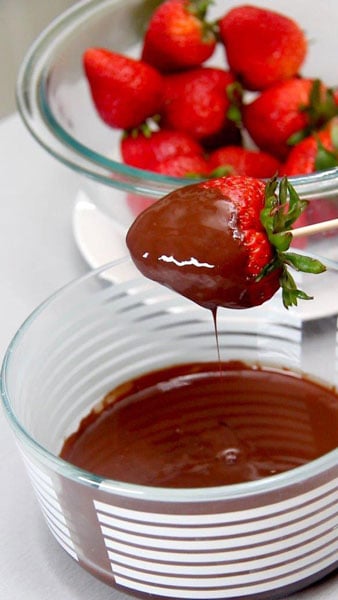 Let the dipped strawberries drip over the chocolate bowl briefly.
Place the dipped strawberries on the prepared sheet tray to chill.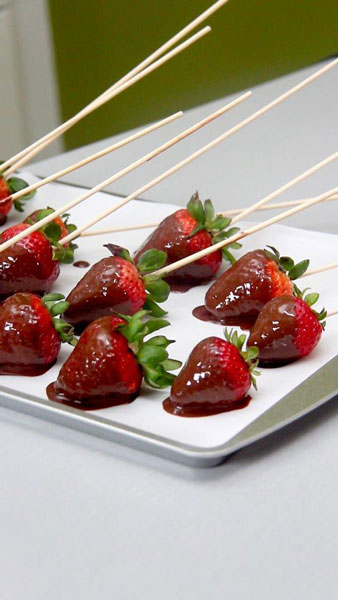 If you start to run low on chocolate as you dip each berry, pour the chocolate into a smaller container, making it a little deeper for dipping. You can also spoon the melted chocolate over the berry.
Dip the strawberries in unsweetened toasted coconut or toasted chopped nuts for an extra flavor.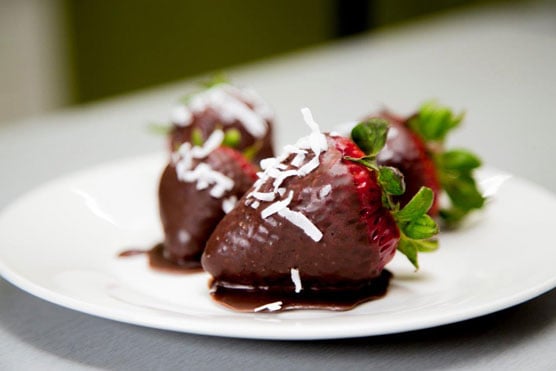 Store in the fridge and enjoy once the chocolate hardens.
About This Article
This article is from the book:
This article can be found in the category: