By using vegetable shortening instead of the traditional lard in these almond cookies, this recipe creates almond cookies that are a little bit crispier — and with a lot less cholesterol.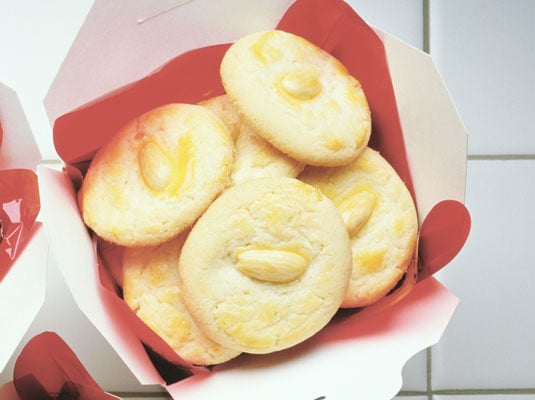 Credit: Michael Lamotte/Cole Group/PhotoDisc
Preparation time: 20 minutes, plus 1 hour for the dough to rest
Cooking time: About 15 minutes per batch
Yield: About 32 cookies
1 3/4 cups all-purpose flour
3/4 teaspoon baking powder
1/2 teaspoon baking soda
1 cup solid vegetable shortening
1/2 cup granulated sugar
1/4 cup packed brown sugar
1/8 teaspoon salt
1 egg
2 teaspoons vanilla extract
1 teaspoon almond extract
1/2 cup chopped blanched almonds
32 almond halves
Sift the flour, baking powder, and baking soda into a bowl.

In a large bowl, beat the shortening, sugar, brown sugar, and salt with an electric mixer until fluffy.

Crack the egg and pour it into a small bowl, then beat it lightly with a whisk or fork.

Add the egg, and the vanilla and almond extracts; beat until blended.

Add the flour mixture; beat until fully incorporated.

Add the chopped almonds and stir to mix well.

Shape the dough into a ball, cover with plastic wrap, and refrigerate.

You need to refrigerate the dough for at least 1 hour, and you can keep it in the fridge for up to 2 days.

Preheat the oven to 350 degrees.

Roll the dough into tablespoon-sized balls.

Place the balls 2 to 3 inches apart on a baking sheet.

Press an almond half into the center of each ball.

Bake until golden brown, 14 to 16 minutes.

Let cool on the baking sheet for 7 minutes and then transfer to a rack to cool completely.
Even desserts deserve garnishing. Sprinkle some toasted sesame seeds or even some finely chopped walnuts onto your almond cookies while they're still warm — they're the perfect accessory for these tempting treats.
About This Article
This article is from the book:
This article can be found in the category: