Bruschetta with tomatoes is a classic summertime favorite. However, good bruschetta with tomatoes depends on really ripe tomatoes. Give this recipe a try when it's local tomato season; otherwise, you may want to make something else. The real way to pronounce bruschetta is broos-KET-ah (not broo-SHET-ah).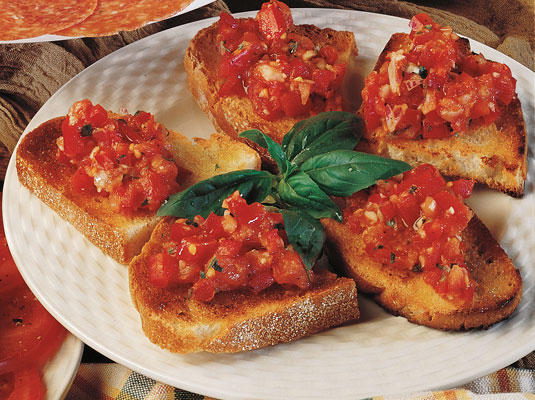 Preparation time: 15 minutes
Cooking time: 5 minutes
Yield: 4 servings
3 medium tomatoes
6 cloves garlic
12 whole basil leaves
Pinch of hot red pepper flakes
Pinch of black pepper
Salt to taste
3 tablespoons balsamic vinegar
3 tablespoons red wine vinegar
2/3 cup olive oil
8 slices country white bread (Italian or French bread)
Preheat oven to 350 degrees.

Chop the tomatoes.

Peel and crush the garlic cloves

Place the tomatoes, garlic, basil, red pepper flakes, black pepper, salt, balsamic vinegar, and red wine vinegar in a food processor.

Run the food processor for a few seconds and then shut it off.

Repeat this procedure 2 to 3 times.

The resulting mixture should be somewhat chunky, rather than a smooth puree.

Add the olive oil and pulse a few more times.

Adjust seasoning with salt as needed and stir.

Arrange the bread slices on a baking sheet and place in the oven.

Allow the slices to lightly toast for about 5 to 7 minutes and then remove from the oven.

Spoon the tomato mixture on the toasted bread and serve.
About This Article
This article can be found in the category: