Holiday meal planning often includes a main course of roasted turkey, a Thanksgiving favorite baked to a golden bronze and served up with richly flavored and piping hot stuffing. Cooking and carving your turkey can be simple tasks, with these easy-to-follow instructions.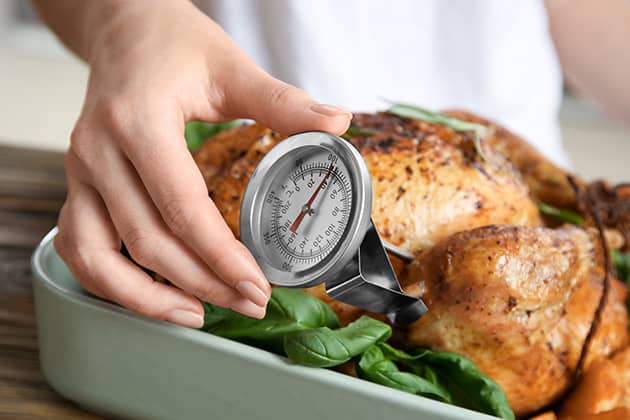 ©Africa Studio / Adobe Stock
In this recipe, the stuffing is baked separately, not in the turkey. You can also choose to stuff the turkey with stuffing and bake it. Just spoon stuffing loosely into the cavity right before cooking, and then tie the legs together. Increase the cooking time (as shown in the accompanying table) to allow time for the stuffing to heat thoroughly. Before serving, scoop the stuffing into a serving bowl.
Roast turkey recipe
Tools: Chef's knife, vegetable peeler, large roasting pan, roasting rack, meat thermometer (unless the turkey comes with one), kitchen string or twine, carving board

Preparation time: 15 minutes

Cooking time: 3 to 3-1/2 hours (for a 12-pound turkey)

Yield: 12 servings

Ingredients:
1 fresh or thawed frozen turkey (about 12 pounds)
1 medium yellow onion, quartered
2 carrots, peeled and quartered
2 large cloves garlic, crushed
2 tablespoons vegetable oil
Salt and pepper
Instructions:
1. Preheat the oven to 325 degrees F, with the oven rack on the lowest rung.
2. Set a wire roasting rack in a large roasting pan. Remove the giblets and neck from the turkey cavity and reserve for the stock; discard the liver. (While the turkey is roasting, you can prepare a quick turkey stock with the giblets and neck if you're making homemade gravy). Remove any excess fat from the turkey. Rinse the turkey inside and out with cold water and pat dry.
3. Place in the turkey cavity the onion, carrots, and garlic. Tie the legs together with kitchen string. If desired, bend the wing tips back and fold them underneath the turkey.
4. Set the turkey, breast side up, on the roasting rack. Rub the turkey all over with 2 tablespoons of the oil. Season generously with salt and pepper. Add 1 cup of water to the roasting pan. If using a meat thermometer, insert it into the thickest part of the thigh, close to the body, without touching any bone.
5. Roast for about 3 to 3-1/4 hours, or until the thigh temperature registers 180 degrees F. Add another 1/2 cup of water to the roasting pan if it gets dry. To brown the turkey evenly, turn the pan laterally about midway through the roasting. If the turkey turns brown before the roasting time is over, cover it loosely with aluminum foil to shield the skin. Start checking for doneness during the last 30 minutes of roasting, and baste with the pan drippings two or three times during the last hour.
6. Remove the turkey from the oven, transfer it to a carving board, and cover loosely with aluminum foil, letting it rest for 20 minutes while you make the gravy. Remove the vegetables from the cavity and discard. Carve as shown.
For an attractive presentation, garnish the turkey platter with fruits and other attractive produce. Try a heap of fresh cranberries, piles of leafy greens or fresh herbs (such as whole basil), a few kumquats or orange slices, or red and green grapes dusted in sugar.
Nutritional information:
Per serving, with gravy: Calories 505 (From Fat 173); Fat 19g (Saturated 6g); Cholesterol 204mg; Sodium 598mg; Carbohydrate 2g (Dietary Fiber 0g); Protein 76g.
Per serving, without gravy: Calories 404 (From Fat 122); Fat 14g (Saturated 4g); Cholesterol 171mg; Sodium 206mg; Carbohydrate 0g (Dietary Fiber 0g); Protein 66g.
How long should you cook your turkey?
Turkey roasting times vary by weight of the bird:
| | | |
| --- | --- | --- |
| Weight of Turkey | Turkey Cooking Time (Unstuffed) | Turkey Cooking Time (Stuffed) |
| 8 to 12 pounds | 2-3/4 to 3 hours | 3 to 3-1/2 hours |
| 12 to 14 pounds | 3 to 3-3/4 hours | 3-1/4 to 4 hours |
| 14 to 18 pounds | 3-3/4 to 4-1/4 hours | 4 to 4-1/2 hours |
| 20 to 24 pounds | 4-1/2 to 5 hours | 4-3/4 to 5-1/4 hours |
Every year, hundreds of thousands of people wind up in hospital emergency rooms as a result of kitchen accidents involving knives. Many injuries have resulted from time-pressed, hungry people trying to pry apart frozen hamburgers, slicing through hard bagels, or using dull blades that slip. Don't make their mistake! Slice away from your hand, keep your fingers clear of the blades, and don't ever use the palm of your hand as a cutting board. Keep your blade in peak cutting condition by keeping it sharp.
Carving your turkey
Learning how to carve a turkey properly is important to ensure that you get the most meat and that the portions can be distributed to your guests in an aesthetically pleasing way. For additional tips on carving a turkey, see Carving a Turkey or How to Carve a Turkey video and the illustration below.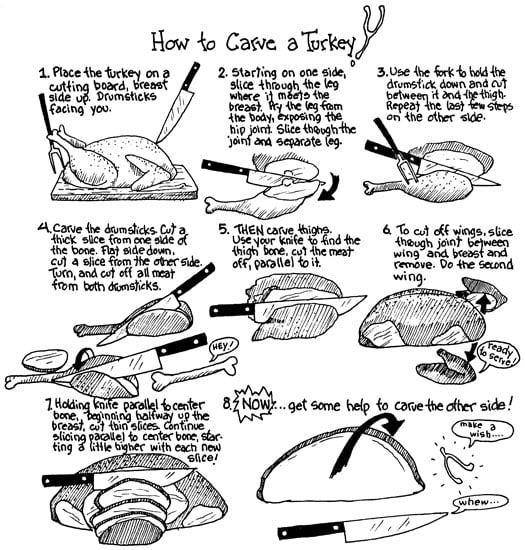 Carving a turkey is easy.
About This Article
This article is from the book:
This article can be found in the category:
This article is part of the collection(s):