Once you have your Thanksgiving dinner budget set and know roughly how many people you will be serving, it's time to determine what to serve with that turkey. Plan on appetizers, sides, salads, breads, desserts, and don't forget the essentials like butter and salad dressing.
Appetizers for Thanksgiving entertaining
What kinds of appetizers you should serve depends on how much you want to spend and what type of event you're cooking for. However, don't fall into the trap of thinking that appetizers have to be fancy and unusual. Rather, it's best to lean toward the practical side and serve appetizers that most people love. Salmon pâté may sound cool, but you can make easy and delicious crowd appetizers without spending a fortune.
Match your appetizer with your event: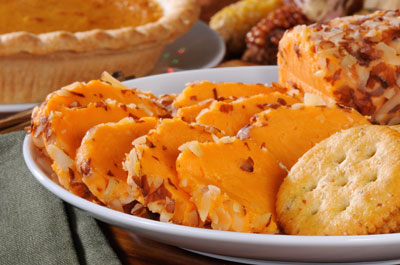 Credit: ©iStockphoto.com/Mark Stout 2011
Formal and semiformal: Serve such items as chilled shrimp with dipping sauce, oysters on the half shell, miniquiches, stuffed mushrooms, finger sandwiches, tartlets, baked brie with crackers, and cocktail meatballs.

Home-Style: Serve various chips and dips, meat and cheese trays, cracker trays, cocktail sausages, cocktail meatballs, cheese balls, chicken nuggets, and other standard appetizer items.
Generally, serving appetizers is a good idea. Appetizers give early guests something to do and keep guests from twiddling their thumbs as they wait for the main meal.
Selecting holiday entertaining side dishes
As you plan your side dishes, go back to Granny's rule of thumb for a well-rounded meal: Have one side green (because greens have the vitamins) and one side starch (such as mashed potatoes, rice, corn, and so on). You get the picture. Try to keep the meal balanced.
Because keeping items hot can be difficult, it's always a good idea to serve some cold side dishes, such as a green salad or fruit salad, and some hot sides, such as rice pilaf.
Something else to keep in mind when planning your sides is the overall table presentation, especially if you're serving the meal buffet-style. Think about when you go to an all-you-can-eat buffet. Half of the reason people eat so much is because of how it's presented — all the different colors and textures of the food are stimulating to the appetite. With that in mind, try to make sure that you have a variety of colors in your side dishes.
The following are easy-to-make sides that your guests will surely enjoy:
Green salads: Be sure to plan on offering assorted dressings

Vegetable salads: Potato, pea, coleslaw, and so on

Fruit salads: Strawberry banana, assorted melons, or tropical fruits

Potatoes: Mashed, scalloped, or sweet

Rice: White, brown, wild, or flavored

Pasta: Macaroni and cheese, fettuccine, or spaghetti

Vegetables: Steamed broccoli or cauliflower, cheese covered, sautéed, stir fried, or in casseroles
Holiday breads and rolls
Regardless of whether the bread needs to be warm or room temperature, you need to make sure it stays fresh. An easy way to keep the bread fresh is to line the serving dish with a clean linen, place the bread on top, and cover the bread with another clean linen. Remember, the more bread is exposed to air, the staler it becomes.
The following is a suggestion list of what types of breads or rolls to serve with different types of food:
Formal and semiformal: Yeast rolls, dinner rolls, or croissants

Home-Style: Corn bread, white or wheat sliced bread, yeast rolls, potato rolls, biscuits, or bake-and-serve dinner rolls
Butter, spreads, and more for your holidays
Condiments are those items that nobody really thinks about — at least until they're missing. Condiments deserve some planning, too — just pay attention to the food you're serving and let the dishes guide you in your decision making.
When planning your menu, always make sure you write down all the condiments you'll be serving.
Buying your condiments already made, saves time and, in many instances, money. However, if you have a recipe for a really great homemade salad dressing and you can budget the time to make it, go for it. Such special touches are always welcomed and wanted.
Following is a list of standard condiments, just as a reminder:
Butter

Coffee creamer

Cranberry sauce

Pepper

Salad dressing

Salt

Sugar

Sugar substitute
About This Article
This article is from the book:
This article can be found in the category: