You've worked hard deciding what foods to serve on Thanksgiving and have chosen the finest ingredients. On Thanksgiving Day, why not create some visual impact with the food you're going to serve? Try these following tips for adding flair to your Thanksgiving table.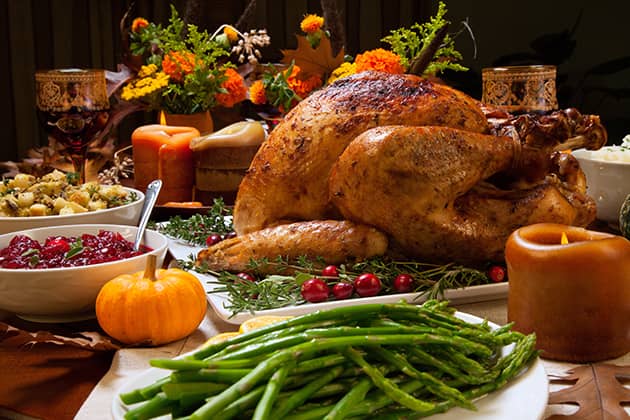 ©Evgenyb / Adobe Stock
Make your own dip bowls: When serving a vegetable tray with dip, try making a bowl out of a red, yellow, or green bell pepper. Simply wash the pepper, cut off the top portion (about 1/4 to 1/2 of it from the top), and remove the insides. Wash the pepper thoroughly with water and allow it to dry. Then fill her up!

Likewise, when you serve a fruit tray with dip, try using an orange, grapefruit, small cantaloupe, or honeydew melon.

Carve holes in your bread: Breadbaskets or bread bowls are great for serving dips, soups, sandwiches, and individual servings of bread, such as muffins and sliced bread. To make a breadbasket, take a large loaf of bread, cut a circle in the top, and remove its insides. You can also use smaller round loaves of bread, preparing them as you do the larger loaves and using them to serve soup.

©Adam Korzeniewski / iStockphoto.com

Garnish: Fresh mint sprigs, cilantro, and parsley are the most common garnishes. Place them in the center of the food item, and you won't go wrong. The addition of the small piece of greenery can have a huge visual impact.

Make special garnishes: To make a tomato rose, first wash and dry a tomato (other than a cherry or grape). Take a sharp paring knife and, starting at the top, gently "peel" the skin off in the same manner you'd peel an apple. Then gently take one end of the peel and start rolling it up to create a rose shape. The end result is a beautiful garnish that will make you look like a pro!

To fashion a strawberry fan, take a washed and dried strawberry (with the green stem still attached) and, using a paring knife and starting at the bottom, cut thin slices into the strawberry. Slice up to the green stem. Gently fan the pieces of the strawberry out and place it on the food as a garnish.

Break out the baskets: When serving bread, rolls, muffins, chips, or crackers try placing them in a basket that you've lined with a color-coordinated napkin. Cookies are also a good choice to serve out of a basket, as long as they're of the crunchy variety, not chewy. The chewy kind is best served on a platter so they don't break apart. Eating utensils and napkins can also be served in baskets.

Mask your dishes with leafy greens: Leaf lettuce and kale cover a multitude of ugly platters, plates, and the like. Make sure you thoroughly wash and completely dry each piece of the greens, then line the platter with them and place the food on top.

Borrow Grandma's paper doilies: When you're serving a food such as chips, cookies, or anything else that doesn't belong on a bed of lettuce, line the platter with foil and then place paper doilies on top.

Use baking pans as big platters: Have a large piece of meat to serve and no platter big enough? Use a cookie sheet or a jellyroll pan lined with lettuce.

Vary the heights of food: You can greatly boost your table's appeal by using various heights with your dishes. For example, use a cake pedestal to serve cookies or a tiered serving dish to serve snacks. With just a little planning, you can give the food a whole new look.
About This Article
This article is from the book:
This article can be found in the category:
This article is part of the collection(s):