Use Amazon's Manage Inventory page to search, view, and update the inventory records for products you sell on Amazon. To access the Manage Inventory page, log in to Seller Central, open the Inventory menu, and select Manage Inventory. The Manage Inventory page appears, as shown in the figure, where you can do the following: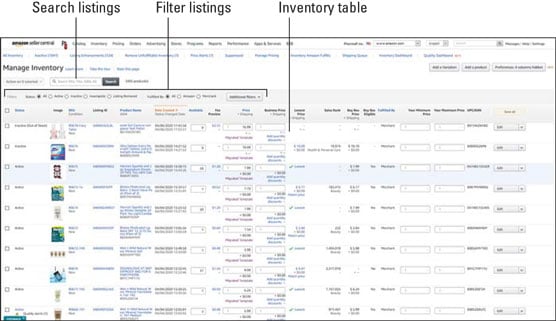 Amazon's Manage Inventory page.
Search for a product: To search for a specific product, click in the Search box, near the top of the page, type the product's SKU, Title, ISBN, or other attribute, and press the Search button.
Filter inventory: Use the options above the table to view all products in inventory or only active or inactive inventory or to view all products or only FBA or only Fulfillment by Merchant (FBM) products. You may also see filters for displaying only those products with suppressed listings, quality issues, or price alerts — product listings that have specific problems you need to address before those products will appear in searches.
One of the most common uses of the Manage Inventory page is to quickly identify suppressed listings and make corrections to those listings. Click Suppressed near the top left of the Manage Inventory page to display a complete list of suppressed listings. In the table of suppressed listings, check the Issue(s) to Fix box to find out why the listing is suppressed. Press the Edit button next to the listing, choose the option for correcting the issue, and follow the onscreen cues to complete the task. Click Save All to save your changes.
Sort inventory: Select an inventory header attribute such as SKU or product name at the top of the inventory table to sort product listings according to that attribute.
Customize the inventory table: Press the Preferences button, above and to the right of the inventory table, use the resulting options to specify the columns you want included in the table and other display options, and press the Save Changes button.
Update the quantity available: In the Qty field next to a product, type the quantity currently in stock and press the Save
Change the price: In the Price field next to an item, type the price of the item and press the Save
Edit a product: Open the Edit drop-down list (to the right of a product listing) to access additional actions, including changing the product's image, matching to the lowest price, or closing or deleting the product listing. (Closing a listing deactivates it, making it unavailable to shoppers. Deleting a listing removes the SKU, which is best if you plan never to list the product again.)
If you sell on channels other than Amazon, look for a third-party inventory management utility that supports Amazon and your other sales channels, such as eBay, Shopify, and your own ecommerce store.
Maintain sufficient stock
As long as you have products listed for sale, you never want to run out, so you need to have a system in place to replenish inventory before you get to the point at which you don't have enough to fill an order. Having enough inventory comes down to math; you need to crunch the numbers to forecast total sales over a given period of time and then place an order to replenish inventory early enough for your supplier to deliver the goods before supplies run out.

In the following discussion, we lead you through the calculations and provide additional guidance on how to automate the inventory replenishment process.
Forecasting sales
To avoid running out of stock, you first need to know the quantity of an item you sell over a given period of time. Calculating your average daily sales volume provides you with a number you can use to forecast sales for the coming weeks, months, quarter, and even year.

Use the following equation to calculate average daily sales volume for a product:
Quantity Sold divided by Number of Days = Average Daily Sales Volume
For example, if I sold 450 items in three months or 90 days:
450 divided by 90 = 5
Knowing the average daily sales volume simplifies the process of forecasting sales for any given period of time — a week, a month, a quarter, or a year. Just multiply the average daily sales volume by the number of days in the period, as shown in the table:
Forecasting Your Sales

| | | | |
| --- | --- | --- | --- |
| Period | Multiply Days in Period | By Average Daily Sales Volume | Equal Total Sales |
| Week | 7 | 5 | 35 |
| Month | 30 | 5 | 150 |
| Quarter | 90 | 5 | 450 |
| Year | 365 | 5 | 1,825 |
After forecasting your total sales for a given period, add 25 to 30 percent to the quantity as a buffer. Also, be sure to consider the fact that sales volume of some products is likely to increase during certain periods of the year, such as Christmas, Black Friday, Cyber Monday, and Amazon Prime Day. Analyze your sales reports (accessible via Seller Central's Reports menu) to identify and better understand demand fluctuations for specific products.
Accounting for lead times
Suppliers need time to manufacture, pack, and ship products. Be sure to account for the time required, and place your order earlier enough so the products reach you or arrive at Amazon fulfillment centers before you run out of stock.

Communicate with your suppliers to identify any potential supplier downtimes or other factors that may impact lead time, such as the following:
Holiday seasons: Holidays can impact lead times in two ways. First, if a number of employees take time off, the supplier may not have the workforce required to fill orders. For example, most Chinese suppliers slow down or shut down for at least seven days (and some for several weeks) in late January and early February, in honor of Chinese New Year. Second, suppliers often are busier in the days leading up to holiday seasons, during which period they may need more time to fill orders.
Order sizes: Suppliers can typically fill small orders faster than large orders, so find out from your supplier how order quantity impacts fulfillment and then plan for these variations in lead times.
Shipping/delivery: Delivery times vary according to the location of the supplier and how the items are shipped, such as via air, land, or sea.
Customs inspections: If products need to cross borders, expect delays due to customs inspections.
Inventory processing: Whether items are shipped to you or to Amazon or other third-party fulfillment centers, they need to be logged in to inventory.
With inventory planning, you need to think months in advance, not merely days or weeks. From the time you place an order with a supplier until the product is ready to be shipped (from you or an Amazon fulfillment center) generally requires at least 30 days and often longer.
Replenishing FBA inventory
If you use FBA, you can start the process of replenishing inventory from Amazon's Manage Inventory page:
In Seller Central, open the Inventory menu and select Manage FBA Inventory. The Inventory Amazon Fulfills page appears, as shown in the following figure.
Scroll down the product list to the product you want to replenish and click the check box to the left of that product.
Open the Actions menu and select Send/Replenish Inventory.
Follow the onscreen instructions to complete the process.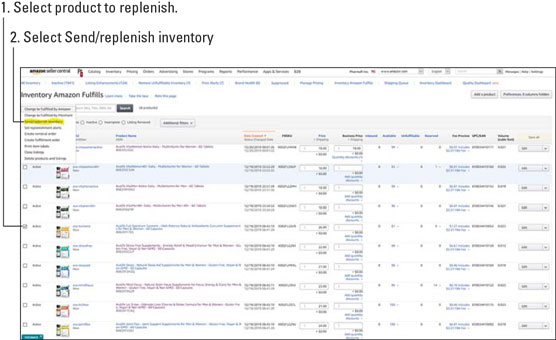 Start the process of replenishing FBA inventory.
Setting up replenishment alerts
Replenishment alerts notify you via email when the quantity of a product in inventory dips below the threshold you specify. With replenishment alerts, you don't have to constantly monitor your product listings via Amazon's Manage Inventory page. You simply set up an alert and then take action when you receive a replenishment notification.

Replenishment alerts are available only for FBA products. For FBM products check the low stock alerts on your Seller Central homepage. These alerts are generated automatically based on sales over the past 30 days and the number of items in stock you entered when you first listed the product or most recently updated your quantity in stock.

When creating a replenishment alert for an FBA product, Amazon allows you to specify your replenishment threshold in terms of units or weeks-of-cover (the number of weeks' worth of inventory you have on hand based on sales over the past 30 days):
Units: To figure out when to replenish based on number of units in stock, multiply your lead time by your daily sales volume and add a buffer to ensure you don't run out of stock. For example, if your lead time is 45 days and you sell an average of five units per day, should set a replenishment alert for when you have a minimum of 225 items in stock. You would be wise to add a buffer of say 50 to 75 units to be sure you don't run short, such as 225 + 75 = 300 units.
Weeks-of-cover: To set a replenishment alert based on weeks-of-cover, start with your lead time in weeks and add a buffer of a couple weeks. For example, if your lead time is 75 days, that's about 11 weeks, plus two weeks equal 13 weeks. Every 13 weeks, you need to order enough items to cover the next 13 weeks.
Revisit your alerts regularly and make adjustments when necessary. You don't want to run out of inventory, but inventory can build up over time leading to overstock conditions that increase your storage costs and your risk of getting stuck with products you can't sell.

To set a replenishment alert, take the following steps:
In Seller Central, open the Inventory menu and select Manage Inventory.
After the Manage Inventory page appears, check the box next to each product for which you want to set a replenishment alert in the table of product listings.
Open the Action menu, select Set Replenishment Alerts, and press the Go button. The Set Inventory Replenishment Alerts page appears.
In the When do you want to be alerted column, open the Apply to All list and select When Fulfillable Quantity Reaches (Units) or When Weeks-of-Cover Reaches (Weeks) to set the same replenishment level for all products listed or select the desired unit for each individual product.
Enter the desired alert threshold quantity in the Alert Threshold box at the top of the column to use the same threshold for all items in the list or enter the desired quantity in the Alert Threshold box for each product individually.
Press the Save button to save the alert.

Enter the desired alert threshold.
Use Amazon's Restock Inventory tool to obtain recommendations on products to restock, replenishment quantities, and ship dates. To access the Restock Inventory tool, open the Inventory menu, select Inventory Planning, and select the Restock Inventory tab.
Although Amazon will notify you via email when your fulfillment threshold is reached, you can check for alerts on Seller Central. Open the Inventory menu and select Manage FBA Inventory. A gold bell appears in the Available column next to the quantity when an alert has been set but not yet reached. A red bell indicates that the threshold has been reached.
Avoiding FBA's long-term storage fees
Inventory that has been in an Amazon fulfillment center is subject to long-term storage fees charged per item or per cubic foot, whichever is greater. To help sellers avoid these fees, Amazon features an inventory planner that enables you to monitor how long your products have been stored in Amazon fulfillment centers. To access the inventory planner from Seller Central, open the Inventory menu and select Inventory Planning. The inventory planner appears with the Inventory Age tab selected, as shown.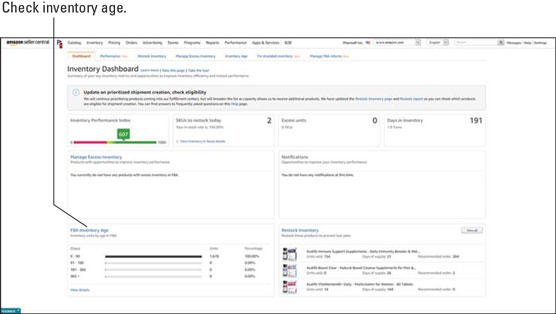 Amazon's inventory planner.
For each product stored in FBA inventory, the inventory planner displays its name, sales rank, sales (units shipped in the last 90 days), FBA sell-through (in the last 90 days), inventory age, estimated long-term storage fees, your price, and the buy box price. Use these details to make informed decisions about each product; for example, you may want to avoid long-term storage fees by dropping a product's price to quickly sell any remaining units or have FBA ship any remaining items back to you and then close or delete the listing.
About This Article
This article is from the book:
This article can be found in the category: