Selling on Amazon is a broad topic that covers everything from researching products to sell and sourcing products to listing products for sale, fulfilling orders, and serving customers after a sale. This Cheat Sheet highlights a few key topics.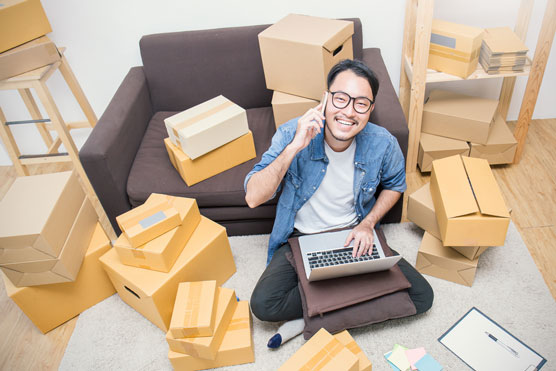 © paulaphoto/Shutterstock.com
What to sell on Amazon
One of the most challenging tasks you have as an Amazon Seller is choosing products to sell. Ideally, you want to sell items in high demand and low supply, so you can sell a boatload of items at a huge markup. That usually happens only for sellers who invent their own amazing products. Other sellers must settle for products that sell fairly well and generate a reasonable profit. Here are some tips for choosing products with respectable sales and profit potential:
Use a third-party product research tool to identify potentially hot-selling, profitable products.
Lean toward products that sell for more than $25 and have at least a 50 percent profit margin; otherwise, packing, storage, and shipping costs are likely to consume a significant portion of your profit.
Steer clear of products with lots of competitors.
Find products with poorly developed product listings, such as lousy product photos or a terrible product description.
Look for products with an Amazon Best Seller Rating (BSR) of 3,000 or better in its main product category. This rating identifies the best-selling products on Amazon.
Avoid product categories dominated by one or only a few brands.
Lean toward product categories with several competing products, none of which has more than 50 reviews.
Opt for small, compact products that weigh no more than a few pounds, to minimize your storage, packing, and shipping costs.
Choose products commonly searched for on Amazon. (You can find plenty of third-party product research tools to help with this.)
Lean toward products you're excited about.
Your product sourcing options when selling on Amazon
Product sourcing is the process of obtaining products to sell at a profit. You can acquire products to sell from a number of different sources, including these:
Retail arbitrage: You buy deeply discounted products, typically from large brick-and-mortar retailers, mark up the price, and list them for sale on Amazon.
Auctions and liquidation sales: Local and online auctions (and estate sales) allow you to bid on items and often buy them for significantly less than they would be sold for in traditional retail stores, although you may be required to list these items as "used."
Drop-shipping: With drop-shipping, you select items from a drop shipper's catalog and list them on Amazon. When a customer orders the item, you pass the order to the drop-shipper who picks, packs, and ships the item to the customer according to your specifications, so it looks as though it came from you.
Wholesalers: Traditional sourcing involves purchasing a large quantity of products from a wholesaler, then selling them individually at a significant markup to consumers. You can find plenty of domestic and foreign suppliers, such as alibaba.com, that offer products at wholesale prices.
Manufacturers: You have two options here:
You can invent your own product and contract with a manufacturer to make it.
You can buy generic products from a manufacturer, label them with your brand, and sell them as brand name (private label) products.
Handmade products: You can make your own products to sell on Amazon and list them for sale in the handmade category. However, you must register with Amazon as an "artisan," and your products must be hand-crafted, not mass-produced.
10 tips for winning the buy box on Amazon
The buy box is the rectangle in the upper right corner of a product detail page that enables a shopper to add the item to her cart. More than 80 percent of all sales go through the buy box, so you want to be the seller who owns that buy box. Here are ten tips for improving your odds of winning the buy box:
Upgrade to a professional seller account. Individual seller accounts are not buy-box eligible.
Set a competitive total price. When setting a product's price, take into consideration what the customer will pay for shipping, then compare that total price with what competitors are charging.
Ship and deliver products on time. Late shipment rate and on-time delivery rate are separate metrics Amazon uses to determine which sellers have a chance to compete for the buy box.
Use Fulfillment by Amazon (FBA) to ship your products. Leverage the speed and reliability of FBA to meet your customers' delivery expectations.
Maintain a low order defect rate (ODR). Avoid negative seller feedback, A-to-Z Guarantee claims, and credit card chargebacks. In other words, deliver superior customer service consistently.
Maintain enough inventory to fill orders. Amazon won't award you the buy box if there's a chance that you'll run out of stock and be unable to fill an order.
Maintain a high valid tracking rate. If you're using FBA, you don't need to be concerned about tracking numbers, because FBA supplies them. If you're fulfilling orders yourself, be sure you have a system in place to provide valid tracking numbers to your customers from your carriers.
Improve your seller feedback count and rating. The more positive feedback you receive from customers, the better your chance of winning the buy box.
Keep your order cancellation and refund rates low. Avoid situations in which you need to cancel a customer's order because you run out of stock or for any other reason. In addition, manage customer expectations to keep your refund rate low.
How to leverage the power of fulfillment by Amazon
Fulfillment by Amazon (FBA) boils down to this: You sell it, Amazon stores, picks, packs, and ships it. If you're on the fence about whether to use FBA or fulfill orders yourself, consider the following benefits of FBA:
FBA products are eligible for free two-day shipping to Prime customers, which has the potential to significantly boost sales. (This is usually reason enough to use FBA.)
FBA products have a better chance of winning the buy box — being the featured offer that most shoppers will choose to buy.
Amazon stores, picks, packs, and ships your products; handles returns and refunds; and provides customer service, so you can focus on higher level activities to maximize your success.
Although Amazon charges storage and fulfillment fees, these may be offset lower shipping rates Amazon is able to negotiate with carriers.
FBA ensures reliable, speedy delivery and accurate tracking, and if FBA drops the ball on shipping and delivery, you're not penalized for it.
FBA can handle multi-channel fulfillment (MCF), so if you sell products through other channels, such as your own webstore, Amazon can ship your products for you.
Your products are stored in Amazon distribution centers, not in your home or garage.
How to create your own brand on Amazon
Selling as a brand on Amazon provides you with numerous advantages. Amazon protects your brand, gives you full control over your product listings, and provides access to several additional marketing and advertising tools, including A+ Pages, Stores, Sponsored Brands, and the Brand Dashboard.
The easiest and quickest way to register your brand's trademark with the United States Patent and Trademark Office (USPTO) and add it to Amazon's Brand Registry is to do it through Amazon's IP Accelerator:
Click the Get Started button.
Follow the onscreen instructions.
IP Accelerator connects you with a reputable law firm that facilitates the process of applying for trademark registration. As soon as you pass that job to your assigned trademark attorney, Amazon invites you to enroll your brand in its Brand Registry, so you can start reaping the benefits of having a brand without having to wait several months to receive your registered trademark certificate from the USPTO.
About This Article
This article is from the book:
This article can be found in the category: