Knowing how you stack up against your competition is important as you start to develop your sales presentation. Getting an accurate handle on your competitors' strengths and weaknesses helps you position your product or service accordingly and highlight key differentiators. Here are some areas in which you'll want to look:
Product: What are their primary capabilities and how do you rank against each? Are they a specialist in your prospect's niche or industry or do they lack experience in this area? How does that compare to you?

Service: How do their service models, prices, and response times compare to yours?

Pricing: How do you compare in terms of base price, add-ons, upgrades, and so forth?

Delivery: Are they fast, reliable, and on time? Are their prices for these services clearly disclosed and competitive?

Resale: How does their product hold its value?

Support: What type of support staff do they have when problems arise? How does it compare to your support?

Marketing messages or themes: What marketing promises are they making or expectations are they reinforcing in the market?

Unique selling proposition (USP): What is their USP and how is it different from yours?

Company outlook: Are they poised for growth or taking a loss? Consider mergers, acquisitions, and hiring activity.

Customer experience: What are their customers saying about them in social media? Are they able to deliver on all promises?
Putting together a competitive analysis chart like the one shown here can help you quickly see where your strengths and weaknesses are in relation to your competition and help you focus your efforts.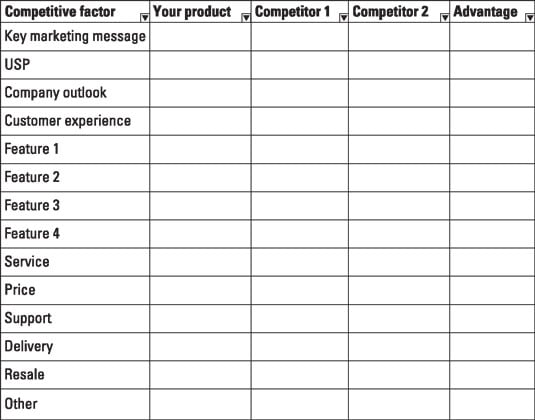 An example of a competitive analysis chart.
Identify one or two competitors and write their name at the top of a column. Begin by ranking your product or service from 1–5 against the competitive factors on the left. Then, do the same for your competition. When you've completed the chart, note which company has the advantage in each area. Play up those areas where you have a distinct competitive advantage in your presentation and find ways to shore up or have a ready response for those areas where you aren't as strong.
About This Article
This article is from the book:
This article can be found in the category: