What's poor quality really costing your business? Compare the flawed traditional perspective and the Six Sigma perspective on specifications and their relation to quality and costs. Poor quality is detrimental to any business.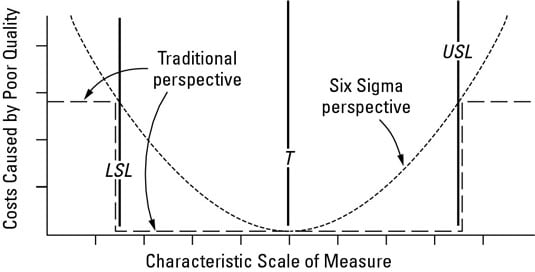 Traditionally, companies have thought that quality is like kicking football field goals; as long as the ball goes between the uprights, you get the full three points regardless of whether it goes straight down the middle or it hits the upright and bounces in. This "goal post" kind of thinking is the traditional perspective.
The thinking under this mentality goes that when a critical characteristic lands inside the spec limits, it adds no additional costs to the company. But when it falls outside the specs, the company incurs a fixed cost, such as for repair or replacement or for lost customer loyalty.
Unfortunately, this goal post definition of quality costs just doesn't match reality. What actually happens is that costs begin to increase with any deviation from the ideal customer target — even while the characteristic is still in spec!
These incremental costs — such as disrupted production flow, increased inventories, incrementally reduced product performance, and lessened product reliability — usually aren't accounted for immediately, but they always occur eventually. And the farther the characteristic gets away from the ideal target, the more and more it costs the company.
It was originally proposed by a Japanese engineer named Genichi Taguchi and is widely known today as the Taguchi loss function.
Expose the hidden factory
Very few companies can actually achieve Six Sigma (fewer than 3.4 defects per million opportunities) or even five sigma (fewer than 233 defects per million opportunities) performance in their final products because so many critical processes, process activities, machines, people, and materials have to interact along the entire value stream.
For example, for system X to reliably yield its intended outcomes, it has to rely on the following chain of factors to operate in sync within certain limits of variation: the chemical properties of the catalyst, which is combined with the base material, which is inspected by Sally, packaged by robots, stored in the warehouse, and shipped to the customer.
Remembering, too, that before any of this execution, the whole system, including the product itself, was designed by a team of engineers who are by no means infallible.
If any one of the many critical activities is compromised or doesn't function to its expectation, risk and error propagate throughout the entire system. The system itself is also an opportunity-rich environment for hiding risk and error because problems arising in one part of the chain actually originate in an earlier part, and tracing the root of the problem is difficult without a quality control system like Six Sigma.
Among Six Sigma practitioners, this reality of fixing the results of propagated error is known as the hidden factory or hidden operation. You can almost see the wheels of the hidden factory turning the rework and coverups, the hours and days of wasted time in a company of people who constantly correct mistakes.
Every time a corrective action is taken, a machine is rerun, or a warranty claim is processed, you incur unnecessary rework. When you accept these events as "that's just the way it is," you've mentally hidden all these activities from your improvement potential. Servicing the hidden factory wastes both time and money — a company's two most precious commodities.
With this realistic Taguchi cost model in place, ask yourself where you want the production of your critical characteristics to be: out near the boundaries of the spec, where significant costs increase, or spread out evenly across the whole range of the spec? Or would you rather have your parts lumped consistently near the target, where quality costs are minimized or eliminated?
How to avoid the hidden factory
Several research studies have shown that typical companies spend an amount equal to about 25 to 40 percent of their sales revenues on issues related to poor quality. For example, a company with $100 million in sales probably spends between $25 and $40 million dollars each year addressing the problems caused by poor quality.
That estimate may seem high to you. If so, that's probably because most of the costs of poor quality aren't immediately obvious and are often difficult to measure directly. Items like scrap, rework, inspection, and warranty costs are easy to see and account for.
But the price tag for unseen quality-related items such as design changes, material expediting costs, lost customer loyalty, late deliveries, excess inventory, and so on are much higher than most people realize. They're a hidden factory of quality-related costs a lot like the bulk of the iceberg hidden beneath the water's surface.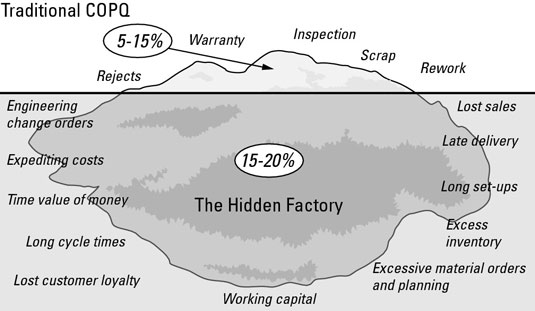 About This Article
This article is from the book:
This article can be found in the category: