A supply chain is a complex system made up of people, processes, and technologies that deliver value to a customer. Supply chains connect the functional departments within a company, and they connect every company to its customers and suppliers. Supply chain management involves coordinating all the work that is required to profitably deliver a product or service to your customer.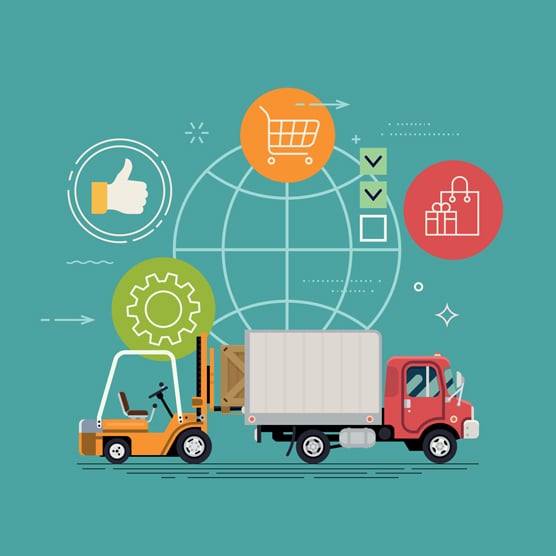 © Mascha Tace / Shutterstock.com
5 Functions of supply chain management
Supply chain management involves five main functions: aligning flows, integrating functions, coordinating processes, designing complex systems, and managing resources.
Aligning flows: As money, materials, and information are passed between customers and suppliers, supply chain management keeps them flowing up and down a supply chain.
Integrating functions: Supply chain management connects the activities of logistics, purchasing, and operations to ensure they focus on goals that benefit overall performance.
Coordinating processes: Supply chain management increases profitability by aligning the processes used to plan, source, make, deliver, and (when necessary) return a company's products and services.
Designing complex systems: Simulation tools can predict how a supply chain will behave and show how small changes can cause major disruptions in the flow of materials.
Managing resources: Supply chain managers are responsible for using people, processes, and technology to meet the needs of customers.
6 tasks of supply chain project leaders
Supply chain managers must know how to lead projects effectively, because doing so helps them lower costs, improve customer service, and reduce environmental effects. The DIRECT framework spells out the six tasks of a supply chain project leader:
D (define the opportunity): Ensure the project team has a clear goal.
I (investigate the options): Help the project team look at all of their alternatives for meeting the goal before they decide which ones to pursue.
R (resolve to a course of action): Guide the project team to make a decision and create a plan.
E (execute the plan): Monitor the team's progress and manage risks.
C (change the system): Consider how the project will affect other parts of the supply chain.
T (transition the people): Prepare everyone for the impacts of the project.
The supply chain operations reference model
The Supply Chain Operations Reference (SCOR) is a process framework maintained by the Association for Supply Chain Management. SCOR focuses on manufacturing supply chains but has been adapted for retail and service supply chains, too.
SCOR organizes the processes in a supply chain into six groups:
Plan: Decide what to make, when to make it, and where to make it.
Source: Buy the things that you need to make your products.
Make: Manufacture your products.
Deliver: Sell your products and get them to your customers.
Return: Take products back when they're defective or need to be recycled.
Enable: Do everything else that is important for making a supply chain work but that doesn't fit into one of the other groups.
The SCOR model defines the five key performance attributes of a supply chain:
Reliability: Whether the supply chain can fill customer orders.
Responsiveness: How long it takes to fill orders.
Agility: How well the supply chain responds to changes.
Costs: How much it costs to operate the supply chain.
Asset management efficiency: How well the supply chain uses the assets it has.
Each attribute includes metrics that allow you to benchmark supply chain performance and track improvements over time.
About This Article
This article is from the book:
This article can be found in the category: