Supply chain careers and job titles can be confusing, because supply chain management is a relatively new field. (The term supply chain has been around only since the 1980s.) Many supply chain jobs are evolving so quickly that the government agencies that track employment data have a hard time keeping up. Staying up to date with new job titles is a little bit easier for companies because they can change job titles fairly easily, without a lot of red tape.

When a new job is created, each company tries to come up with an appropriate title. The result is that different companies may call the same job by different names, and because so many job titles are used for the same job, matching job titles with employment categories can be difficult. Drones are rapidly making their way into the supply chain scene, for example, so demand for drone operators is growing. Being a drone operator requires training and licensure, but this job has many titles, such as unmanned aircraft system operator, unmanned vehicle pilot, and commercial drone pilot. So, even if you know what kind of job you are looking for, you may still end up researching several job titles.

The U.S. Department of Labor collects employment statistics for jobs based on classification codes. These statistics are published on a national website called O*NET. Many researchers, educational institutions, and government agencies structure their programs around these classifications, so the classifications are useful.

This article includes information from O*NET OnLine by the U.S. Department of Labor's Employment and Training Administration (USDOL/ETA). O*NET® is a trademark of USDOL/ETA. Used under the CC BY 4.0 license. I have modified all or some of this information. USDOL/ETA has not approved, endorsed, or tested these modifications.

The following shows an example of the information you can find on O*NET.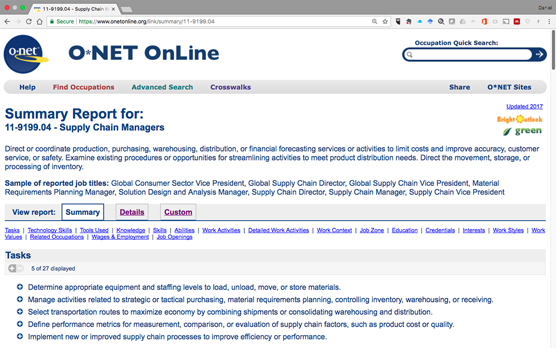 Sample career information from O*NET
To make sense of information about supply chain careers — even from official government sources — you need to understand supply chain processes. A good way to start is to look at job categories, drill down into a category that seems interesting, and find out more about what's involved with the specific jobs in that category. Then you can use this information to tailor your job search (and your résumé) based on the keywords for each job.
The challenge in finding information about supply chain jobs on O*NET is that the jobs are classified in ways that don't make much sense when you think about them in terms of supply chain management. O*NET uses different codes for transportation managers, logistics managers, and logisticians, for example, but in industry, these titles are often used interchangeably.
Ten job categories cover most of the roles that are directly related to the tasks of planning, sourcing, making, delivering, returning, and enabling in a supply chain:
Associates

Procurement clerks buy stuff from suppliers, and make sure that all the paperwork is in order. Common job titles for procurement clerks include buyer, procurement assistant, procurement officer, procurement specialist, procurement technician, purchasing assistant, purchasing associate, purchasing clerk, purchasing specialist, and warehouse clerk.
Stock clerks handle the shipping and receiving of inventory in a factory or distribution center. Common job titles for stock clerks include bay stocker, material handler, receiver, receiving lead, stock clerk, stocker, stockroom clerk, warehouse clerk, warehouse representative, and warehouse worker.
Weighers, measurers, checkers, and samplers collect data and metrics throughout the supply chain. Common job titles for these roles include cycle counter, inventory specialist, lab technician, material control manager, quality assurance lab technician, quality control lab technician, quality control operator, quality control technician, scale operator, and supply clerk.
Laborers and freight, stock, and material movers move products or packages from one place to another manually (without a forklift). Common job titles for these roles include dock worker, laborer, line tender, loader, material handler, merchandise pickup/receiving associate, receiver, receiving associate, shipping and receiving materials handler, and warehouse worker.
Machine feeders and offbearers support the machines in a supply chain by loading products on them and unloading products from them. Job titles for these roles include feeder, line operator, lug loader, machine feeder, offbearer, sawmill worker, and tube puller.
Packers and packagers put products in the proper packaging to ensure that the products are protected. Job titles for these roles include bagger, inspector packer, mini shifter, pack-out operator, packager, packer, picker and packer, sacker, selector packer, and shipping clerk.
Industrial truck and tractor operators move materials around a distribution center or storage yard, using a fork truck. Common job titles for these roles include checker loader, forklift technician, fork truck driver, forklift driver, forklift operator, lift truck operator, shag truck driver, spotter driver, tow motor operator, and truck driver.
Light truck or delivery services drivers drive small delivery trucks to pick up parts from suppliers or drop off packages to customers. Common job titles for these roles include bulk delivery driver, delivery driver, driver, driver/merchandiser, package car driver, package delivery driver, route driver, route supervisor, service provider, and truck driver.
Heavy and tractor-trailer truck drivers drive big rigs — the semis that move freight across the country. Common job titles for these roles include delivery driver, driver, line haul driver, log truck driver, over-the-road driver, production truck driver, road driver, semi-truck driver, tractor-trailer operator, and truck driver.

Technicians

Electromechanical technicians operate, test, maintain, or calibrate unmanned, automated, servomechanical, or electromechanical equipment. These technicians may operate unmanned submarines, aircraft, or other equipment at work sites. Even though it isn't obvious from the name, this job category includes drone operators. Electromechanical technicians may assist engineers in testing and designing robotics equipment. Job titles for this category include electromechanic, electromechanical technician, electronic technician, engineering technician, laboratory technician, maintenance technician, mechanical technician, product test specialist, test technician, and tester.
Robotics technicians build, install, test, or maintain robotic equipment or related automated production systems. Job titles for this category include automation technician, electrical and instrumentation technician, electronics technician, field service technician, instrument specialist, and instrumentation technician.
Industrial engineering technologists assist industrial engineers in such activities as quality control, inventory control, and material flow methods. These workers may conduct statistical studies or analyze production costs. Job titles in this category include associate product integrity engineer, head of operation and logistics, liaison engineer, manager, asset management, materials planner/production planner, planner/scheduler, production control supervisor, quality management coordinator, quality tech, and senior quality methods specialist.
Industrial machinery mechanics repair, install, adjust, or maintain industrial production and processing machinery or refinery and pipeline distribution systems. Job titles in this category include fixer, industrial machinery mechanic, industrial mechanic, loom fixer, machine adjuster, maintenance mechanic, maintenance technician, master mechanic, mechanic, and overhauler.
Conveyor operators and tenders control or tend conveyors or conveyor systems that move materials or products to and from stockpiles, processing stations, departments, or vehicles. These workers may control the speed and routing of materials or products. Job titles in this category include assembly line tender, bander, cartoner operator, chain puller, chipper operator, debarker operator, packing line operator, press operator, process line operator, and process operator.
Bus and truck mechanics and diesel engine specialists diagnose, adjust, repair, or overhaul buses and trucks, or maintain and repair any type of diesel engines. These workers include mechanics working primarily with automobile or marine diesel engines. Job titles in this category include bus mechanic, diesel mechanic, diesel technician, fleet mechanic, general repair mechanic, mechanic, service technician, trailer mechanic, transit mechanic, and truck mechanic.
Manufacturing engineering technologists develop tools, implement designs, or integrate machinery, equipment, or computer technologies to ensure effective manufacturing processes. Job titles in this category include business process analyst, manufacturing coordinator, manufacturing technology analyst, product manager, and scientist.

Planners and analysts

Logistics analysts analyze product delivery or supply chain processes to identify or recommend changes. These workers may manage route activity, performing tasks such as invoicing, electronic billing, and shipment tracing. Job titles in this category include global logistics analyst, logistics analyst, and supply chain analyst.
Management analysts conduct organizational studies and evaluations, design systems and procedures, conduct work simplification and measurement studies, and prepare operations and procedures manuals to help management operate more efficiently. Job titles in this category include administrative analyst, business analyst, employment programs analyst, leadership development manager, management analyst, management consultant, organizational development consultant, principal consultant, program management analyst, and quality control analyst.
Operations research analysts formulate and apply mathematical modeling and other optimizing methods to develop and interpret information that helps management with decision-making, policy formulation, and other functions. These workers may collect and analyze data, as well as develop decision-support software, services, or products. They may also develop plans to optimize the time and cost for a logistics network. Job titles in this category include analytical strategist, business analytics director, business insight and analytics manager, decision analyst, operations research analyst, operations research group manager, operations research manager, and scientist.
Production, planning, and expediting clerks coordinate and expedite the flow of work and materials within or between departments of an establishment according to a production schedule. Duties include reviewing and distributing production, work, and shipment schedules; conferring with department supervisors to determine progress of work and completion dates; and compiling reports on progress of work, inventory levels, costs, and production problems. Job titles in this category include master scheduler, material coordinator, materials planner, planner, production assistant, production clerk, production controller, production planner, production scheduler, and scheduler.
Cargo and freight agents expedite and route incoming and outgoing cargo and freight shipments in airline, train, and trucking terminals and on shipping docks. These workers take orders from customers and arrange pickup of freight and cargo for delivery to the loading platform. They also prepare and examine bills of lading to determine shipping charges and tariffs. Job titles in this category include cargo agent, documentation clerk, drop shipment clerk, freight broker, intermodal dispatcher, international coordinator, load planner, logistics coordinator, logistics service representative, expeditor, and operations manager.

Engineers

Industrial engineers design, develop, test, and evaluate integrated systems for managing industrial production processes, including human work factors, quality control, inventory control, logistics and material flow, cost analysis, and production coordination. Job titles in this category include engineer, engineering manager, industrial engineer, manufacturing specialist, operations engineer, plant engineer, process engineer, production engineer, supply chain engineer, and tool engineer.
Logistics engineers design or analyze operational solutions for projects such as transportation optimization, network modeling, process and methods analysis, cost containment, capacity enhancement, routing and shipment optimization, and information management. Job titles in this category include logistics engineer, reliability engineer, and systems engineer.
Manufacturing engineers design, integrate, and/or improve manufacturing systems or related processes. These workers may work with commercial or industrial designers to refine product designs in a way that increases productivity and decreases costs. Job titles in this category include advanced manufacturing engineer, advanced manufacturing vice president, facility engineer, manufacturing director, manufacturing engineer, manufacturing engineering director, manufacturing engineering manager, plant engineer, process engineer, and process improvement engineer.
Robotics engineers research, design, develop, or test robotic applications. Job titles in this category include associate professor of automation, automation engineer, engineer, and plant floor automation manager.

Supervisors

First-line supervisors of production and operating workers directly supervise and coordinate the activities of production and operating workers such as inspectors, precision workers, machine setters and operators, assemblers, fabricators, and plant and system operators. Job titles in this category include assembly supervisor, department manager, manufacturing supervisor, molding supervisor, production manager, production supervisor, quality assurance supervisor, shift supervisor, supervisor, and team leader.
Dispatchers schedule and dispatch workers, work crews, equipment, or service vehicles for conveyance of materials, freight, or passengers, or for normal installation, service, or emergency repairs rendered outside the place of business. Duties may include using a radio, telephone, or computer to transmit assignments, as well as compiling statistics and reports on work progress. Job titles in this category include aircraft dispatcher, city dispatcher, dispatch manager, dispatcher, operations dispatcher, rail operations controller, train dispatcher, and truck dispatcher.
Loss prevention managers plan and direct policies, procedures, or systems to prevent the loss of assets. These workers try to protect the supply chain from theft by determining risk exposure or potential liability and then developing risk control measures. Job titles in this category include loss prevention manager, logistics loss prevention manager, loss prevention operations manager, manager of loss prevention operations, and market asset and protection manager.

Managers

Supply chain managers direct or coordinate production, purchasing, warehousing, distribution, or financial forecasting services and activities to limit costs and improve accuracy, customer service, or safety. These workers analyze procedures and identify opportunities for streamlining activities to meet product distribution needs, as well as direct the movement, storage, or processing of inventory. (In other words, they focus on process improvement.) Job titles in this category include global supply chain director, supply chain director, supply chain manager, and supply chain vice president.
Transportation managers plan, direct, or coordinate the transportation operations within an organization or the activities of organizations that provide transportation services. Job titles in this category include director of operations, fleet manager, freight coordinator, global transportation manager, traffic manager, train operations manager, trainmaster, transportation director, transportation manager, and transportation supervisor.
Storage and distribution managers plan, direct, or coordinate the storage or distribution operations within an organization or the activities of organizations that store or distribute materials or products. Job titles in this category include cold-storage supervisor, customer service manager, distribution center manager, distribution manager, distribution operation manager, load-out supervisor, shipping manager, shipping supervisor, stores supervisor, and warehouse manager.
Logistics managers plan, direct, or coordinate purchasing, warehousing, distribution, forecasting, customer service, or planning services. These workers manage logistics personnel and logistics systems, as well as direct daily operations. Job titles in this category include global logistics manager, integrated logistics programs director, logistics manager, logistics solution manager, and supply chain logistics manager.
Logisticians analyze and coordinate the logistical functions of a firm or organization. These workers are responsible for the entire life cycle of a product, including acquisition, distribution, internal allocation, delivery, and final disposal of resources. Job titles in this category include client services administrator, logistician, logistics director, logistics team lead, logistics vice president, operations vice president, production planner, program manager, supervisory supply management specialist, and supportability engineer.
Purchasing managers plan, direct, or coordinate the activities of buyers, purchasing officers, and related workers involved in purchasing materials, products, and services. Job titles in this category include commodity manager, director of materials, director of purchasing, director of strategic sourcing, materials manager, procurement manager, procurement officer, purchasing director, purchasing manager, purchasing supervisor, wholesale or retail trade merchandising manager, and procurement manager.
General and operations managers plan, direct, or coordinate the operations of public or private-sector organizations. Duties and responsibilities include formulating policies, managing daily operations, and planning the use of materials and human resources. Job titles in this category include business manager, facility manager, general manager, operations director, operations manager, plant manager, plant superintendent, production manager, and store manager.

Sales representatives
Information technology managers

IT project managers plan, initiate, and manage IT projects. These workers lead and guide the work of technical staff, and serve as liaisons between the business and technical aspects of projects. They also plan project stages; assess business implications for each stage; and monitor progress to ensure that deadlines, standards, and cost targets are met. Job titles in this category include IT manager, IT project manager, program manager, project manager, team coach, project leader, team leader, technical project lead, project management office (PMO) leader, and transition manager.
Software developers research, design, develop, and test operating-system software, compilers, and network distribution software for industrial, business, and general computing applications. These workers set operational specifications and formulate and analyze software requirements; they may design embedded systems software. They also apply principles and techniques of computer science, engineering, and mathematical analysis. Job titles in this category include developer, infrastructure engineer, network engineer, publishing systems analyst, senior software engineer, software architect, software developer, software engineer, systems coordinator, and systems engineer.
Computer and information systems managers plan, direct, or coordinate activities in such fields as electronic data processing, information systems, systems analysis, and computer programming. Job titles in this category include application development director, computing services director, data processing manager, information systems director, information systems manager, information systems supervisor, information technology director, IT manager, management information systems director, and technical services manager.

Project managers
Executives
Three other important job categories are also important:
Journalists
Educators

Vocational education teachers teach or instruct vocational or occupational subjects at the postsecondary level (but at less than baccalaureate level) to students who have graduated from or left high school. These workers include correspondence-school, industrial, and commercial instructors, as well as adult-education teachers and instructors who prepare people to operate industrial, transportation, and communications equipment. Jobs may be in public or private schools or in organizations engaged in a primary business other than education. Job titles in this category include mentor, coach, instructor, professor, adjunct professor, and teacher.
Career/technical education teachers teach occupational, career and technical, or vocational subjects at the secondary-school level in public or private schools. Job titles in this category include business education teacher, instructor, marketing education teacher, and technology education teacher.
Business teachers teach courses in business administration and management, such as accounting, finance, human resources, labor and industrial relations, marketing, and operations research. These workers includes teachers who are primarily engaged in teaching and those who do a combination of teaching and research. Job titles in this category include associate professor, business administration professor, business instructor, business office technology instructor, business professor, faculty member, instructor, management professor, marketing professor, and professor.

Humanitarian supply chain professionals
You can think of these job categories in terms of the framework in the following figure. In general, the higher you go on this chart, the more money you'll be paid but the fewer job openings you're likely to find.

Supply chain careers framework
The use of the words logistics, purchasing, or operations is a clear sign of a supply chain job.
About This Article
This article can be found in the category: