Developing thematic content is a useful tactic when building out your Millennial content strategy on Facebook. The frequency and regularity with which Millennials see this content will help build your organic reach and engagement over time. Several types of thematic content are easily tailored and adapted to any brand or industry. Consider the following types of thematic content when developing your content strategy:
Q&A: Asking your audience a question is a great way to entice engagement and get a feel for how tastes and preferences evolve. Asking a question helps you optimize your content strategy on an ongoing basis because of the real-time insights you receive about your audience.
Opinion Poll: Much like a Q&A, asking your audience to share its opinions is an excellent way of tapping into the evolving nature of Millennial interests on Facebook. Not only are opinion polls and Facebook survey content great tools to use, the results of these surveys and polls also provide valuable inspiration for new content on editorial calendars.
Tips & Tricks: Tips and tricks provide a value added to your audience, as well as showcase your expertise as a brand. These two benefits make this type of content extremely worthwhile to include in your themed content.
How-To: Instructional content is always popular and serves a similar purpose as tips. The difference with how-to content, however, is the in-depth nature of this material. A tip may be a brief bit of easily digested information that your audience can absorb very quickly. How-to content provides much more detail, showcasing a process and your expertise. How-to content is also searched for and clicked on with intent. Millennial users watching a how-to video or reading a how-to article can be more motivated to take action.
Sneak Peek/Behind-the-Scenes: The more sneak-peek material you can provide to your Millennial audience, the closer it will feel to your brand. Whenever you have the option to either create or stream content with this theme, consider it seriously. Behind-the-scenes content is highly engaging, particularly when it is on a platform such as Facebook Live.
Inspiration/Motivation: Positivity goes a long way on Facebook. Inspirational content is a powerful theme. This content can either be in the form of philosophical motivation, such as a positive quote, or inspirational in the form of an idea to help your audience get started on a project.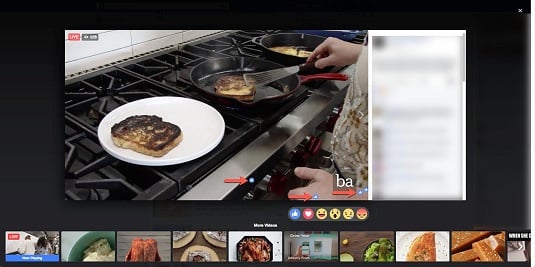 An example of real-time audience engagement on a Facebook Live video.
Most thematic content is universal. You can share it with the general public using some of the more uniform traits of your Millennial audience. The purpose of this content is to encourage ongoing audience engagement and build a broader organic reach. Using narrowly focused content helps you spend your ad dollars on more action-oriented campaigns and content. These campaigns and content make up the most important component of your Millennial content strategy on Facebook.
About This Article
This article is from the book:
This article can be found in the category: