Social media platforms, such as Facebook and Twitter, present unique marketing opportunities. To make the most of social media marketing, you should begin by exploring the online social media sites and see how things are done. Next, you need to zero in on your niche and target your market. After you've done that, you will be able to run a successful online campaign and measure the results.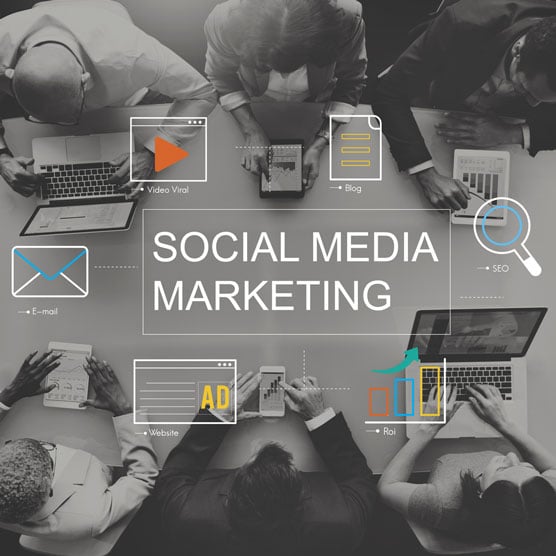 ©Rawpixel.com/Shutterstock.com
6 Social Media Marketing Guidelines to Follow
Marketing through the social media platforms is completely different from traditional offline marketing. Here are six guidelines to consider that will help you have a successful marketing campaign:
Make sure you give your customers something valuable. An endless number of sites are eager to provide your customers with the content you haven't supplied. Think carefully about always delivering value, or your competitors will.

Recognize that there are different types of influencers who impact your customer's decisions at different points in the marketing funnel. Do the research to know who is influencing your customers and where. Influential bloggers are a great place to start.

Use multiple social media channels to make sure you have the potential to reach your customers from anywhere they congregate. Think about how all your social programs can work together to deliver customer satisfaction.

Make your customers brand advocates and partners in your business. Give them the opportunity to impact not just marketing but also product development, customer service, and innovations.

Develop an authentic brand voice across all the social media platforms. Your customers want to know what you stand for. If you say contradictory things, they will become confused and go elsewhere.

Find out what words your customers use to describe your products. Look at the jargon they use as well as the superlatives. Use the same words to influence their discussions and demonstrate that you understand their views.
6 Tips for Preparing a Social Media Marketing Campaign
Marketing directly to influencers — rather than consumers — through social media requires that you put together a whole new game plan. Follow these tips as you establish your social media marketing (SMM) campaign:
Develop SMM guidelines for your organization. It provides critical guidance for your employees as they practice social media marketing.

Establish clear objectives for your social media marketing efforts. Don't experiment for the sake of experimenting.

Create a roadmap for your social media marketing efforts. This will help you plan resources, conduct research, coordinate marketing programs, and deploy new tactics.

Define your metrics for success up front before you execute your roadmap. If you don't have specific measures, you won't be able to judge how successful you are.

Recognize that SMM programs don't have neat end dates. Plan your resources and budget carefully to allow for continuous nurturing.

Make sure you understand your customer base. Know who talks to each other and who influences whom before launching any program.
5 Ways to Make a Social Media Marketing Campaign a Success
Social media marketing (SMM) campaigns need to be nurtured to be successful. Here are some tips that will help your SMM campaign flourish during its lifespan:
Participate where your customers want to participate and be active in the customer communities you create. Don't make your customers have to develop new habits. If they engage on Facebook or other platform, so should you.

Design your SMM efforts so that customers are motivated and encouraged to form relationships. You want to encourage them to bring others into the fold and engage with one another.

When planning outreach programs, recognize that the "A" list influencers may not be as helpful as some of the other influencers. Focus on the people who are dedicated to your products. These influencers are more likely to listen to your point of view and act on your behalf.

Design your programs so that they are extremely easy for your customers and prospects to share with others on the social platforms of their choice. Sharing is the key to making your messages spread.

Check your analytics and see what content resonates the most. Then, make sure to provide more of that content in a variety of different formats.
How to Use Social Media Metrics
As part of your social media marketing (SMM) campaign, you need to establish related metrics and measure your results to find out whether the campaign is a success. Keep these tips in mind:
Start with the SMM score (your brand's health compared to all your direct competitors in the social web) as a single, strategic, brand health measurement.

Match your program to the platform and to the metrics available. Different social platforms allow you to measure metrics in different ways. Don't take it for granted that high numbers indicate success.

Tie all your SMM metrics to a broader digital strategy and business metrics. Without a strategy, you could be defeating your own campaign without realizing it.

Always prioritize metrics with regard to sociographics and social action-related metrics over traffic demographics.

Don't ignore SMM metrics from your corporate website. Your website is also a platform for social influence and should be measured and tracked in a similar fashion. Remember that a newcomer to your products may go to your website first.

Use the APIs (application programming interfaces) from the social media platforms to develop your own integrated metrics dashboard.
7 Social Media Marketing Platforms You Should Consider
Consumers rarely use just one social platform — for example, only Facebook or Twitter — so no single social platform is enough for your social media marketing (SMM) activities. Be sure your campaign reaches each of these popular social media platforms:
5 Ways to Find the Right Influencers for Your Products
Unless you target the right influencers, you will have a difficult time spreading your marketing messages. Because there are different types of influencers on the web, here are some things to consider when choosing influencers:
Determine the big name influencers by looking at blogs. Check out sites like Alltop.com that select the best blogs in a variety of topics.

Look at the comments that are posted in influential blogs. People who are informally influential are often frequent commenters to those sites.

Don't always choose the influencer with the largest audience. That influencer may not have the time or inclination to engage with you. Look at people who have mid-size audiences.

Begin a dialogue with an influencer via email. Don't make any assumptions about what the influencer can do for you. Demonstrate that you are interested in a mutually beneficial relationship.

Make sure that you have gotten on an influencer's radar screen before you contact them. There are lots of ways to do this, like commenting on the influencer's blog posts and getting on that person's email list. Be interested in his point of view and approach him in an authentic way.
About This Article
This article is from the book:
This article can be found in the category: