Personalizing content is a tricky business. Customers want to have a personalized experience but also want to feel that their privacy is being respected. This is a fine line to walk. But walk it you will, because consumers no longer tolerate content that isn't matched to their needs.
Forbes Magazine named personalization one of the top trends for 2015 and said that "Personalization is not a trend. It is a marketing tsunami." Are you ready for the onslaught? Can you provide the type of personalized experience that your customers expect?
Janrain, a company that uses proprietary technology to help companies find new users on social media (see the figure) performed a study called the "2013 Online Personal Experience Study."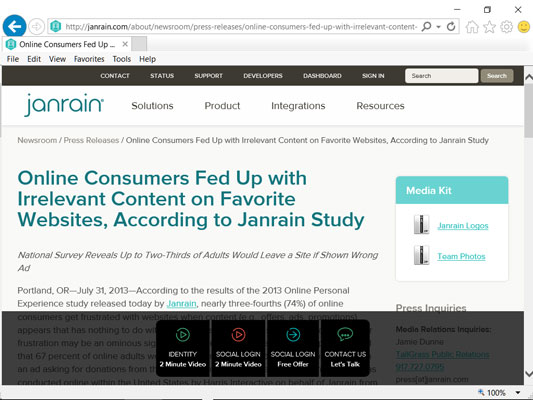 Janrain's Personal Experience Study.
The study asked respondents how they would respond to content that wasn't relevant to them. What did Janrain find? Seventy-five percent of the respondents said that they would leave a website if they were shown ads or content that didn't align with their interests. Fifty-seven percent said they would be willing to give some personal information if it was used responsibly for their benefit. Additional findings indicated that consumers are unwavering in their desire to see content personalized for them and wouldn't hesitate to leave a site that didn't cater to their needs.
Larry Drebes, CEO of Janrain, said that "Consumers have reached the tipping point when it comes to being shown content that isn't relevant to them. It's a wake-up call for brands to fix this problem or risk losing customers and prospects." As you can see, your customers will only get more insistent about personalized content.
If you work for a company that doesn't use personalization technology, that's not surprising. According to a study done by Econsultancy and Monetate, a company that provides personalization services to organizations, more than half (56 percent) of companies don't use it on their websites. In fact, 72 percent of the respondents said they know it's important but that they "don't know how to do it."
So if you're interested in getting started with personalization, what should you consider?
Your organization's state of readiness: Is your organization prepared to do the work and allocate the budget necessary to do a good job of personalizing your owned media? Does management believe it's a good idea?

The strength of your personas: Do you have confidence that you can use your personas as the framework for your personalization efforts? If you don't have personas or have given them short shrift, you're not ready to put a personalization program into practice.

Your data collection efforts: Do you have a customer relationship management (CRM) system or other data collection management tools to ensure that you have the data you need? Will you be able to assess the effectiveness of your efforts?

Your email capabilities: Can you send out personalized emails with your current system and track the results?

Your mobile messaging efforts: Will you be able to reach consumers with your offers via their mobile devices?
About This Article
This article is from the book:
This article can be found in the category: