According to the New Media Institute, new media is defined as media that are primarily digital. Millennials love new media. They offer a highly interactive platform that can be manipulated and customized. New media is an umbrella term that comprises all the platforms and social networks where Millennials are spending the majority of their time. One new media platform that you want to make sure to include in your marketing strategy is Facebook

If you're a fan or follower of particular marketing or advertising publications on Facebook, you've almost certainly scrolled through your News Feed and seen a headline that discusses the death of Facebook and how Millennials have abandoned it. Don't let these shock-value headlines fool you. Facebook is alive and well, particularly with Millennials around the world.
Utilizing Facebook features
Over the past several years, Facebook has significantly expanded its product to include so many features for brands and Pages that it could serve as your base of new media marketing operations on social. The following list highlights just a few of the many features that Facebook offers its Page users:
Share content with fans and followers
Advertise to target audiences
Create and promote events
Access Facebook's Audience Network for greater reach with rich media
Collect user data
Sell products in your Shop
Run contests, sweepstakes, polls, and so on
Rich media content features more than simply text. It can include images, GIFs, and videos.

You can develop or customize contests, sweepstakes, and other audience participation initiatives using an easy-to-use tool like Woobox.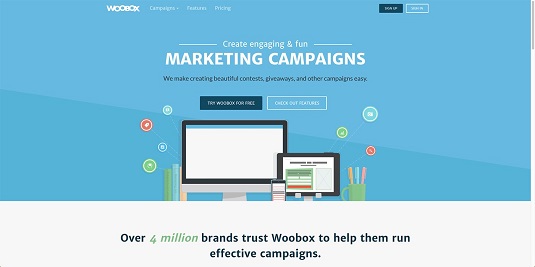 Woobox.
Analyzing your Facebook audience
After you segment your audience and run a program on Facebook to cross-match users and identify certain defining characteristics, you can begin analyzing these pockets to develop a content strategy that fits each one.

When analyzing your Facebook audience pockets, follow these steps:
Clearly name the audience you're analyzing.

This step may seem trivial, but all too often, marketers lose track of the audiences they've developed in Facebook. Not naming your audience makes it harder to analyze your audience.

Start with statistical details.

Facebook offers up a lot of details about personal attributes that stretch beyond gender and age in the Audience Insights dashboard. Start your analysis by reviewing characteristics such as education level, employment field, or marital status.

Statistical data represents your analyzed audience segment.

Review the Lifestyle categories, but don't live by them.

After you review the statistics associated with your audience, you'll want to take some time to review some of the Lifestyle categories that Facebook has allocated to your audience. These categorizations can be particularly helpful when you're trying to get a feel for the kinds of lives your selected audience lives. However, relying entirely on these categorizations is a mistake. Take the time to outline a proper persona, which will give you the opportunity to uncover new details that you may have missed.

Identify initial interests through Page likes.

Look at the breakdown of Page likes in your Audience Insights. You'll notice that they're segmented according to category. Analyze these categories by tying in the kinds of pages liked with the statistical data of Millennials and the behavioral data that is analyzed last. Tying in the data points surrounding aspects such as career and education level with the categories of interest makes aligning your message from both a content and rhetoric standpoint significantly simpler and more effective.

Facebook automatically segments your audience into Lifestyle categories.

Analyze user activity to strategize about engagement.

In the Activity tab in your Audience Insights dashboard, you'll notice a breakdown of how the selected group of users interacts with the Pages and brands they follow. When you understand how Millennials are engaging with the content that brands are sharing, it becomes easier to craft a content strategy that caters to these habits.

The Activity tab shows you how your audience is engaging with Pages.

Get to know your audience's household makeup.

When you have a sense of your audience's income, how it spends money, and the size of its households, creating targeted messaging, again, becomes significantly easier.

Dive into purchasing behaviors of your audience.

This step helps you further analyze your audience's spending habits and buying behavior. In the Purchase tab, you see a fairly robust breakdown of your selected audience's spending both online and in brick-and-mortar locations. This breakdown provides you with insights into audience priorities about finances.

Analyzing buying habits in the Purchase tab of Audience Insights on Facebook.

Build out a written persona of the customer.

A best practice you can use to analyze a selected audience pocket is to write a persona. A persona is a detailed written description of the personality associated with your target customer. To effectively develop content and reach your audience, outlining a detailed persona is a valuable activity.

Think of a persona as a living person with personality and lively traits, rather than simply thinking of your customer as a set of demographics. Developing a content strategy is easier when the image of a real individual fuels your communication.
Keep in mind that when it comes to new media and social interactions, Millennials want to have a conversation and develop a relationship with a brand. This desire for a relationship means that you need to talk to the audience on a personal level. Creating a lifelike persona before developing a content strategy goes a long way toward building real relationships.

Analyzing your audience takes time. Each of the clusters that you develop when creating your audience pockets will need to undergo this analysis.
Developing targeted content strategies
To develop highly targeted content strategies on Facebook, you have to understand what makes each of these audience pockets tick. To do so, you need to go through the public data available for each and build out a variety of persona profiles.

To facilitate this process, here are a few simple tips to keep top of mind:
Keep an eye on the Facebook averages in your audience analysis. The Facebook averages tell you whether your audience has a particular affinity or dislike for something in particular, or they tell you what ratio of an audience falls into a particular category or designation. This knowledge will significantly help with the crafting of your content strategy for the given audience.
Remember that not everything is going to factor into your audience outline. Although you'll find a lot of data about your selected audience, you don't need to use all of it right away.
Think about your written persona as an actual person. Give your character a name and a little bit of creative backstory. Marketing to a group with similar traits is effective, but may cause you to have a mechanical tone of voice. If you can truly envision the person to whom you're talking, the tone will be far more natural, and the responsiveness from your audience will be significantly higher.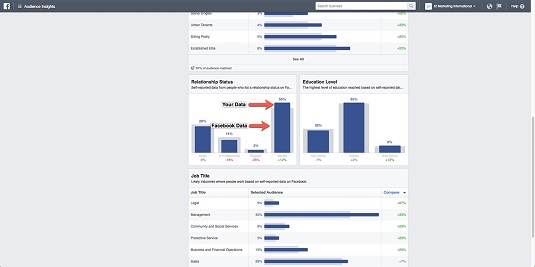 Consider how your own audience data compares to Facebook averages.
About This Article
This article is from the book:
This article can be found in the category: