At the start of 2014, it finally happened: Internet use via mobile devices actually exceeded desktop Internet usage in the U.S. for the first time. Face it, everyone has a smartphone these days, and people are increasingly using those handy devices, tablets like the iPad and the new midsize range of phablets (oversized phone-tablet devices) to go online.
Website owners need to take this trend seriously. If your website is not mobile-friendly, you're probably already losing business, or turning off potential customers. People are not as forgiving as they once were with a slow-loading page or a site that doesn't resize well on a small screen.
Mobile SERP features
Mobile devices range from smartphones to tablets, with many different sizes of screens. Because the viewing area on a mobile device is usually much smaller than a desktop computer screen, users have gotten used to scrolling quickly to see more. Sometimes not much shows in the initial view. Here are the iPhone results of a search for [Lakers tickets] using the Google search app.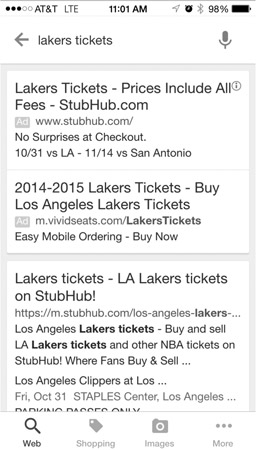 Mobile search results on an iPhone.
In this instance, the search for [Lakers tickets] turned up two ads sitting squarely at the top, blocking nearly all the organic results below them. Unlike with a desktop SERP, the searcher cannot just scan to find a relevant listing. The only remedy is to scroll down.
Eventually, this search results set displays lots of organic listings plus additional SERP elements such as images and news article links. But it takes some finger scrolling to see them.
Mobile's impact on ranking
It turns out that searcher behavior is a lot different on a mobile device, and this difference puts ranking positions in a slightly new light.
A very interesting study by seoClarity looked at click-through rates (the percentage of time a user clicks on a listing) on desktop versus mobile SERPs. The study tracked clicks over a three-month period (June–August 2014), a period that avoids much seasonal fluctuation. Here are the results of the study in two line graphs — one showing the CTR (click-through rate) for all the different ranking positions on desktop SERPs, and the second for mobile SERPs.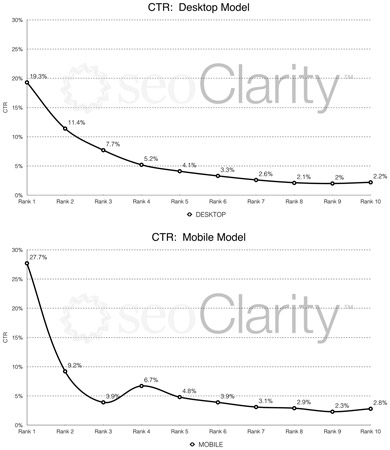 Comparing click-through rates on desktop versus mobile (from seoClarity).
In the top graph, desktop click-throughs show the typical curve you'd expect to see — the top ranking position gets the most clicks, with the remaining rankings descending in click-throughs from there. So being No. 2 is better than being No. 3, No. 3 is better than No.4, and so on down the page.
Not so for the mobile SERP. The study found that CTR does not follow a predictable linear pattern from one ranking position to the next. The top spot still receives the most clicks, and the second position the second highest number of clicks. But the next best place to be is No. 4, according to the study, followed by No. 5. The third position's CTR falls in a trough, with the same low CTR as No. 6.
Another interesting thing to note: Look at how many more click-throughs the top-ranking position gets on a mobile SERP versus desktop — 27.7 percent of mobile users clicked the first result, compared to only 19.3 percent on a desktop SERP! Doesn't that make you want to rank in mobile search?
Understanding how changes to the search results page and different search platforms can affect traffic and click-throughs is important. Even when the SERPs change in look and feel, you can make an educated guess about the effect of those changes based on the trends. Keeping up with the changing SERPs and how to fine-tune your optimization campaign in response is an important part of SEO.
About This Article
This article is from the book:
This article can be found in the category: