The success of your gamification marketing campaign will depend on whether the gamification model you've selected appeals to your core audience. Not every gamification model will be suitable to your audience. In fact, you may find that only one or two really resonate with them. Before deciding which model is right for you, you need understand how gamification models perform with various audiences.

Learn how to match the right model with your intended audience. If more than one appeals to you for your campaign, you may want to consider jotting down the alternatives for future campaigns.

Here's a rundown of the various models:
Action: The key factor with action games is that everything has to be quick. These campaigns can be quick to develop, too, especially if you grab a white-labeled game already developed and tested. This means less development time and less cost overall.
The game itself should allow your audience to easily learn the controls, quickly get into the playing screen, and start collecting rewards. However, if you don't provide these things quickly enough, your audience will be just as quick to leave your game.
To counter this high bounce rate, consider adding a leaderboard so you can create a competitive environment. In addition, when designing the game, make sure that the game's mechanics aren't too complicated and, instead, are intuitive for your audience.
Simulation: In development terms, simulation is almost the opposite of an action game. It takes much longer to design and develop, and it costs a lot more, too. But before you dismiss this option, think about the many success stories for simulation games! If you can create a niche virtual world for your campaign, a dedicated army of players will find their way to your game, eager to invest their time.
Audiences will invest their time in playing a good simulation game. You just need to make sure the game is designed with plenty of rewards and objectives so your users will keep playing. Simulation games require a lot of time during the storyboarding phase, to make sure you keep your audience interested.
Interactive storytelling: Interactive storytelling an exceptional option because it gives everyone a unique story experience, centered around your brand. The audience becomes hugely invested as they customize their experience. Typically, an interactive storytelling campaign will leave a more lasting impression than action games do. Of course, this all comes at a huge expense in terms of staff, development time, and ultimately cost.
Interactive storytelling campaigns can be extremely expensive and take many months to develop. The main costs will come from the custom and multilevel designs along with the expert advice required during the story-building development phase. However, your gamification marketing campaign can last for an entire quarter.
Adventure: I find adventure games to be an excellent hybrid of action, simulation, and interactive storytelling. They require your audience to be willing to invest a lot of their time. But if you execute the game correctly, the experience can be extremely rewarding for both the audience and your campaign.
Apart from the costs, the game usually requires your audience to invest their time to advance in the game and at the same time expose your branding. This can be done with consistent goals and objectives for the audience to continually achieve and aim for.
Puzzles: These types of games are used in gamification marketing campaigns that want to associate puzzle solving around their campaign. These types of games involve some form of problem-solving skill for your audience where your campaign's message can be embedded into the logic, pattern recognition, or sequence solving. I find that it's usually easier to source a white label solution due to the vast number of puzzle games available to buy from good developers.
To give the audience a reason to come back, it's better to give a slightly unrealistic amount of time or attempts to solve the puzzle. Your campaign won't be very effective if your audience manages to complete the game in one sitting.
Skill based: This is my personal favorite type of game option to use in a gamification marketing campaign. With skill-based games, the outcome is determined by the audience's reactions, mental abilities, strategic thinking, or trivia knowledge. This type of game is easy to fit into almost any campaign because there is no rigid formula. This means that you can develop one of these types of games to suit most budgets. Spot the Ball (shown) is a good example of a skill-based game; players have to use their skill of looking at where all the players are looking to determine the location of the ball.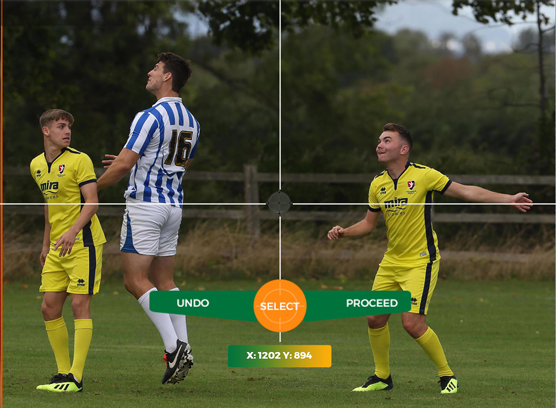 A skill-based game called Spot the Ball.
One favorable aspect of skill-based games is that there doesn't necessarily need to be a right or wrong answer (as opposed to puzzles). Although this type of game mechanics falls into the "game of chance" category, players won't see it as "gambling" as long as your campaign isn't asking them to pay to play. With gambling or lotto-type games, users typically play a game that they have no control over. An example is a card-based game like blackjack. On the other hand, a skill-based game gives the user control by allowing him to use his skill to increase his chances of winning.
Multi-player: As the name suggests, a multi-player game allows more than one person to play in the same game environment at the same time. The game should allow your audience to compete against one or more human contestants as well as the computer.
I find it important to develop a multi-player game to allow audiences to partner up with other individuals instead of just competing against them. This provides the social communication element that's missing from single-player games.
Interestingly, by using the latest HTML5 technology, this kind of game can be developed to be played locally (over a local network like an office). This allows your audience to create competitive environments without having to constantly open their connections to the Internet (a security concern for professional environments).
Educational: Usually dismissed as a game for educational establishments, this type of game is an extremely effective tool for any gamification marketing campaign. An educational game provides a useful way for your audience to learn something valuable about your product or business, all in an entertaining platform. The game should be educating your audience while they're playing. At the end of the game, the audience should leave more educated on your business or product.
This type of game is especially successful if there is some aspect of your product or service that is being used wrongly or is being queried by your customers. Also, educational games can help educate audiences in instances where there is some service or value that your company provides that isn't widely known.
Role playing: A role-playing game (RPG) is the least common type of game selected for gamification marketing campaigns. The audience controls the actions of a character immersed in a branded world. This world should be full of elements that are centered around your campaign's objectives.
Many RPGs come from tabletop games, such as Dungeons & Dragons. Try to emulate and use much of the same game mechanics to create an engaging game. Depending on your budget, you can develop a game as simple as a text-based console entry game, all the way up to a 3D version that can be played on a virtual reality (VR) device.

The table lists the strengths and weaknesses of various game models when used in gamification marketing campaigns.
Determining the Best Game Model for Your Audience

| | | | | |
| --- | --- | --- | --- | --- |
| Game Model | Cost | Development Time | Brand Exposure | Audience Interest Retention |
| Action | Low | 1 to 2 weeks | ** | 1 week |
| Simulation | High | 3 months | *** | 1 to 2 months |
| Interactive storytelling | Very high | 4 to 6 months | **** | 3 months |
| Adventure | Medium | 2 to 3 months | ***** | 1 month |
| Puzzles | Low | 2 to 3 weeks | *** | 1 week |
| Skill based | Medium | 1 month | *** | 2 weeks |
| Multi-player | High | 2 to 3 months | *** | 2 to 3 weeks |
| Educational | High | 2 to 3 months | *** | 2 to 3 months |
| Role playing | High | 2 to 3 months | **** | 2 to 3 months |
Many companies discover that their marketing budget won't cover the type of game they want to use. If that's where you find yourself, don't scale down the game to fit your budget. Instead, go for a cheaper game option and scale that game up with the remaining budget you have. If a game is scaled down, audiences will be able to tell right away. On the other hand, a less expensive game that has been upgraded in terms of design and development is more likely to be championed by audiences through social media channels.
About This Article
This article is from the book:
This article can be found in the category: