When you are designing a gamification marketing campaign, you need to build loyalty rewards into the gameplay. After you've designed on the perfect game for your audience, you'll need to keep them coming back and playing the game. You certainly want them to play your game more than once, and not just leave the campaign at the start of their gaming journey.

By designing desirable loyalty rewards into your game, you'll find that these players will be the ones who become your campaign's best advocates, who will fuel your word-of-mouth marketing and ultimately attract other loyal players to your game.
Gamification marketing reward options
Rewards are the building blocks of all gamification marketing campaigns. Your audience will play your game so that they can win something, competing against themselves or others. Their naturally competitive game-playing instincts will be invoked, so you can motivate them further into your campaign using clever reward options, like the following:
Points: Your audience wins redeemable points in the game. You can award points for positive actions and experiences within the game, as well as for things like providing feedback and sharing the campaign on social media. Starbucks uses multiple options, including points, to motivate and award its audience.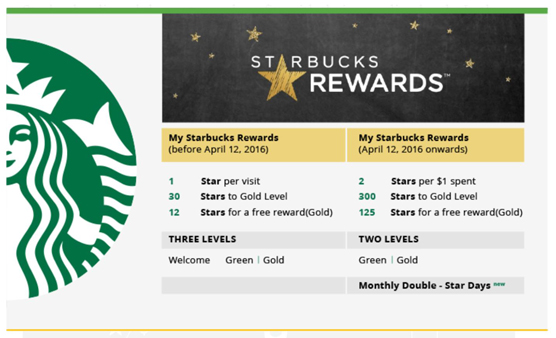 Using points can keep your audience motivated.
Badges: Badges are visual representations that confirm your audience's achievements in the game. Think of badges as visual status symbols. Interestingly, badges can lead your audience to participate in certain challenges just so they can earn the associated badges. Makes sure the challenges are designed to fit your marketing objectives.
Leader boards: Allow your audience to see how their own success in the game ranks compared with everyone else with the use of leader boards. Leader boards can inspire more competition and show people which players have unlocked the most achievements. The desire to appear at the top, or even just be featured in the top ten, will drive your audience to earn more points, which will in turn drive them into deeper engagement.
Performance charts: A performance chart is a graphical view of the audience's historical representation in the game. This will motivate a much longer playing term for each user because he'll be shown his performance over time. Your audience will be motivated to keep playing new levels as they look to improve their chart.
Avatars: Avatars can be powerful for engagement. In more traditional platforms, users are encouraged to upload photo of themselves, but in gamification your audience will likely prefer to use an alter ego. Avatars are usually customizable cartoon models that represent a player in the game. Avatars can play a very critical role in the audience's overall engagement because they become a part of a community, which can trigger more interest.
Gamification rewards and recognition
Think about interactive ways to use rewards for the game option you've selected so that your audience will have a positive experience while playing. Here are some rewards you'll want to consider:
Fun: You want to introduce an element of fun into your gamification marketing campaign. This is especially true if your company or industry is not usually associated with fun and engaging campaigns. When done properly, your campaign can create a disruptive, fun, and engaging experience for your audience.
Competitiveness: You can easily do this by adding a competitive element such as a leaderboard. Another way is to award badges that rank their audience's abilities. This is a great way to engage with your audience and provide good fun into your campaign.
Exclusivity: Who doesn't love earning her way into an elite club? Giving a VIP experience as a reward makes your audience feel like they have a special relationship with your campaign and brand overall. This goes a long way toward building brand loyalty. A good way to achieve the goal of exclusivity is to encourage your audience to achieve particular goals (as in the Starbucks green or gold stars program).
Rewarding experience: Encouraging your audience to earn more rewards for a chance to redeem them against actual products or services can be a very powerful reason for them to keep coming back to your game. A lot of companies will, understandably, make scoring points difficult, which can potentially turn your audience off playing. However, you can counter this problem by making the process of redeeming rewards easy and attractive.
Added value: One of the disincentives of a loyalty program is the difficulty in obtaining reward points. You may find that many of your players will abandon the game just because it takes too long to earn rewards. With this in mind, you need to be more creative and reward nearly everything in your game. This should be done on a sliding scale, matching the value of the points with the value of the audience's input. Also, keep in mind that with gamification, it's possible to have different types of rewards for each action, ensuring that everybody wins.
Giving random rewards: By adding random rewards into your game, you'll delight your audience and keep them engaged in the anticipation of more. Because everyone likes to win something, the fact that your audience is present and participating in your gamification marketing campaign is valuable enough to be rewarded.
About This Article
This article is from the book:
This article can be found in the category: