The gentle guide framework is designed to help employees complete a process of steps, such as the everyday tasks of their jobs or a specific, process oriented training program for required certifications. With the gamified gentle guide framework, you keep employees task oriented by assigning them a daily mission of objectives. Even the most repetitive or complex jobs are simplified and made manageable with focused, step-by-step rewards.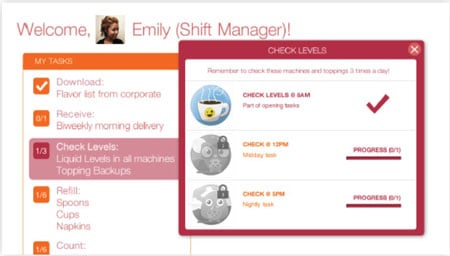 This hand-holding type of framework, used to motivate and incentivize users, is a well-conditioned, successful gamification framework custom-made to reduce the overhead of managing employees in large corporations, as well as reward employees for completing required activities and processes on time.
Examples of types of business areas that might benefit from the gentle guide framework include the following:
Performance management: The gentle guide lets you measure and reward job performance by tracking gaming behaviors. That makes it a good fit for keeping track of long-term progress and awarding bonuses. It's also good for employees who need motivation or reminders. It can help with timely completion of required employee activities.

Health and wellness: This framework is often a good choice for gamified sites and apps that focus on users staying on track with a health or wellness program.
Why does the gentle guide framework work? Here are a few reasons:
Baby steps: Larger, overwhelming tasks are broken down into smaller, easily accomplished micro-tasks. Each micro-task then becomes a little victory and the larger task is no longer overwhelming.

Visualization of progress: By providing visual measures of progress (via points, checklists, and badges), users receive clear feedback when they perform a desirable gameplay behavior. This visualization of where they've been and where they're going is instrumental in keeping your users engaged and performing.

Positive reinforcement: Instead of punishment or reprimand, positive reinforcement has been proven to result in lasting behavioral modification. Thus, when continuing to successfully accomplish a task and receive recognition, users are further motivated to continue and keep performing towards their short-term and long-term goals.
About This Article
This article is from the book:
This article can be found in the category: