Design thinking is an innovative approach to generating creative ideas that center on the needs of people. You analyze your target users and their problems, develop ideas, visualize solutions, and develop prototypes. You can change the concept after receiving feedback from your customers.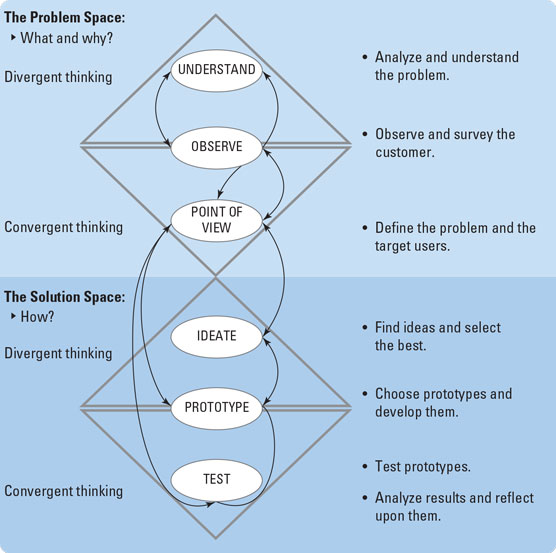 ©Cienpies Design/Shutterstock.com
The Principles of Design Thinking
The following principles apply to design thinking:
Align yourself with people and their needs early on.
Develop empathy by placing yourself in your target users' situation.
Visualize your idea in the form of a prototype.
Make sure that mistakes are understood as fixed components of the process and perceived as opportunities to learn.
Rely on variety in the team.
Provide team-appropriate and flexibly designable workspaces.
Proceed step-by-step, and flexibly jump back-and-forth in the design thinking process.
The Design Thinking Process
These six steps, with feedback loops, comprise design thinking:
Understanding the problem. Form an in-depth understanding of your target users' problems or wishes.
Observation. Use observations and surveys to compile information about the customers' needs.
Problem definition. Focus your task with a defined question about the customer's problem.
Finding and selecting ideas. Make use of creative principles, find ideas, and then systematically evaluate these ideas.
Prototype development. Design prototypes such as drawings, model constructions, stories, role-playing games, or websites for the individual features of your idea.
Testing. Test your assumptions or ideas with the aid of interviews and experiments. You can learn from the feedback and continue developing your idea.
Understand the Problem
Collect information from observations, surveys, and Internet research and then answer the following questions regarding the needs of your target users:
What is the need?
Who has it?
How is it shown?
Where is it shown?
When is it shown?
Why do your target users have the need?
Creatively Develop Ideas
Utilize the following creativity techniques and principles in order to develop new ideas:
Ask yourself what would happen if you had an infinite amount of money available.
Think about how you could make the problem worse.
Question the conventions and assumptions in your industry.
Look for ideas for solutions in other industries and application areas.
Disassemble the first idea into individual components and then vary or combine the components in a new way.
Create Prototypes
Design a simple but functional sample of your idea — your prototype. With the prototype, focus on a single characteristic or function of your idea that your customers can observe or try out. The following kinds of prototypes are possible:
Drawings and photo collages
Model constructions made of paper, cardboard, modeling clay, Styrofoam, or other foam materials
Stories and role-playing games
Digital prototypes, in the form of vivid presentations of operating elements and buttons or simple websites or apps
Ask or observe whether your potential customers have problems finding a benefit, feeling joy, or expressing possibilities for improvement when they use the prototype. Ask yourself the following questions when you evaluate the customer feedback:
What was evaluated positively?
What were the concerns or problems?
What was a surprising customer statement or observation?
Did the customer have any emotions, and if so, what kind?
What suggestions were made?
What can be learned from this?
Counter Objections
The innovative nature of design thinking can lead to resistance at the company. Dispel such resistance by
Asking about the reason for the concerns and request evidence
Asking what would happen with the company if it canceled all efforts toward innovation
Explaining the principles of design thinking and its approach
Suggesting that you initially start a project with a limited budget
About This Article
This article is from the book:
This article can be found in the category: