Tinder is a mobile application that was initially developed with dating in mind. Based on a "Hot or Not" form factor Tinder (Tindr) in its early days was intended mainly for the reckless "Hook-up" crowd and since then has toned down its concept quite a bit.
After their name change from Tindr to Tinder, the application has changed from the Hot or Not concept to a more subtle Like-based layout instead. The app now offers the ability to upload photos known as "Moments" to your profile for your Tinder followers to "Like" as well.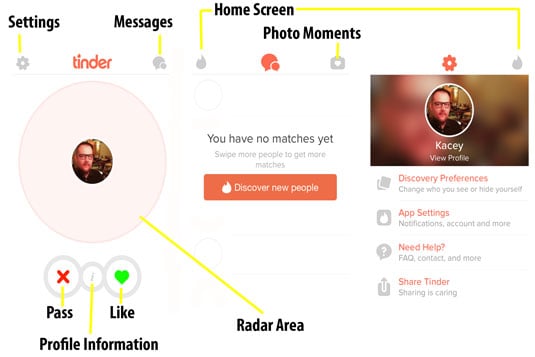 If you intend on using Tinder for dating and "hooking up" purposes, always perform safer sex practices and get tested regularly. Online dating and hookups are proven to put a person more at risk in the contraction and transmission of STDs and STIs. Please be safe!
Getting started with Tinder
Tinder is a free application that can be found easily in the app store on many mobile devices, and the instructions to get the Tinder application are as follows:
Simply launch the app store from your mobile device and perform a search for Tinder.

Tap the "Get" or "Install" button located next to the application description.

Enter your password, fingerprint, or other credentials if necessary.

Wait for the device to install the application (usually takes less than a minute.)

Launch the application for the first time.
For iPad users Tinder will not show up in the application list if you perform a regular search. After searching for the application in the top right corner where "iPad only" is displayed — tap and select "iPhone only" and Tinder will then be the first app visible in the list of available applications.
Tinder is a popular application for Android and iOS users, however; sadly, Tinder is not available for Blackberry, Mac, PC, or Windows Phone users. A third-party application called 6tindr has been implemented and is available to Windows Phone users, but this application is not official and is buggy at best.
Setting up a Tinder account
Setting up a Tinder account could not be any easier. Simply launch the application and sign in with your Facebook account. The Tinder application automatically will import your profile information for you.
Not to worry, Tinder does not post anything to your Facebook, it simply uses your Facebook as a means to import contact information as well as profile information only. Tinder will not in any way contact anyone on your Facebook Friends list — ever.
Using Tinder for the first time
Using Tinder is just as easy as setting up your account. Simply follow these easy steps, and you will be on your way to becoming a Tinder master.
Launch the application and Tinder will ask to use your location and to post notifications on your device.

Choose Yes or Allow for both of these pop-up messages before continuing.

The Tinder Home screen will be displayed with your profile image centered in the middle and possible matches in your radar area.

In the top left corner are your app and profile settings. (Just in case you need to change or update anything.)

In the top right corner is your Tinder message center.

In the bottom center, is a red X to pass to the next random profile, and a green heart to like a person's profile.

Like and Skip profiles until you find a match. (Note: this may take a while depending on the amount of users in your area.)

When you have found a match you will then be able to message and share photo moments with that person and possibly make a connection. (Friend or romantic, that is up to you!)
The location services must be turned on for the Tinder application to work. Tinder locates people near you for you to tap the X and Heart. If it is unable to obtain your location, the application will not be able to find you matches.
Tinder can in some ways seem like a shallow way to meet people by basing their Like system solely on a person's profile photo and not that person's personality. Perhaps an update in the future will include video snippets instead of photos to enable users to show others who they really are or what makes them human and vice versa. Time will only tell.
About This Article
This article can be found in the category: