Before you start job-hunting as a medical billing and coding specialist, give some thought to what sort of environment you want to work in. The possibilities are almost endless, and if you think about your preferences before you search for a job, you can narrow down your list of possible employers, saving yourself a boatload of time. Are you, for example, interested in the fast-paced, volume-heavy work that you'd likely find in a hospital? Or does the controlled chaos of a smaller physician's office seem more up your alley?

The good news is that all medical facilities and offices need some sort of billing and coding staff who can either work in the office or work remotely. Medical billers and coders are essential to the efficient processing of data, compliance with government regulations, and protection of patient privacy as required by the Health Insurance Portability and Accountability Act (HIPAA).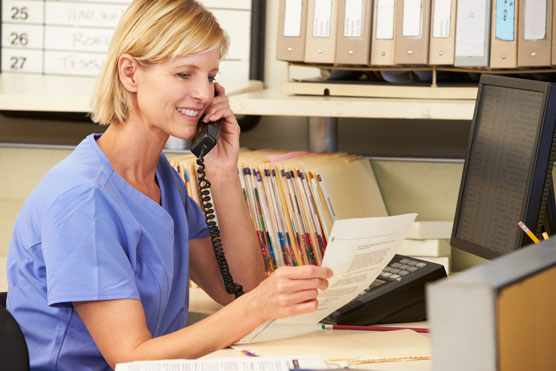 ©Monkey Business Images/Shutterstock.com
Currently, medical billing and coding jobs comprise one-fifth of the healthcare workforce, a number that is expected to grow. The transition to ICD-10, the updated version of the International Classification of Diseases that replaced ICD-9, increased the demand for medical coders because it made the coding and billing process more complicated (due to the increased specificity of the classifications) and more time-consuming. On the heels of ICD-10 is ICD-11, which is tentatively scheduled to become effective after January 1, 2022; ICD-11 will unlikely create concerns that were part of the ICD-10 delay.
As you consider where you want to ply your trade, keep in mind that the environment you choose can impact how broad or narrow your exposure to the coding and billing profession is. For example, if you work for a general surgeon (an optimal — and most sought after — position for a coder), you get experience in most areas of coding. The surgeon may use evaluation and management codes in addition to procedural codes from every section of the coding book. In contrast, a position in a pathology laboratory may limit your experience to that area of practice. A coder with experience in all areas becomes more valuable as an employee to the bigger employers.
The doctor is in: Working in a physician's office
If you've seen someone buried under stacks of medical files as you take care of your copay in the doctor's office, chances are you're looking at a medical biller or coder. Just think — that could be you!

Several different kinds of physician offices employ their own coders and billers. Here are just a few possibilities:
Working in an office in which a group of physicians share a practice: In a multi-physician office, the pace is usually a little faster, and more demands are placed on the administrative staff. Usually, a larger practice has an office manager in addition to the clerical staff.
Working in an office that has just one or two docs: In this situation, the coder may function as the receptionist and biller as well. These offices can be great places to work. Due to size, you may find less office politics, and life usually tends to move at a slower pace when you're dealing with just one doc. The downside is that getting time off can be difficult, and your days off generally correspond to the physician's days off, so you have less flexibility with regard to personal time.
Working in an office in which the physicians do their own coding: In this case, the physicians may use only the services of a biller. A certified coder is optimal to fill this type of position because, when the physician is out of her comfort zone from a coding perspective, a certified coder can assist with assigning the correct codes, as well as keeping abreast of code changes and other requirements. The downside to working in this environment is that your coding may not be as accurate as it should be (you may work with a physician who likes to "do it his way"), and moving to another job will be more difficult. Keeping providers like these on the right track is often a difficult and delicate position to put yourself in.
Hooking up with a hospital
Get all the images of Grey's Anatomy out of your head right now. Working in a hospital may be busy and exciting, but it's not always that dramatic, especially in the "back of house," where billers and coders do their stuff. That said, working in a hospital environment has a lot to keep you hopping.

Working in a hospital can be a rewarding experience for the coder. Hospitals are very departmentalized, with each department having its own coders. In most circumstances, the coding in a particular department is specific to a certain specialty or set of specialties, just as it would be if you were working in a physician's office. The difference is that the coding is for the facility, so expenses that are incurred by the facility — including drugs and implantable items such as stents or shunts, for example — are reimbursed through the hospital coding. In addition, most hospitals have a centralized billing department (or they may send the billing out to a billing company; see the next section).

Medicare and some state Medicaid plans reimburse hospitals based on diagnosis-related groups (for example, MS-DRGs or APR-DRGs) for inpatient claims. This means that the admitting diagnosis is linked to the severity of the patient's illness. The level of risk associated with the treatment can affect the level of reimbursement received from Medicare and other payers. In other words, the sicker the patient, the greater the risk, and the higher the level of reimbursement. Coding that drives diagnosis related groups (DRGs) is more complex than non-DRG claims. There are specific rules that govern sequencing diagnosis codes and also the documentation that is required to support using those codes.

Don't think that you can't create a niche for yourself in a larger hospital setting. You can, thanks to all the smaller sub-clinics and offices under the hospital umbrella that service the entire facility. For example, many surgeries can't be performed without anesthesia (well, they could, but it wouldn't be a popular choice!). So hospitals use anesthesiologists, who have to bill patients just like any other function of the hospital.
Focusing on a billing or practice management company
Other options for employment as a biller or coder usually involve working for a practice management or billing company. These companies provide various levels of administrative support, with some handling all of a provider's practice administrative duties (even though having someone on site who understands insurance is still important for every provider office).

Billing and practice management companies come in all sizes and specialties. The larger companies handle numerous clients and usually have a team of people working on one or two of the accounts. In addition, if the company provides practice management — including coding and billing for a physician or group — the work is the same as if the provider were handling this aspect of the practice in-house.

Work at a billing or practice management company may be a good bet for the novice coder or biller because it's a great way to learn the ropes under the tutelage of a more seasoned professional. It also provides an outlet for giving and receiving feedback and working through some of the stickier details with a coworker. In this work environment, you wouldn't be flying solo! As a general rule, bigger companies usually have more structure with regard to how they do things, and they provide the best on-the-job training. That being said, be mindful of companies that have internal training programs run by people who have only worked at that one company!

Just as with hospitals, you can find your own niche in practice management companies, too. Some practice management companies within larger organizations, for example, specialize in certain areas, such as anesthesia or radiological practices. Working for one of these companies enables you to focus on and gain expertise in those specialties. With anesthesia, for example, you would need to know all surgical and procedural codes, and radiology overlaps with cardiology because of the noninvasive cardiac procedures that are now common.

Many billing companies are contractually obligated to their clients to employ only certified medical coders to perform the coding. Although the AAPC (American Academy of Professional Coders) now offers a Certified Professional Biller certification, billers may often be trained on the job, but having knowledge prior to employment gives you an advantage as a job seeker.
Processing claims for an insurance company
You may decide that you want to work in claims. Working in a claims job is one way to stretch the limits of your billing and coding knowledge.

Major insurance payers use automated claims processing. The claims are received electronically and do not require a human touch unless there are problems. Smaller payers may either receive the information electronically or scan it into their processing software, where it is processed, ideally correctly. To ensure more efficient, yet timely claim processing, many of these companies also use a claims processor.

To be successful as a claims processor, you need to know medical claim coding, billing procedures, and insurance obligations. These processors carefully examine each claim to determine its validity and accuracy. The processor then refers to the patient's insurance policy benefit or plan to determine the correct level of payment for the claim. The processor also has software that contains the contracts that are linked to individual medical providers by their tax identification number or National Provider Identifier (NPI). They apply the plan provisions and payer contract to the claim to determine payment. After doing all this, the payment is issued accordingly. If the claim needs additional clarification or information, the claims processor sends a notice to the appropriate office to request the missing details.

In addition to payer-processing positions, insurance companies also need people to handle incorrectly processed claims when the providers appeal them. Again, solid knowledge of medical terminology, diagnosis, and procedural codes are valuable tools for these employees.
The best of the rest
The possibilities are nearly endless in the billing and coding field. Even though you're most likely to find employment in a physician's office or in a larger facility like a hospital or clinic, here are a few other options you may find enticing:
Nursing homes
Outpatient facilities
Home healthcare services
Durable medical equipment providers
Federal government agencies such as the Department of Health & Human Services, Social Security, Medicare, Tricare, or the Department of Labor
In short, billing and coding is important to any business that provides healthcare.
Getting your foot in the door
Whether you find work in a doctor's office, at the local hospital, at a practice management company, or for an insurance company, you have several options for jobs within those offices. Think of the world of billing and coding as a buffet, and you have a plate just waiting to be filled with a big, tasty job. The good news is that you get to pick based on your level of skill and your interests.

Still, finding employment as a novice can be a challenge. Many offices are fully staffed and may hesitate to hire a newly trained coder without any medical office experience. An excellent way to get your foot in the door is to accept a position that involves verifying each patient's benefits.
About This Article
This article is from the book:
This article can be found in the category: