A smart city strategy is only as good as the degree to which it is followed. A smart city strategy that is written and agreed on and then never referenced again is worthless. Success in reaching goals relies on having a roadmap and a set of guiding principles that everyone can follow. But even with the best of intentions, individuals and teams can veer off course and, before long, find themselves way off track.

Pulling the team and projects back into alignment with the strategy is then expensive and will incur delays. The risk of failure also increases. For this reason, to keep focused and aligned to the strategic goals — allowing, of course, for modifications along the way — requires an agreed-on management framework, a process for decision-making, and methods of enforcement. This is called governance.

You can design an organizational structure to support the creation and implementation of your smart city strategy. Each layer of the organizational chart has a mandate and a specific set of roles and responsibilities to execute against it. Each team contributes in some way toward ensuring that the work is being governed.

After all, the assumption is that all participants are focused on achieving the same goals and have agreed-on rules to get there. This requires a common understanding of why something is being done, what is being done, how it will be done, and when it will be done.

Here, you discover models for both the strategic and project governance of your smart city efforts. Finally, you find suggestions on communicating the status of your strategy.
Defining strategic governance
The term strategic governance is most often used to describe how entire organizations are managed from the top all the way to the bottom. But it can also be used to help define the management and decision framework of large organizational programs. A smart city strategy falls into this category.

As such, the definition of strategic governance runs as follows: It's the process of envisioning a future and then managing the decisions and efforts to realize that vision. It encompasses the development, implementation, and monitoring of the strategic plan.

Strategic governance drives how each team executes the vision, mission, values, policies, and processes of their respective work. It's a top-down approach, with leadership and guidance coming from the strategy/steering committee. Governance flows down through the various organizational layers and is executed in a way that's appropriate to each team's responsibilities. The image you see below summarizes the role of leadership in strategic governance.

These are the core responsibilities of strategic governance:
Defining, agreeing on, and revising your goals and objectives
Creating and enforcing policies that provide guidance on execution
Approving and allocating resources
Leading and controlling activities and tasks
Insisting on accountability for quality delivery
Monitoring performance
Reporting on progress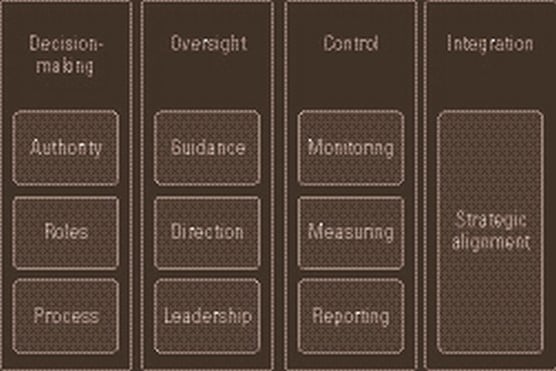 Basic strategic governance framework.
Managing smart city projects with project governance
Though recognizing that creating and governing a smart city strategy is essential work, the real outcomes actually happen through your smart city projects. Even when you use the best strategy, results are bad if projects are poorly managed. Projects must meet the minimum requirements of being on time and on budget and meeting the expectations of users. There's a vast chasm between simply managing a project and managing a project well.

You will be well served by hiring skilled project managers and investing in developing the skills of your existing project managers.

Project managers and their team members require the necessary organizational conditions and environment to excel. A priority ingredient when it comes to repeatedly managing successful project outcomes is an agreed-on framework for project decision-making— project governance, in other words. It's a direct descendant of strategic governance. Though project managers and their team members focus on the details of running a project, project governance provides them with valuable guidance, oversight, and timely decision-making.

Think of project governance as a structured system of processes and rules used to manage a project. It provides a decision-making framework to ensure alignment between the project team members, executives, and the rest of the organization. Project governance can also be used to decide the sequence and timing of projects, including the identification and assignment of project managers and team members. This image summarizes the core components of project governance.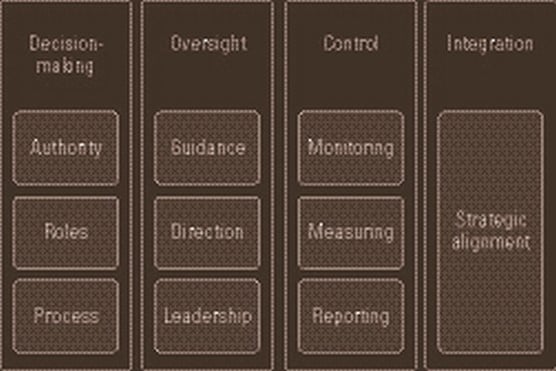 Four central project governance functions.
These are the core components of project governance for smart cities:
Team structure: Establish the organizational structure and reporting relationships between all relevant project stakeholders.
Role definitions: Provide all stakeholders with detailed information on their role and responsibilities. Decision-making authority can be defined here as well.
Project management plan: This formal document gets approved by all who define exactly how the project will be executed, managed, monitored, and controlled.
Project schedule: This list of dependent and independent project milestones, activities, and deliverables is coupled with their estimated and actual start and finish dates.
Issue review process: This agreed-on guide specifies how different types of issues encountered during the project will be handled.
Reporting plan: This plan designates a process and a set of agreed-on methods and channels for ensuring clear and frequent communications to all stakeholders.
Risk register: This one acts as a repository for logging and managing project risks. It also documents what actions were taken to mitigate or directly address the risk, if any.
Good governance at the societal level of a smart city
The United Nations (UN) defines governance as the process of decision-making and the process by which decisions are made or not made. They further define good governance as the processes and institutions that produce results that meet the needs of society while making the best use of resources at their disposal.

The UN defines these eight characteristics of good governance:
Participation: Decisions must involve both men and women, through either direct engagement or representation. Those involved must be informed and organized.
Consensus oriented: Society represents many points of view. Mediation can be used to capture different interests in order to reach a broad consensus on what is in the best interest of the whole community.
Accountability: Government organizations, the private sector, and civil society must be accountable to the public and to their institutional stakeholders. Accountability can be enforced only by way of transparency and the rule of law.
Transparency: With transparency, decisions and enforcement are made in a manner that follows rules and regulations. Information on such decisions must be available to those affected.
Responsiveness: Institutions and their processes must serve stakeholders within a reasonable timeframe.
Effectiveness and efficiency: Institutions must produce results that meet the needs of society while making the best use of resources. Processes must be sustainable and also
Equity and inclusiveness: All members of society must feel that they have a stake in decision-making and do not feel excluded from the mainstream.
Rule of law: This is the requirement that legal frameworks are fair and enforced impartially.
Regularly updating and reporting on your smart city project status
High-quality communication is a fundamental component of strategy and project success. In fact, 80 percent of a project manager's role is communicating to stakeholders. With poor communication, necessary information may not be exchanged effectively. This can have many negative impacts, including delays, omissions in scheduled tasks, bad decisions, and project errors to your smart city. High-quality communication increases the likelihood of project success.

Effective status reporting is a proven method of good communication. Here, you discover the use of project status reporting, but it's just as applicable to strategy reporting as well.

Project status reporting is the regular, formalized reporting on the health of a project. It's a project management monitoring and controlling function. Project managers typically perform this reporting responsibility, but really large projects can benefit from a dedicated person or team.

Reporting is used as a vehicle to communicate to stakeholders in order to keep them informed, solicit feedback and questions, elicit action, and assist with timely decision-making. The frequency of reporting is typically decided on and documented when the project management plan is created. Not every report is sent to every stakeholder. The right report should be created for the right people. As always, know your audience.

Keep in mind that electronic project status reporting is one important form of communication, but all other channels should be kept open and used. Project managers can still speak to their colleagues as well. Yes, that means visiting their offices or picking up the phone.

Status reports also comprise an historical record of a project. The reports can be used to attain lessons learned, serve as a reference for any questions, and capture the strengths and weaknesses of various aspects of the project.

Project status reporting can include
Overall project health
Schedule and budget status relative to a specific stage of the project
Project summary and milestone status
Significant-accomplishments status
Challenges-and-risks summary
Open issues that must be handled
Change requests
Project metrics
Finally, when it comes to writing up a status report, here are some best practices you should follow to keep your smart city stakeholder informed:
Consistency: Establish and maintain a uniform format, distribution frequency, and method.
Metrics: Create and report on metrics decided during the planning phase of the project.
Process: Develop and communicate the reporting process to team members with reporting responsibilities.
Simplicity: Ensure that reports are clear and effective.
Verify: Regularly confirm that distributed reports are adding value and are reaching all the right people at the right time.
Tools: Identify and use reporting tools that lower the burden of report development and distribution.
About This Article
This article is from the book:
This article can be found in the category: