Most camcorders now have audio meters. They allow you to see how loud or how soft the sound being recorded is in your digital film. The audio meters usually appear on the LCD monitor on your camcorder. You can use these meters to check the levels of the sound before filming and to make sure that the sound you're recording isn't so loud it will distort or isn't so quiet the audience won't be able to hear the dialogue.
Some camcorders allow you to change the levels of your microphone manually, but others do this automatically. Either way, make sure you check the audio levels before and during filming.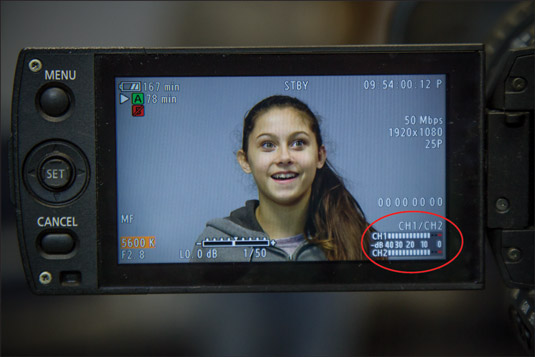 An audio meter can be a useful tool.
When checking the audio levels before filming, ask your actors to say some of their lines at the volume they would perform them when filming. You'll be able to see from the audio meters how high the levels are, and these can be adjusted if the audio is too loud or too quiet. The bars should not be constantly peaking, which means hitting the end of the meter, which is usually red. If a meter does this, then the audio levels are too loud.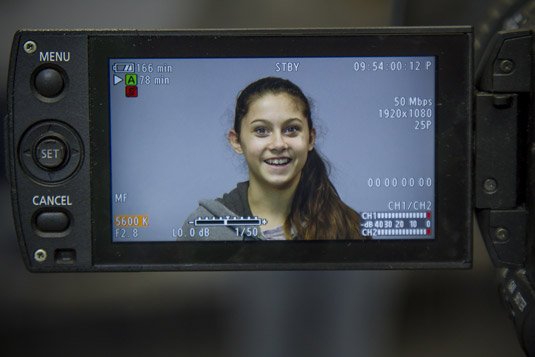 If all noises are peaking, it may be an overload for your audience.
If the audio levels are too quiet, on the other hand, then the audio meter bars won't rise as much.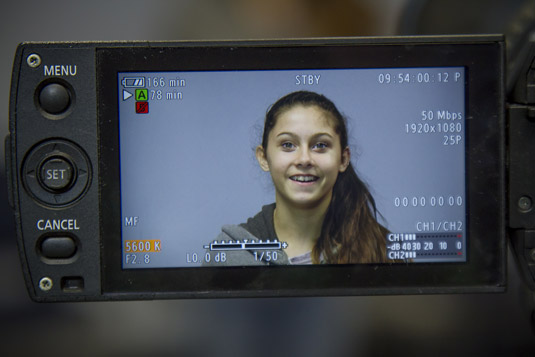 You want the audience to be able to hear your dialogue.
Don't worry if your camera doesn't have any audio‐level meters. In that case, you can always listen to see whether the audio is too loud or too quiet. By plugging headphones into your camera and listening to the dialogue, you'll be able to hear if the audio is too loud, because it will distort and be uncomfortable to listen to. On the other hand, if you can hardly hear what your actor is saying, then you either need to turn the microphone volume up, move the microphone closer to your actor, or ask him or her to speak louder.
It's a good idea to ask a crew member to check the audio levels during filming. An assigned crew member can concentrate on watching and listening to the sound levels while the director concentrates on the shots and the actors' performances. The person monitoring the audio can look at the audio level meter and listen through the headphones for any noises that may distract your audience.
About This Article
This article is from the book:
This article can be found in the category: