Bollywood is one of the largest film industries in the world and is chock-full of colorful characters, talented actors and actresses, epic song and dance numbers, elegant fashion, and memorable dialogue. The largest movie industry in the cultural mecca that is India, Bollywood has innumerable surprises and layers of fun for any fan to unpack. Even avid Bollywood fans are constantly discovering new corners of this marvelous film industry. This Cheat Sheet serves as a handy guide to give you a preview of the Indian subcontinent's world of cinema.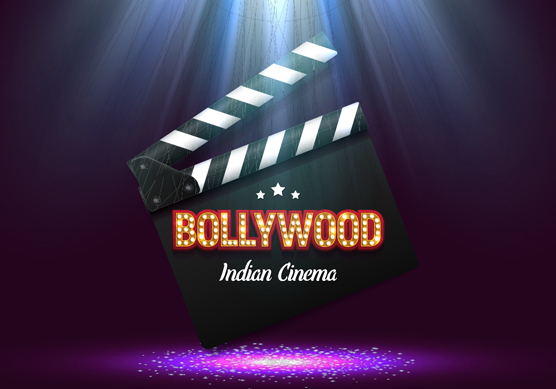 Source: © Igor Kyrlytsya / Shutterstock.com
Film Industries in the Subcontinent
Movies and cinema are a huge staple of India's national identity. In fact, the country is scattered with several film industries combining to produce anywhere from 1,500 to 2,000 films a year. Historically speaking, each industry has cultivated talents and influences that gained notoriety in their native cinemas prior to making their way into Bollywood. Here are some of the cinema names and nicknames you may encounter:
Bollywood: The Hindi language film industry based in Mumbai (formerly known as Bombay). In fact, that's how it gets its name: Bombay + Hollywood = Bollywood. Another name or way to refer to Bollywood is Hindi Film or the Hindi Film Cinema.
Tollywood: There are two Tollywoods:

One is based in the Tollygunge region of West Bengal.
The other is for the Telegu-language film industry based in and around Hyderabad, Telangana, India.
Both industries derive their names from the first letter of the region in which they are produced; the "T" in Tollygunge and Telangana plus Hollywood leads to the popularized term "Tollywood" for both industries.
Kollywood: Tamil language–based cinema produced out of the Kodambakkam neighborhood of Chennai, India. Again, the industry name is made by combining Kodambakkam and Hollywood.
Lollywood: The major film industry of India's neighboring country, Pakistan. Based out of one of the major Pakistani cities, Lahore. Keeping in line with naming trends, this industry's name is a combination of Lahore and Hollywood.
Unique Terms Specific to Working on a Bollywood Film
Completing a large-scale film is a long and arduous effort that requires the expertise of many professionals. Although filmmaking in the United States and India do have a lot of overlap, the following terms and titles are more specific to filmmaking in Bollywood:
Item number: A song inserted into a film featuring a cameo appearance of a well-known Bollywood actor or actress. Item numbers help with a film's marketing and typically veer on the side of being either racy, catchy, or inclusive of a fun dance number.
Playback singer: A singer whose singing is pre-recorded and featured in Bollywood films. The film's featured actors lip synch the songs during the movie.
Music director: The musical supervisor is in charge of composing the film's score as well as assembling the singers, lyricists, and musicians.
Choreographer: The person who composes the dance routines for the songs in a Bollywood film.
A Feel for All Things Bollywood: Desi Standard Time Podcast
This esteemed podcast, Desi Standard Time, by Maaz Ali, Maaz Khan, and Anum Hussain has two hip-thrusting seasons that cover all things related to South Asian media and entertainment with each episode focusing on the trends and influences embedded in film, TV, music, and dance. The following list serves as a referral guide for the first two seasons: Season One on Bollywood and Season Two on Pakistan.
Season One: Bollywood
Covering all things Bollywood, the first season of the podcast takes a critical look at trends in Bollywood, where they come from, and how they affect the industry's viewers.
Dance
Music
Film and Culture
Season Two: Pakistan
Season Two of the podcast examines India's neighbor Pakistan and the wealth of media produced there. From music to TV to film, this season takes a look at all things Pakistani media and how they inevitably influence other industries of the world, particularly Bollywood.
Music
Film and TV
About This Article
This article can be found in the category: