Polish is a unique and immensely rewarding language to learn. This Cheat Sheet gives you a quick run-down of the Polish alphabet, Polish numbers and handy Polish phrases to make you feel more confident speaking Polish in no time.
The Polish alphabet
Although Polish pronunciation may seem pretty daunting, it is in fact regular and once you memorize a couple of patterns, you'll soon notice that you can pronounce every word you come across.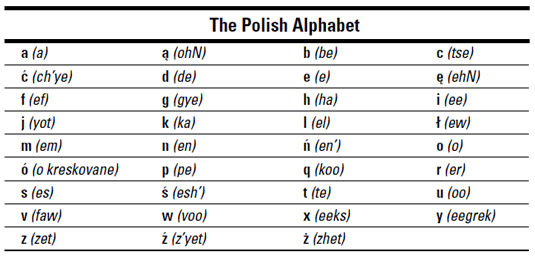 Numbers in the Polish language
Whether you want to ask for directions to a certain address, find out which bus or train to catch, or want to exchange phone numbers, use this helpful table to figure out how to pronounce numbers in Polish.
Combining numbers in Polish works similarly to English: 25 is dwadzieścia pięć (dva-dj'yesh'-ch'ya pyen'ch') (twenty-five), and for 783 you say siedemset osiemdziesiąt trzy (sh'ye-dem-set o-sh'yem-dj'ye-sh'yont tshih) (seven-hundred eighty-three). However, for 1,422, Polish speakers say one thousand, four hundred twenty-two, tysiąc czterysta dwadzieścia dwa (tih-sh'yonts chte-rih-sta dva-dj'yesh'–ch'ya dva) and never combine it as fourteen hundred twenty-two.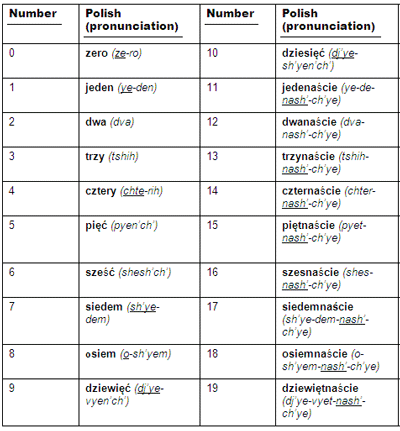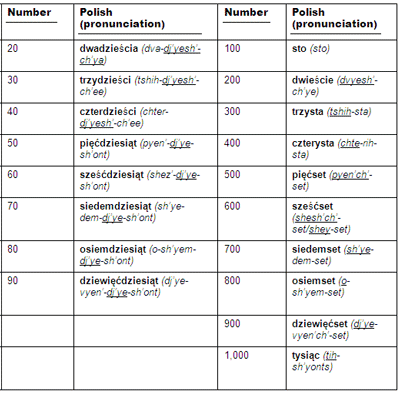 Handy everyday phrases in Polish
Whether you're staying with friends and family in Poland or simply there as a tourist or business visitor, these quick phrases can help you communicate in Polish.
Cześć! (chesh'ch') (Hi!/Bye!)

Dzień dobry! (dj'yen' dob-rih) (Hello/Good day/morning/afternoon)

Do widzenia! (do vee-dze-n'ya) (Goodbye)

Dobry wieczór! (dob-rih vye-choor) (Good evening)

Słucham? (swoo-ham) (Pardon? Excuse me?)

Dziękuję (dj'yen-koo-ye) (Thank you)

Miło mi (mee-wo mee) (Nice to meet you)
About This Article
This article is from the book:
This article can be found in the category: