You can give the grand tour of your home without one word of explanation if you use American Sign Language (ASL). You can also sign about the rooms in your house and the the furniture you have in them.
Signing about your home
The signs in this table let your fingers do the talking.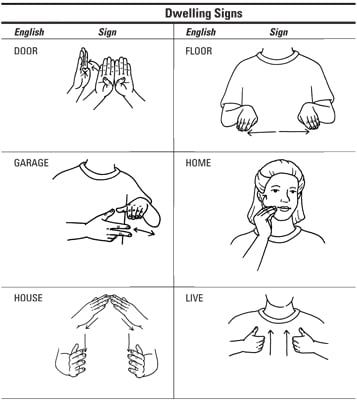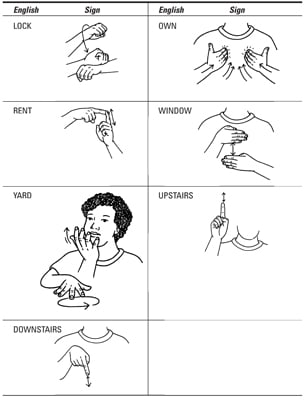 To sign condo, you fingerspell C-O-N-D-O, and to sign apartment, you use the abbreviation, fingerspelling just A-P-T.
Here are some home-related sentences:
English: Do you own your home or rent?

Sign: YOUR HOME — OWN — RENT WHICH Q

English: The door is locked.

Sign: DOOR — LOCKED

English: The garage has a window.

Sign: GARAGE — WINDOW HAVE
Sign language for rooms in your house
Each kind of room has its own sign. This table gives most of them.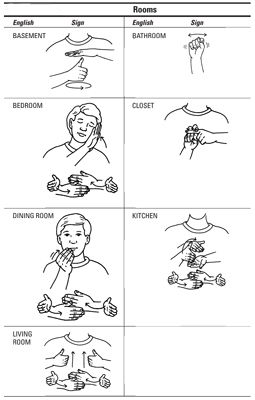 The sign for closet has several motions, so here's some explanation: With your dominant hand, make a hook with your index finger. This finger acts as a hanger. Your passive index finger acts as a pole on which to put the hangers. Put several "hangers" onto the "pole."
Here are some sentences discussing rooms:
English: Can I use the bathroom?

Sign: BATHROOM — USE ME CAN Q

English: The kitchen is hot.

Sign: KITCHEN — HOT

English: Don't play in the living room.

Sign: LIVING ROOM — PLAY THERE — DON'T
Signing about your home's furnishings
After you have rooms, you can start filling them with furniture. This table shows you the signs for everything from window treatments to carpet.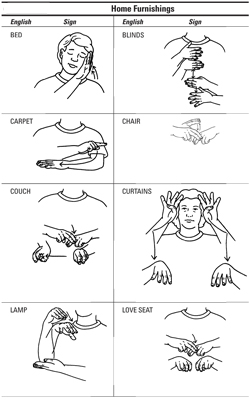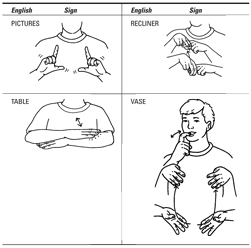 If you're comfortable with these furnishings, try the following sentences:
English: Sit on the couch.

Sign: COUCH — SIT

English: My carpet is white.

Sign: MY CARPET — WHITE

English: The picture is crooked.

Sign: PICTURE — CROOKED
About This Article
This article can be found in the category: