When you plan to go with your Deaf friends to a play or museum, you can get the most out of the experience by knowing some signs related to cultural events. American Sign Language (ASL) provides all the conversation you could want about that new production or exhibit.
Signing about going to the theater
Attending plays is always a great way to improve your signing skills — especially if the actors also sign. Many live-performance plays provide an interpreter, so Deaf people are able to attend and enjoy plays along with hearing folks.
This table includes some of the more well-known theatrical terms that you may want to know.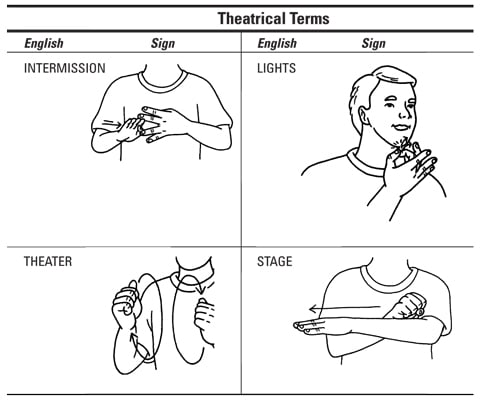 Light bulb is signed with a flick, using your index finger and thumb under your chin, and then mimicking the action of screwing in or taking out a light bulb. You can sign light and mimic as to shining a spotlight or a flashlight.
These sentences should get you in the mood for a good production:
English: When the lights go out, stop talking.

Sign: LIGHTS OUT — TALKING STOP

English: During intermission, I'm leaving.

Sign: DURING INTERMISSION — LEAVE ME
Signs about going to the museum
Visiting a museum is quite an experience, and one that many Deaf people can appreciate as easily as the hearing world. You don't have to be able to hear to enjoy all the wonderful things that are included in museums. However, being able to discuss what you see is nice — use the signs in this table.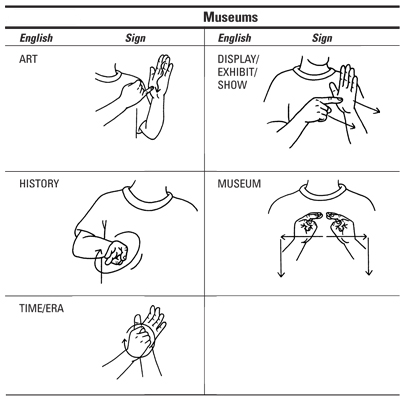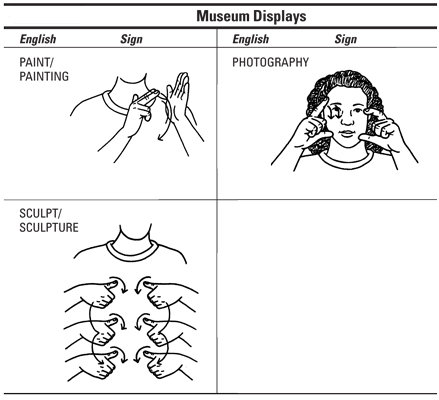 Photography is signed by mimicking taking a picture. Make sure that you give it a double click because a single click means to take a picture.
Here are some sentences for your trip to the museum:
English: The museum is open.

Sign: MUSEUM — OPEN

English: The picture is old.

Sign: PICTURE — OLD

English: We saw the photography exhibit.

Sign: FINISH — PHOTOGRAPHY EXHIBIT SEE
About This Article
This article can be found in the category: