If you're interested in Queen Elizabeth II, the longest reigning monarch in British history, this Cheat Sheet is a useful reference to her life and family. It includes a timeline of important events in the queen's life, the line of succession to her throne, and the various movies and TV shows that have featured her.
Queen Elizabeth II's family tree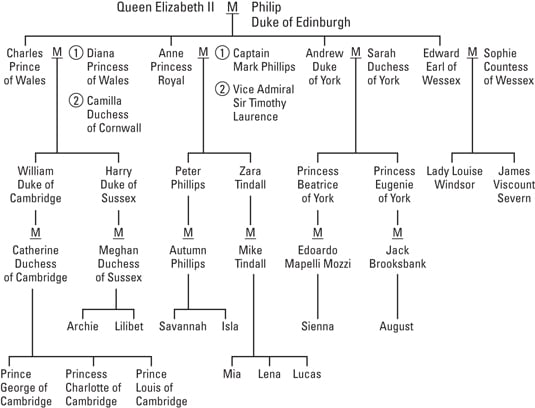 Timeline of important events in Queen Elizabeth II's life
1926: Princess Elizabeth born in Mayfair, London on 21 April.
1936: Edward VIII abdicates in December; Elizabeth's father becomes King George VI, and Elizabeth is heir to the throne.
1939–1945: World War II. Elizabeth and her sister Margaret spend much of their time in Windsor Castle where she meets Philip of Greece.
1949: Elizabeth and her family tour South Africa; in November she marries Philip of Greece, now Philip Mountbatten.
1948: Prince Charles born, followed by Princess Anne in 1950.
1952: George VI dies and Elizabeth accedes to the throne as Queen Elizabeth II.
1953: The Coronation Of Elizabeth II in Westminster Abbey, London.
1953–1954: Prince Philip tours the Commonwealth without Elizabeth; the palace denies any difficulties within their marriage.
1955: Princess Margaret ends her relationship with Peter Townsend.
1956: Elizabeth makes no public comment when Britain invades Egypt in alliance with France and Israel; Harold Macmillan becomes prime minister.
1957: Ghana is the first British colony in Africa to get independence; Prince Philip founds Duke of Edinburgh's Award Scheme.
1959: State visit by Shah of Iran; state visit to Canada and USA.
1960: Princess Margaret marries Anthony Armstrong-Jones; Prince Andrew born, followed by Prince Edward in 1964; South Africa leaves the Commonwealth.
1962: Jamaica becomes independent.
1963: Rumors link Prince Philip to the Profumo sex scandal; swinging sixties; Beatles' first single released.
1964: Harold Wilson becomes Elizabeth's first Labour prime minister (to 1970).
1969: In a neo-medieval ceremony, Prince Charles is invested as Prince of Wales. Protestant v Catholic 'Troubles' start in Northern Ireland.
1973: The United Kingdom joins the European Economic Community (EEC).
1977: Celebrations in the UK and Commonwealth to mark Elizabeth's Silver Jubilee (25 years on the throne).
1979–1990: Margaret Thatcher (Conservative) is Britain's first female prime minister.
1981: The 'fairy tale' wedding of Prince Charles with Lady Diana Spencer in St. Paul's Cathedral, London.
1982: Prince Andrew is part of a British task force that retakes the Falkland Islands after they have been invaded by Argentina.
1986: Queen Elizabeth II celebrates her 60th birthday.
1992: "Annus Horribilis:" Princess Anne and Mark Phillips divorce; Andrew and Fergie separate; Charles and Diana separate; fire badly damages Windsor Castle; Elizabeth agrees to pay tax.
1996: Divorces of Charles and Diana, and Andrew and Sarah Ferguson.
1997: Tony Blair (Labour) becomes prime minister; Britain returns Hong Kong to China; death and funeral of Diana Princess of Wales.
1998: The Good Friday Agreement brings peace to Northern Ireland.
1998: Scotland and Wales vote for their own legislative assemblies, devolving power away from Westminster.
2001: Elizabeth sends a swift message of condolence and support after the 9/11 terrorist attack on the Twin Towers, New York; leads to British troops invading Iraq with their US allies in 2003.
2002: Deaths of Princess Margaret and the Queen Mother. Widespread celebrations mark Elizabeth's Golden Jubilee (50 years on the throne).
2005: Prince Charles marries Camilla Parker-Bowles, Duchess of Cornwall.
2007: Diamond wedding anniversary of Elizabeth and Prince Philip. Elizabeth becomes the oldest ever reigning British monarch.
2011: Elizabeth eldest grandson, Prince William, marries Catherine Middleton. They become Duke and Duchess of Cambridge. Elizabeth becomes the first reigning British monarch to pay a state visit to the Republic of Ireland.
2012: Elizabeth celebrates her Diamond Jubilee (60 years on the throne) and opens the London Olympic Games. See Chapters 23 and 24.
2013: Birth of Prince George, Elizabeth's first great-grandson.
2014: Taking Elizabeth's hint, Scottish voters reject independence from the UK.
2015: Elizabeth overtakes Queen Victoria to become the longest ever reigning British monarch.
2016: Elizabeth celebrates her 90th birthday; the UK votes to leave the European Union (Brexit).
2018: Prince Harry marries Meghan Markle; they become Duke and Duchess of Sussex.
2020: Harry and Meghan quit royal duties and move to North America.
2021: Prince Philip dies at the age of 99; preparations begin for Elizabeth's Platinum Jubilee (70 years on throne).
2022: Queen Elizabeth II dies at the age of 96. Her first son, Charles, 73, ascends the throne, known as King Charles III.
Line of succession to Queen Elizabeth II's throne
The line of succession to the throne of Queen Elizabeth II, as of January 1, 2022:
(1) Charles, Prince of Wales (b. 1948)
(2) Prince William, Duke of Cambridge (b. 1982)
(3) Prince George of Cambridge (b. 2013)
(4) Princess Charlotte of Cambridge (b. 2015)
(5) Prince Louis of Cambridge (b. 2018)
(6) Prince Harry, Duke of Sussex (b. 1984)
(7) Archie Mountbatten-Windsor (b. 2019)
(8) Lilibet Mountbatten-Windsor (b. 2021)
(9) Prince Andrew, Duke of York (b. 1960)
(10) Princess Beatrice (b. 1988)
(11) Sienna Mapelli Mozzi (b. 2021)
(12) Princess Eugenie (b. 1990)
(13) August Brooksbank (b. 2021)
(14) Prince Edward, Earl of Wessex (b. 1964)
(15) James Mountbatten-Windsor, Viscount Severn (b. 2007)
(16) Lady Louise Mountbatten-Windsor (b. 2003)
(17) Anne, Princess Royal (b. 1950)
(18) Peter Phillips (b. 1977)
(19) Savannah Phillips (b. 2010)
(20) Isla Phillips (b. 2012)
(21) Zara Tindall (née Phillips; b. 1981)
(22) Mia Tindall (b. 2014)
(23) Lena Tindall (b. 2018)
(24) Lucas Tindall (b. 2021)
Movies and TV shows featuring Queen Elizabeth II
Until recently, fictional screen representations of Elizabeth were largely spoof or comical, such as her brief appearance in Austin Powers in Goldmember (2002).
The part of the Queen of England in The BFG (2016) is delightful but pure fantasy.
Also amusing but slightly less fanciful is A Royal Night Out (2015).
The first serious attempt to get to grips with the character of Elizabeth in film was the excellent The Queen (2006). It recreates a few days during 1997.
The Queen docudrama (2009) takes the same idea as The Queen movie and focuses on five episodes in Elizabeth's reign.
The Crown (2016 onwards) is the not-to-be-missed dramatization of key incidents during Elizabeth's long reign. Watch it with Queen Elizabeth II For Dummies open before you and have fun separating fact from fiction!
Two factual documentaries worth watching are The Royal Family (1969) and The Princes and the Press (2021).
About This Article
This article is from the book:
This article can be found in the category: