How to Start a Word 2010 Document by Using a Template
How to Start a Word 2010 Document by Using a Template
All documents in Word 2010 are based on a template. When you don't specify a template, Word uses the Normal document template, NORMAL.DOTM. Word comes with a host of templates already created, as well as any templates you whip up yourself: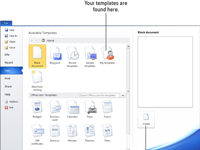 1

In the File tab of Word, click New.

The New menu appears. Common templates are shown at the top of the window, with online templates listed at the bottom.
2

If you see a template in the list you want to use, choose it.

That template becomes highlighted.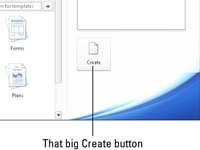 3

Click the Create button.

Most of the time, you'll probably choose the My Templates item. Doing so displays the New dialog box, which lists icons representing all the templates you've created.
4

If you chose My Templates, choose an icon for the template you want to use, and then click the OK button in the New dialog box.

Instantly, Word loads up that template and starts a new document for you. The new document contains the styles and formats and perhaps even some text that's ready for you to use or edit.

If you don't see your custom template in the New dialog box, Word probably goofed up when it saved your template.
5

If your template doesn't appear in the New dialog box, look in the Documents or My Documents folder.

You need to find where Word put that template file.
6

When you locate it, double-click that icon, which starts a new document using the template.

Yes, this route is a crummy workaround, but Word often forgets to put your templates in the proper file location.
7

Work with the document just like any other document in Word.

A lot of the formatting and typing has been done for you.