Turning Off Spelling and Grammar Check in Word for Mac
Turning Off Spelling and Grammar Check in Word for Mac
By default, Word uses red wavy underlines to indicate spelling errors and green wavy underlines to indicate grammatical errors as you type. If those underlines bother you, you can turn off automatic spelling and grammar checking.
To turn off spelling and grammar checking, choose Word→Preferences and click the Spelling and Grammar icon. In the Grammar and Spelling preference pane, deselect the Check Spelling As You Type or Check Grammar As You Type check box to turn off automatic spelling or grammar checking.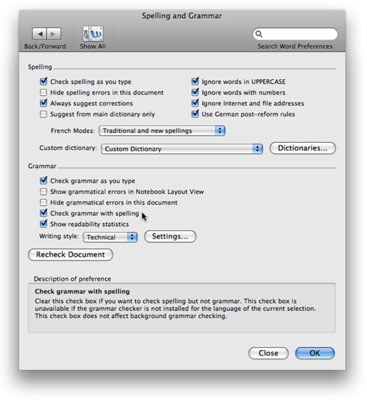 Point at any preference item in the Spelling and Grammar preference pane to see its description.
If you don't want to use the automatic spelling or grammar checkers, you can still check the spelling and grammar in a document by choosing Tools→Spelling and Grammar. Word looks through the entire document and displays a dialog when it finds a possible spelling or grammar error.

You don't have to turn off the wavy red or green underlines to use this dialog. If you prefer, you can just ignore the wavy underlines and choose Tools→Spelling and Grammar whenever you want to check a document's spelling or grammar.