How to Warp Type in Photoshop CS6
How to Warp Type in Photoshop CS6
Photoshop CS6's great automated Warp feature can twist your type in predictable ways that are not only repeatable but, thanks to the controls in their dialog boxes, also customizable. The cool part is that even though type has been warped, it remains fully editable until you rasterize it.
All you need to do to warp your text is click the Warp icon on the Options bar, or choose Type→Warp Text, which opens the multifaceted Warp Text dialog box, and then choose your warp style and distortion options in that dialog box.

Web designers take note: You can't warp text that has a faux bold style applied (found in the Character panel).
You can find a whole list of special effects in the Warp Text dialog box, such as Arc, Arch, Bulge, Flag, Wave, Fish, Fisheye, and Twist. Each of these effects provides a special look to your type.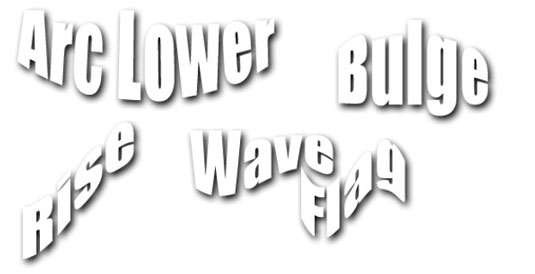 Each effect has a dialog box of its own that allows you to set the parameters for the amount, direction, degree of distortion, amount of bend, and so forth. You can watch your type warp right onscreen and tailor the distortion however you like.
You can apply most asymmetrical warp effects to type in either horizontal or vertical directions. Fisheye, Inflate, and Twist are among those effects that can't be rotated because they're already oriented in horizontal and vertical directions that you can control with sliders.